It's all done and dusted! Viarni and Zac (spoiler alert) are living happily ever after in the finale of everyone's favourite show (don't deny it). No doubt you were glued to the screen, on the edge of your seat and crying for Lily's heartbreak—we certainly were! Here's what we went down during the finale of The Bachelor NZ.
1. Ah, nothing like some good ol' slow motion opening shots.
2. Viarni is SO going to win.
3. Zac: "But right now, my mind is far from made up." Lies! Surely he knows?
4. Yeow, the Hawke's Bay is stunning.
5. Wayne looks like SUCH a bloke.
6. Wayne: "My hope for Zac is that he finds a good friend and someone he shares his life with." Awh, but he's a bloke with a big heart!
7. Debbie is team Viarni before she's even met the girls!
8. "I was very surprised that we would be meeting Lily today and that she'd be too young." Debbie is naht team Lily.
​
9. We're unsure about this bomber jacket and shirt combo, Zac (aka Danny Zuko).
10. Only Lily could pull off a white frock and combat boots.
11. Lily: "I know that I'm a 20-year-old snowboard instructor that doesn't really have her life together." Don't underrate yourself, girl.
12. …And there are tears from Mama Debbie.
13. "She's made a good impression on us but she's only 20." Ouch, Debbie!
14. Debbie is clucky for grandkids!
15. Bre is one protective sister.
16. She doesn't want Zac's heart to be broken? What about all the hearts he's broken?
17. Looking good, Viarni.
18. There goes Debbie with the waterworks again.
19. Zac: "Different day, different girl but same result: Mum starts crying."
20. "Do you see children in your future?" Woah, woah, WOAH, Debs! That is NOT a dinner table convo with someone you've just met!
21. Bre: "I'm not too sure how I feel about her. She's seems a bit too perfect." Plot twist, his sis doesn't Viarni.
22. Debbie: "I possibility felt more of a natural attraction with—" HOW DARE THEY CUT IT THERE?!
23. This cliff walk is too spooky for our liking.
24. He calls her 'sweetheart' and she now calls him 'love'? Get a room, guize.
25. Did Viarni's rose-covered cocktail dress foreshadow her winning?
26. Why does it always rain on Lily and Zac? Total. Omen.
27. Could Lily still be in with a grin?!
28. Zac loves his fireplace + wine combo.
29. God, we want Lily to win.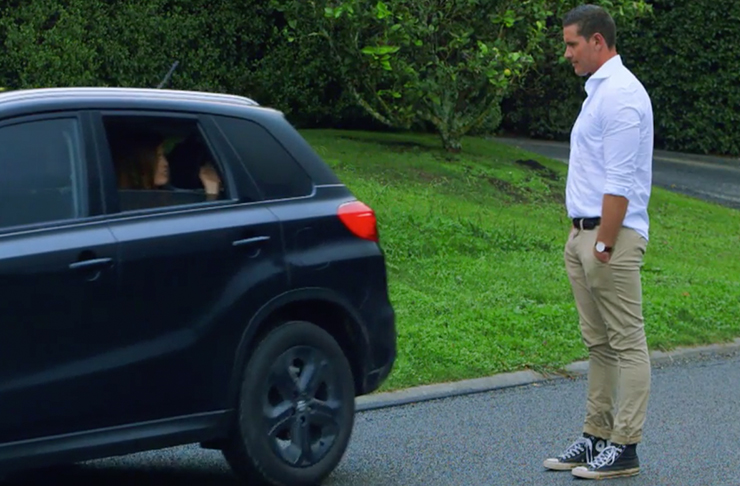 30. Zac and Viarni have equally terrible Chucks. Is it a sign?!
31. Reeeal subtle Colgate plug, team.
32. It's the one that comes out of the car first that loses, right?
33. …They could try to stitch us up though.
34. Ermahgerd, who's getting out of the car first?
35. …DOM!
36. Okay, for real now…Who's getting out of the car first?
37. Both the girls look incredible. Can they both win?!
38. WE'RE SO NERVOUS RIGHT NOW.
39. HOLY SHIT.
40. WHO'S IT GOING TO BE?!
41. IT'S LILYYY. OUR HEARTS BREAK.
42. She knows.
43. He chose best for him. He didn't have the balls to take a chance on Lily.
44. …And he knows it. This is such a "it's not you, it's me" speech.
45. "I completely understand. It's okay, really. I've had the amazing time and you are the most amazing person." Lily will never stop being awesome.
46. Zac: "I'm really glad I got to meet you." Lily: "The feeling's mutual." Shit, she's good—leaving with class and dignity.
47. And here comes the happily ever after.
48. At least he chose the best ring.
49. Zac: "It's not the end. It's the start." AWWHHHH.
50. Great, safe choice, Zac. You'll make a great couple.
51. BUT WHO DID DEBBIE LIKE MORE?!
Image credit: MediaWorks