A city once made famous by Pablo Escobar and considered one of the most dangerous in the world, Medellin is now one of the must-see travel destinations of 2019. Spend a little bit of time here and you'll quickly realise there's so much more to this mountain paradise than what your Narcos binge taught you.
Nestled deep in the Aburrá Valley in the Andes Mountains, Medellin is two hours inland from the capital of Bogota, and the second largest in the country. Known as the city of eternal spring, or la primavera eterna, Medellin's tropical climate keeps things at a constant 22 degrees celsius, with a side of humidity. The tropical nature of the city makes December to March the best time to visit for minimal rain, although early August is a great time to go if you're obsessed with blooms, so you can take full advantage of the feria de las flores, or festival of flowers.
With so much happening to this city since its infamous cartel days, we've done you a solid and rounded up six reasons you need to get to Medellin before the crowds do.
But First, Coffee
This one might seem like a no brainer, but we'll forgive you for having the internal freak out everyone has on holiday when you worry about your morning cup of Joe. In case you missed it, you've landed in the home of the world's best coffee. One of the trendiest neighbourhoods in town, El Poblado, has no shortage of liquid gold and the majority of places around the area support local farms or fincas from neighbouring towns. Pergamino is brewing farm to table coffee, grown at the owner's own farm a few miles away. Other local institutions include Cafe Velvet with its azuelos tiled backdrop and local eats, and Urbania, a socially responsible cafe working to give back to local communities.
You'll also notice Juan Valdez Cafes pretty much everywhere, and before you go wondering who Juan is, this is essentially Colombia's version of Starbucks and each one comes complete with great, free Wi-Fi and aircon.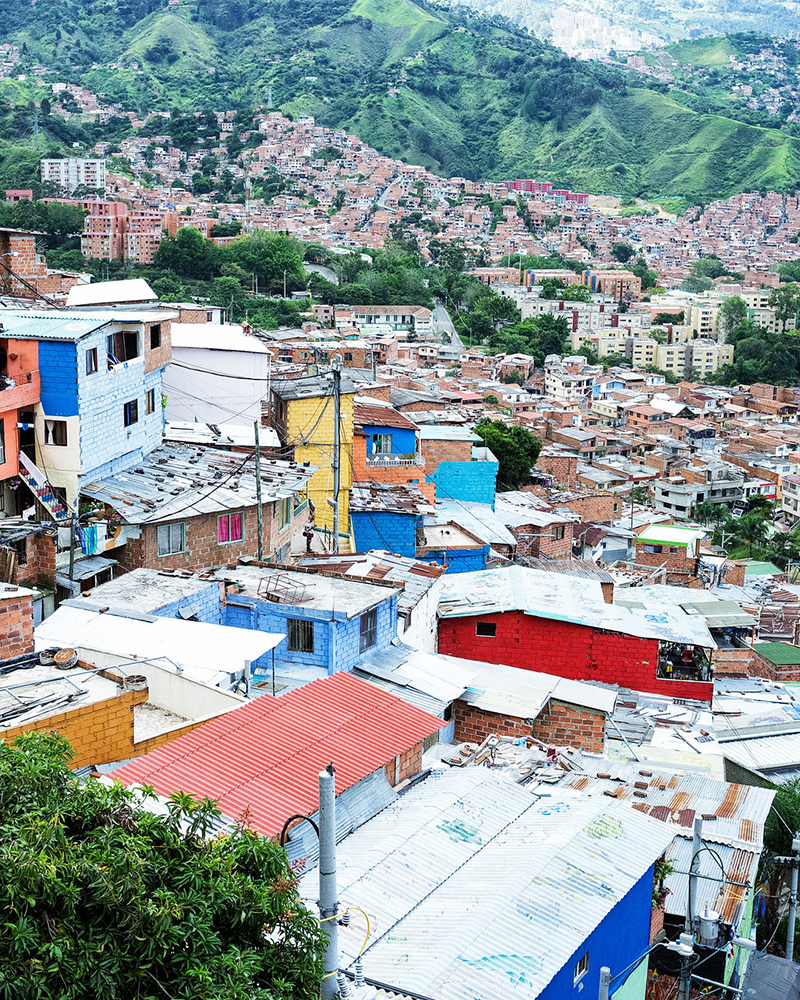 Image credit: Nigel Burgher
Take A Street Tour Of Comuna 13
Comuna 13 is a true testament to the complete transformation of Medellin and a 20-minute drive from El Poblado. Once referred to as one of the city's most dangerous neighbourhoods, the area is now safe for tourists to marvel at local street art and graffiti, with a range of tours to ensure you get the most out of your time there. Comuna 13 literally hugs the mountainside, some would say clings, with giant outdoor escalators getting you to the barrios below, and credited with revitalising the area, connecting the communities with opportunity. Make sure you wear your best walking shoes because these tours are more like hikes, don't say we didn't warn you. Opt for the Graffiti Tour by Comuna 13 Tours or book a spot with La Casa Kolacho, a local not for profit who use the money made from tours to fund hip hop workshops for kids in the city's disadvantaged neighbourhoods.
Getting there: Take the metro line B from either the centre of Medellin or Poblado to San Javier station, then walk (roughly 20 minutes) to the escalators at the beginning of Comuna 13, or jump on the 255 bus or hail a cab, but we really recommend the walk.
Get Sky High On The Metrocable
The best way to experience Medellin's steep hillside is to get sky high on its Metrocable or sky gondolas. The most scenic trip is courtesy of the L line to Parque Arvi, or Arvi Park, the city's own nature reserve found in the Santa Elena district. Be prepared for rolling hills, vistas of coffee plantations and at only $1USD for a round trip, it's a win on anyone's budget.
Visit The Brightest Pueblo In South America
Medellin is the perfect base to head out and explore some of the surrounding pueblos (small towns) and fincas (farms). The brightest pueblo is Guatape, and the moment you arrive in Medellin people will be telling you to go here. At 90-kilometres outside of the city you can hire a driver or take the minibus which runs every half hour. Sitting pretty on the man-made Peñol-Guatapé Reservoir, with rolling hills and lakes perfect for kayaking, this colourful town (like most of the Antioquia region) has its own connection to Escobar. The drug lord's former home here is now a paintball site, which we guess makes sense? The biggest attraction here, however, is without a doubt El Penon de Guatape, or La Piedra, a 10-million tonne rock overlooking the city. With a 600-step vertical staircase to reach the top, you can reward yourself with some pretty hectic views and also some mango micheladas, just don't forget about the steep walk down. Once back on the ground head to one of the local cafes for a menu del dia (menu of the day) of rice, beans and meat.
Getting there: the minibus leaves from the North Bus terminal every half hour from 5.30am to 6pm, and the two-hour trip will set you back 14,000 COP, which is roughly $6AUD.
It's worth mentioning that the town of Jardin should also be on your agenda. A little further at four hours from Medellin centre, this pueblo's main plaza is one of the prettiest in Colombia. The ideal locale to pull up a colourful chair and do as the locals do, this coffee town also boasts brightly coloured houses and a laid-back approach to life. You'll want to pencil in some time to visit La Cueva Del Esplendor, or the splendid cave, it's a decent hike but you can go a little easier and get there by horseback. With its own cable cart system offering spectacular views, you can also opt for the wooden gondola, or la garrucha, which is a pretty wild ride and maybe not the best if you have an aversion to heights. The famous Dulces de Jardin sweet shop is a must to stock up at before the bus ride home.
Getting there: book a seat on the Rapido minibus departing from Medellin's North Terminal for roughly $12AUD and if you get motion sickness pre-book a seat up the front.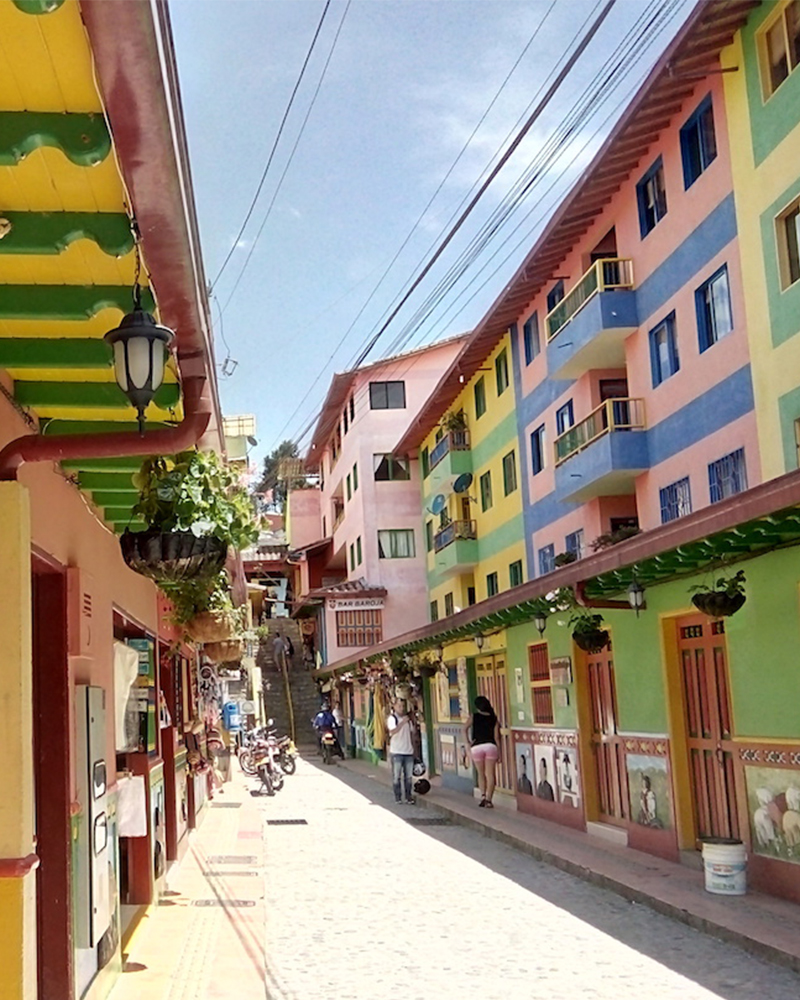 Image Credit: Bertahan Luxing
Colombian Food
Colombian food is influenced by Indigenous, Spanish and African cultures; think pork, rice, potatoes, chicken, and beans all doing their thing on your plate. If you want to eat like a local there are a few things you can't go home without wrapping your laughing gear around. Starting with arepas, a bread made with cornmeal and often stuffed with the likes of cheese and butter, the best spot for arepas is the street, keep an eye out for lines of office workers and students patiently waiting for arepas de chocolo (tender corn, these ones are super sweet) and arepas de queso (cheese) to know you're on to a winner.
Your other must try is ajaco, or chicken soup with two or three types of potato, corn, capers, avocado and sour cream. Ajiacos y Mondongos do one of the best in the city, and even though it's technically a dish from Bogota, it's still worth a go here.
Now for the trademark dish of the Antioquia region, the bandeja paisa (and that isn't Spanish for heart attack). Loosen your belts because we're talking steak, pork crackling and chorizo sausages served on a bed of rice (in case you thought you'd still be hungry) and red beans. Depending where you go you'll likely score a fried egg, some avo and plantain chips. Hato Viejo has been plating this one up for the past 30 years and Mondongos also does a pretty good version. Another must-try spot is Brasarepa, just south of Medellin and a favourite of the master, Anthony Bourdain. Lunch here is a steal at under $10AUD, come hungry.
Chill Out In A City Park
Medellin has plenty of plazas, parks and gardens to nap off all those bandeja paisas, but the most famous is Plaza Botero. Essentially an outdoor gallery, there are 23 of Fernando Botero's sculptures across the plaza, and the Museo de Antioquia is right nearby and filled with paintings by Botero and others. The Jardin Botanico, or botanic gardens are also a great spot for a stroll (and to slip into a cheeky food coma), an oasis from the bustle of the city be sure to take a walk to the lake.
Getting There
There are two popular ways to travel to Medellin from Australia. The first is via Los Angeles through to Bogota and on to Medellin, the second and quickest option (at 27 hours) is via Auckland with a stop in Chile before continuing on to Medellin via Bogota. Once you're there, it's only a 40-minute drive to town from the airport.
The best way to get to Medellin from New Zealand is via Auckland, with a stop in Chile before continuing on to Medellin via Bogota. Once you're there, it's only a 40-minute drive to town from the airport.
Planning your next trip? Click here for all of the inspiration you need.
Image credit: Paweldotio