Pasta is modern day medicine. A fresh plate warms the belly, soothes the soul and envelopes you in a food induced love blanket. Whether it's infused with garlic olive oil or smothered in a creamy carbonara, we'll happily devour this plentiful dish any day of the week.
Our excessive pasta requests have led to one dilemma, Aucklanders are now full-blown food critics when a fresh plate is dished up! We'll sit there, sipping our vino, channelling our inner Jamie Oliver with a mindful checklist of pasta do's and don'ts. Requirement numero uno: freshly made pasta.
Luckily for us fancy pants, there's an abundance of restaurants around that make their own pasta on the daily! Hand rolling, flour cutting, dough kneading, you name it. No longer do we need a turbo jet and a pocketful of cash to shout 'bon appetit' across the table. So, without further ado, here is your go-to guide for the best restaurants in Auckland serving up fresh, authentic and dangerously delicious pasta. Quick, it's waiting for you.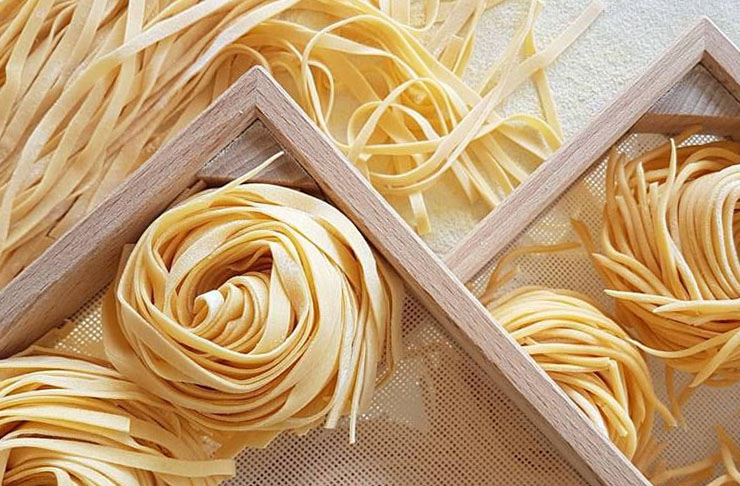 Pasta & Cuore
Mt Eden
This boutique eatery is one in a million. Humbly Italian in every way, the exterior doesn't scream much but once inside, you're met with the warmest of greetings. Grab a table at the shopfront of Pasta & Cuore and watch all the action as the chefs' prepare your pasta from scratch. Or, if you're in for a night of romance, the courtyard out back is a picturesque setting to indulge in a lil spaghetti, washed down with copious glasses of Pinot of course. The team pride themselves on using the finest quality ingredients—Julia Child style. Letting you in on the inside scoop, a night here is not complete without trying the handmade tortellini stuffed with buffalo ricotta, butter and sage. It's so good it's worth spending the last of ya pay cheque on.
Farina
Ponsonby
Considering the owner of Farina, Sergio Maglione, was born and raised in Naples (aka the heart of Italian pasta and pizza) you know you're in for a treat. Farina is gorgeously European, with sea-green and pearly-white tiles lining the floor and an impressive pasta machine holding fort in the open spaced kitchen. It's of little suprise that Farina is a member of the AVPN's, an association that works to protect the image of true Neapolitan pizza. Sergio has stayed loyal to his Italian roots with a super traditional menu graced with authenticity. Grab yourself a table here and try your hardest at choosing from the extensive menu. The raviolini is a surefire winner, accompanied with aromatic tomatoes and lemon sauce. Italians are all about minimal ingredients with overflowing flavour and Farina have mastered just that.
Amano
Britomart
Taking Auckland's pasta game to a whole new level, Amano have an on-site flour mill used to whip up fresh goods on the reg! Using South Island grains combined with fresh flour and free-range eggs, it's then either individually hand cut or fed through a pasta extruder, depending on the style. Luxurious in many ways, nestle into a table outside amongst the fairy lit Britomart scenery and partake in a lil people watching. After a few cocktails and a growl of the stomach, the only thing left to do is devour some food. Our pick? The tagliatelle bolognese with parmesan, locally sourced beef and handcut egg dough pasta ribbons. Finish the night with a sneaky house churned gelato and a macchiato for a true flavour sensation.
Baduzzi
Wynyard Quarter
Baduzzi smoozey, oh how we love you. One of the best Italian restaurants in Auckland, you're destined to leave with one very happy belly. As baduzzi stands for meatballs in Italian, it'd be rude not to try a few. But as for their pasta, well let's just say it is far from shabby. Handmade daily, the menu offers specialties such as linguine alle vongole which is a traditional dish repping Southern clams, chilli and herbs. For those of you feeling a little extra on ya Friday evening, try the risotto made with red wine, mushrooms and wait for it…rabbit. An elegant setting with the waterfront at your fingertips, Baduzzi is a fabulous choice for an evening of delicacies. Sometimes we just need to let that inner Queen bee run free erry now and then.
Sal Rose
Mt Albert
Nestled in the heart of Mt Albert, Sal Rose is oozing with all the cosy vibes—not to mention it is hella authentic. Using recipes passed down from Italian heritage, you'll find family favourites and grandma's best dishes waiting for you to dive into. It's casual yet sophisticated and of course, utterly delicious. The team prepare every pasta and accompanying sauce daily with locally sourced ingredients. The friendly staff are enough to melt our hearts alone, but wait until you try the vin santo a dish that even Italians say is straight from the gods. We'll let you in on a secret, one of the ingredients is wine! (The menu boasts so many favourites, we won't judge if you have to have a sneaky look online before you pop in because if you're anything like us, decision making ain't your strong point).
Non Solo Pizza
Parnell
Are you really an Aucklander if you haven't had a lazy Saturday lunch at Non Solo Pizza? It's honestly the bees knees. The interior sees vines lining the archways and a generous bar awaiting orders from the plentiful cocktail menu. Once inside, it's hard to wait even a second before ordering a pizza bread to start. Rocking a true Italian essence, the team prefer you to finish your starting course before bringing out the second. So don't go too hard on the pizza ordering, the pasta is yet to come! Our favourite? The homemade linguine with chilli, garlic, king prawns and bottarga. We also dig that the pasta is made with free-range eggs.
Coco's Cantina
CBD
Just about every city-slickers favourite Italian restaurant, Coco's Cantina is hard to beat. Not only are the polenta fries are off the fricking' charts, but the atmosphere, staff and remaining menu is equally fantastic. Coco's make their pasta from scratch, with the exception of a few dishes here and there. A great spot for a get together with the crew thanks to the large tables and meals designed for sharing. We're loyal fans of the ravioli which is dished up with pumpkin, mascarpone, sage butter, pecorino Romano and hazelnut. For dessert? Tiramisu, duhh. Pro tip: arrive very, very hungry unless you want your best friend to roll you and your food coma out the door.
Image Credit: Pasta & Cuore
Want More?