Eating out of a toilet bowl, dining under a waterfall, slurping curry surrounded by millions of condoms. Yes, foodies—this is what dining has become and y'know what? We might as well embrace it. More than ever, restaurants are embracing the weird and the wonderful in order to stand out from the crowd and deliver a guaranteed unforgettable experience.
To help you construct a dining bucket list, we've found some of the most unusual yet wonderful restaurants in the world. Not sure about you guys but we're making it our mission to visit them all.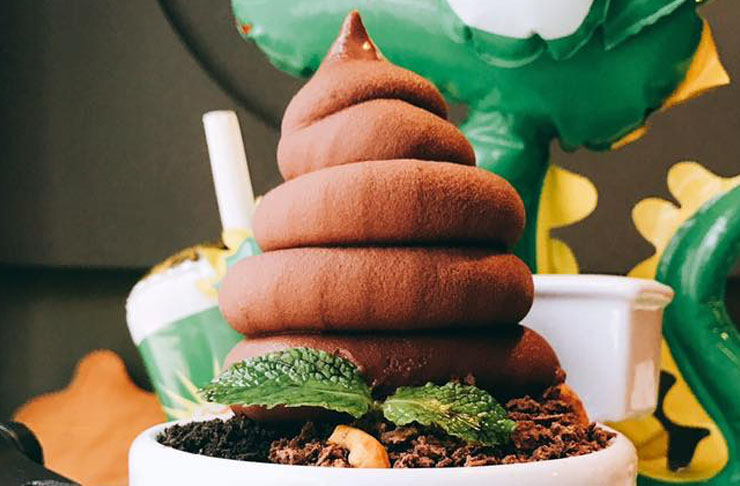 The Toilet Restaurant
Taiwan
Toilets...they have their purpose but some bloke in Taiwan has given the sanitary receptacle a whole new meaning in life. At Modern Toilet in Taiwan, diners are invited to sit on a (closed, thank goodness) toilet and slurp noodles from a miniature toilet or scoop gratin from a teeny tiny bathtub. To set the scene, there's showerheads, plungers and poop-shaped lights. Modern Toilet was the brainchild of Wang Tzi-Wei, who after the success of his ice cream shop serving soft serve in mini toilets, decided that Taiwan's toilet-meets-food obsession was here to stay. Annnd that's all we've got to say about that...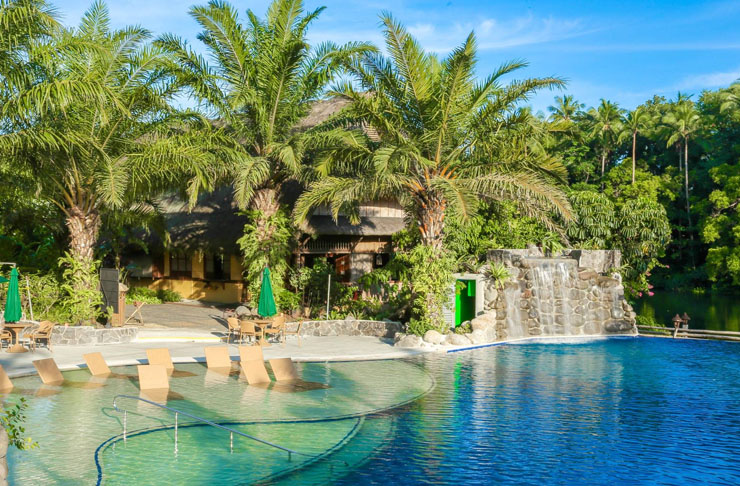 The Waterfall Restaurant
Philippines
Nope, this isn't a lovely, romantic dining experience where you share spag bol with your loved one and watch a waterfall. The Villa Escudero Waterfall Restaurant in the Philippines is an experience like no other. You sit ankle deep in water, eat a delicious meal and then cool off underneath the waterfall. What a dream!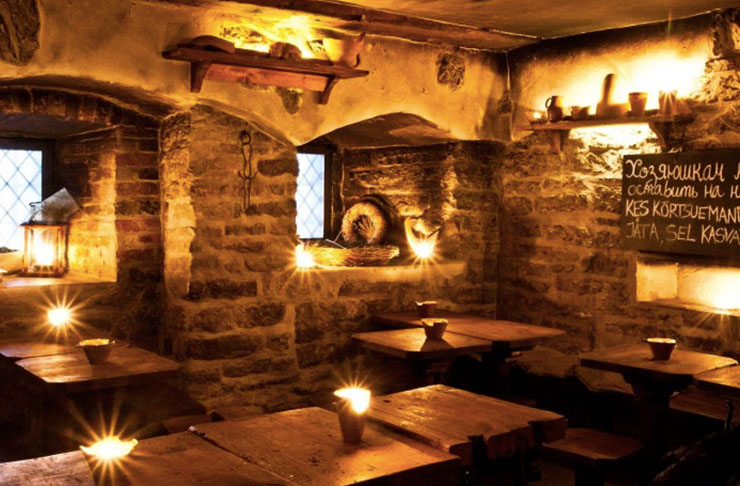 The Medieval Restaurant
Estonia
Estonia's capital of Tallinn is all sorts of magic. Wandering the old town is like stepping into medieval times and a meal at III Draakon (Three Dragons) is like stepping into a whole other world. The small restaurant is lit entirely by candles, the staff wear medieval costume and you eat and drink from earthenware bowls. Tuck into elk soup, oxmeat sausages and pastries, washed down with a cold beer. Just remember: "A visitor with a heftier purse is the king yet the lady of the house is always right!"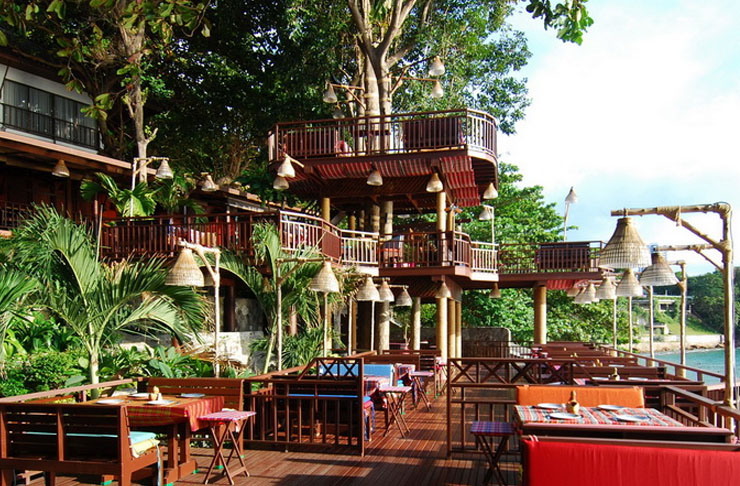 The Condom Restaurant
Thailand
While the bulk of us can agree that condoms are a useful creation, a condom-themed restaurant is sure to raise a few eyebrows. Cabbages & Condoms in Bangkok combines epic Thai food with a handful of important messages. The restaurant aims to tackles social issues surrounding sexual health, making sex a less taboo conversation and birth control more accessible to all. Millions of colourful condoms have been used to decorate mannequins, lamp shades, flowers and other objects. Food wise, you'll be feasting on satay, fragrant curries, salads and noodles.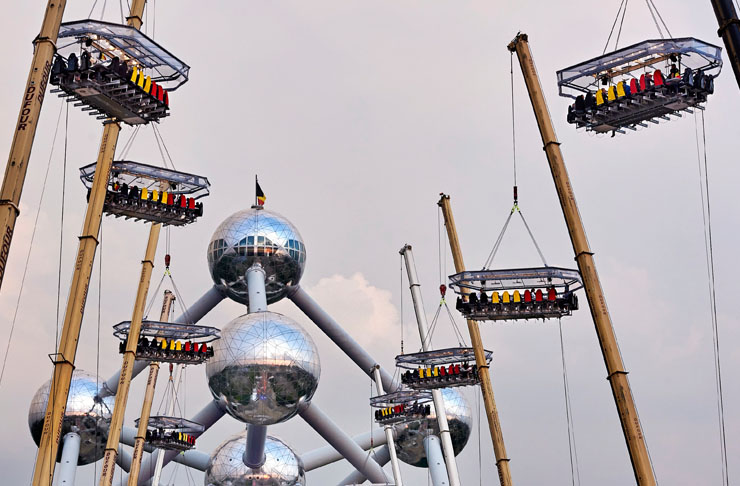 The Dinner In The Sky Restaurant
Multiple locations
Not a fan of heights? Maybe skip this one. Dinner in the Sky literally takes dining to entirely new heights. Up to 22 seat-belted people wine and dine while hovering 50 metres in the air thanks to a table attached to a crane. Catering isn't included so you'll be able to hire your favourite chef and let their imagination run wild. Uh huh, a meal in the sky comes with a hefty, hefty price tag.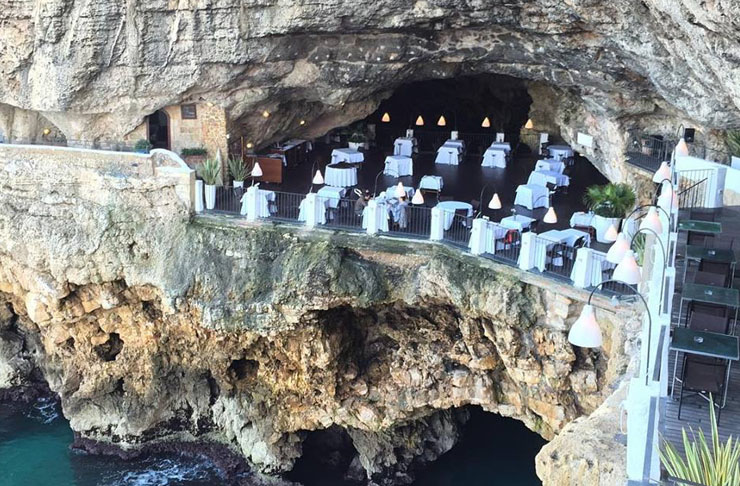 The Cave Restaurant
Italy
Yep, this is one from your Pinterest that you definitely thought was too magical to be real. Puglia's Grotta Palazzese is a huge cave overlooking the glistening Adriatic Sea and has been used as a dining location since the 1700s (!). A walk down the stairs of the limestone cliffs will lead you to the enchanting restaurant where fresh seafood, pasta and other Italian delights will be waiting. Delizioso!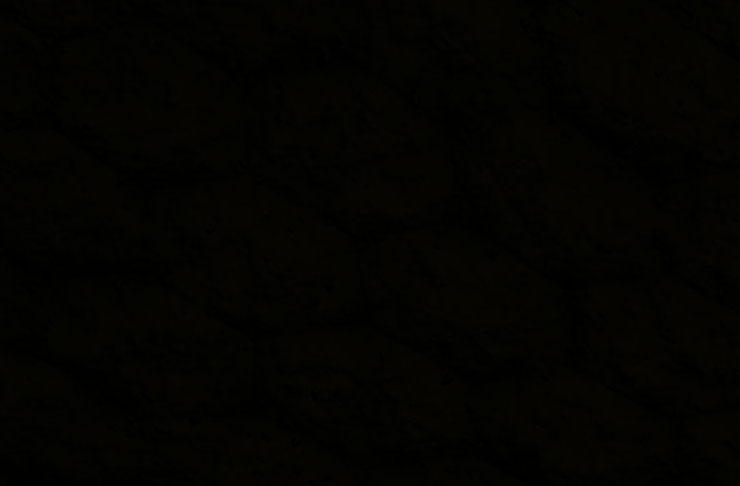 The Dining In The Dark Restaurant
Multiple locations
Let your senses come to life with a meal in one of the world's most unique dining experiences—Dans le Noir? Translating to 'In the Dark?' this restaurant is in London, Paris, Barcelona, Madrid and Auckland. You'll enjoy a beautiful meal in complete darkness with visually impaired hosts and be forced to make your tastebuds work overtime. But trust us, it's totally worth it.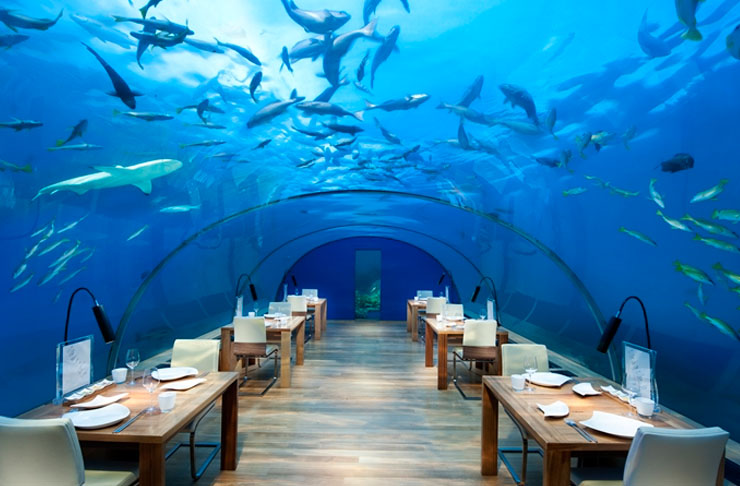 The Underwater Restaurant
Maldives
Channel your inner Little Mermaid because underwater dining is a thing and it is ah-mazing. Housed at the stunning Conrad Maldives Rangali Island, Ithaa (meaning 'mother of pearl) is the world's first aquarium-style restaurant, giving guests the chance to dine surrounded by the lively Indian Ocean. Set five-metres below sea level, delve into a six-course dinner menu as sharks, turtles, stingrays and schools of colourful fish pass by.
Image Credit: Conrad Maldives Rangali Island, Puglia's Grotta Palazzese, Dinner In The Sky, Cabbage & Condom, III Draakon, The Villa Escudero Waterfall, Modern Toilet
Want More?