This year's New Zealand Fashion Week saw the country's creatives come out in full force, again delivering fresh, bold and brilliant designs.
In and amongst the whos-who of fashion, we were lucky enough to sneak along this year, and were left absolutely jaw-dropped by the pure talent of our mighty wee country. To celebrate the glitz, glam and sparkle of our local talent, we've rounded up our top highlights of the week.
Zambesi
Who better to open the show than this year's Mercedes Benz Presents Designer, Zambesi? In and amongst hues of marigold luxury, stealing the show were bespoke Mercedes Benz-commissioned suits. Inspired by vintage racing and the sleek design of a new merc, the suits (one for women and one for men) featured an energetic and luxurious silver foil-coated cotton.
NZFW: New Generation
Giving fresh kiwi talent a chance to show off their stuff, the New Generation show was easily one of the most anticipated shows of the week. First up was GEOJ, from seventeen-year-old Christchurch designer Georgia Hensley-Smith, featuring frills, translucent textures and a rave-worthy 90's vibe. "The Boy From Goresville" collection by Luke Dawson celebrated everything we love about the addictive skate streetwear trend, keeping things fun with wicked comical illustrations. Next up was Wellington designer, Pania Greenway, who brought the runway to life with flirtatious looks and dark sultry silhouettes. She's definitely an up and comer to keep an eye on. Closing the show was Wellington streetwear label Not For You, featuring a collection of top quality everyday threads designed to make a statement. We're predicting big things from these guys.
Hailwood
One word: WOW. Hailwood has done it again, serving a kick-ass aesthetic we simply couldn't get enough of. Embracing femininity, the collection starred warm toned silhouettes and textured fabrics to die for. Wide-legged pants, mid-length full skirts, soft knits were paired with the new range of structured leather bags, adding to the superb display.
NZFW: Graduate Show
A showcase for the graduates of AUT, Fashion Tech, Otago Polytechnic and Massey. Highlights included Tia Feng's floral burst of awesomeness, which completely took over the runway. With all the frills blooms and magic you could ask for, this new kid in town is ready to rule it. Returning for its fourth year, the Brother Design Stars competition blew the crowd's minds. Showcasing work for budding designers as young as 11, viewers were treated to whacky and wonderful head pieces and some striking floral ensembles.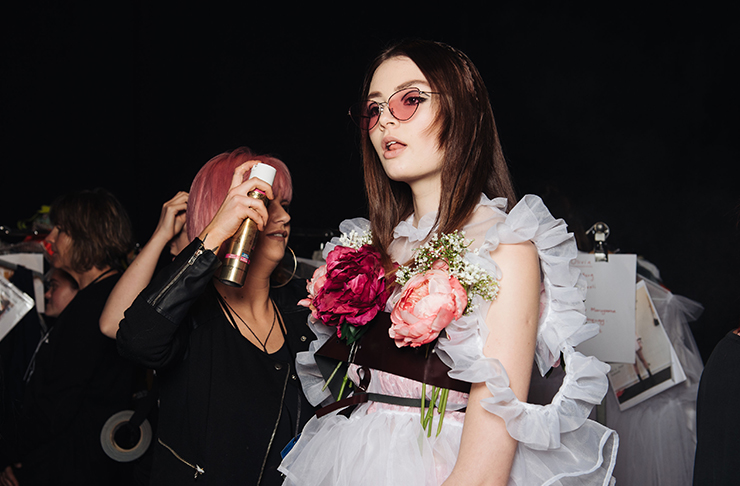 Stolen Girlfriends Club
A highlight of the year for many in the fashion world, the Stolen Girlfriends Club at NZFW is THE show you want to see. Consistently amazing, this year saw the iconic brand showcase their latest 'Safer Than Heaven' collection to a crowd of over one thousand, all to a live soundtrack of Dunedin band 'Death And The Maiden'. The collection was more than a little nostalgic, taking us back to the 90's, before thrusting into the future. Staple pieces included the oversized silver biker jacket complete with a detachable cobalt-blue possum fur collar.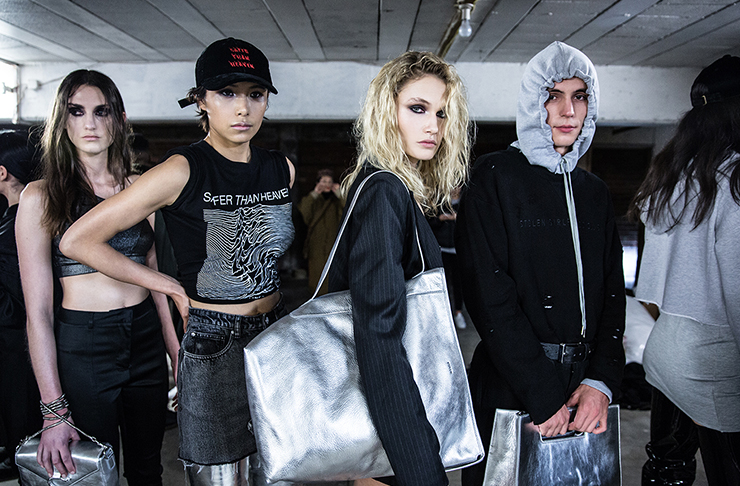 French83
Masters of all things suave, French 83 have done it again. The team at delivered a fresh, cool calm collection clashing street and formal wear worth swooning over. Their colour palette of pastels, earthy tones, and cool blue hues made for a stimulating run through.
Kate Sylvester
Showing off her "Electric Dreams" collection, this Kiwi fashion would've been the highlight of the week for many. A home to 'Blade Runner', the collection illuminated the runway featuring neon lighting and vivid designs. A collection which seemed to leave no colour unturned, featured moody blues, striking oriental reds, nude tones and dazzling greens making for a mesmerizing show from start to finish.
Huffer
Celebrating their 20th anniversary, this year Huffer kicked things up a notch, booking out Spark Arena and putting on the biggest show of the week. Two decades deep and still going strong, models were greeted with applause entering onto the runway. Featuring fresh takes on classics we all know and love, there was a western flare to the collection this year, with western cowboy boots and bolo ties a big feature. Viewers were really on the edge of their seat with the introduction of striking red pieces to the runway - which could only be described as "lit". The conclusion of the show saw the stadium transform from runway to rave featuring DJ P-Money spinning tracks all night long. All-in-all Huffer did themselves proud and gave the iconic brand the celebration it deserved.
Want More?
Image Credits: Michael Ng, Snapper Online for New Zealand Fashion Week, Jonny Lung, Liv Hemus