Hot diggity dawg, the wiener seems to be having a moment! While our love for sausage between bread has always run strong, Auckland is upping the ante and dishing out a stellar selection of snags. Whether you're after a chilli dog, classic NYC version or something a bit different, we have searched high and low to bring you the best of the Auckland sausage fest.
Brooklyn Dogs
Food Stall
A couple of years ago, a food stall swooped onto the Auckland street food scene and showed it how to hot dog. And, if we're being frank, they serve some of the best in town. These New York-inspired creations at Brooklyn Dogs are made with free-range, prime sausies and freshly baked buns. They're topped off with sautéed onion, bread and butter pickles, jalapeños, Dutch sauerkraut or, if you're a serious condiment fan, all of the above.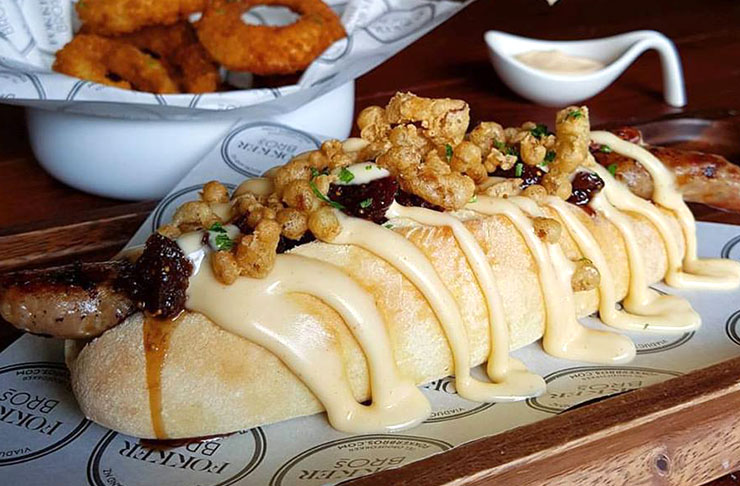 Fokker Bros
Auckland CBD
We have a soft spot for Fokker Bros' extra long dogs. Their pork sausages are wrapped in bacon before ending up in The Hog Dog or The Hangover. The latter is made complete with candied jalapeños, mayo, IPA 'munchie' mustard and a bit of ketchup for good measure, while The Hog Dog will have your taste buds zinging with fig and marsala chutney, crispy balsamic onions and smoky chipotle sauce. Dayum.
Al's Deli
Auckland CBD
If you're yet to try Al's Deli's Montreal-style dog, hop to. Known as the All-Dressed Al Dog, this tasty creation is topped with relish, onion, French's mustard and coleslaw. Eat alongside a plate of cheesy poutine and wash down with a hearty shake for a taste of Auckland's Best.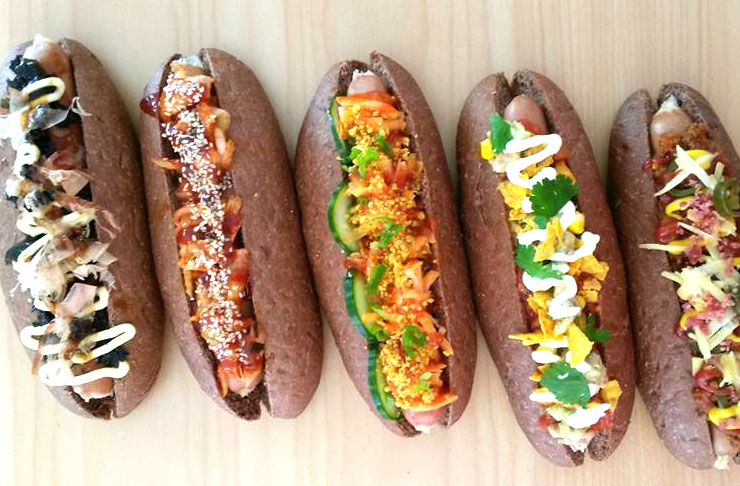 Mr Dog Frites
Food Stall
The most extravagant players in Auckland's hot dog game has gotta be Mr Dog Frites. Their gourmet delights are served straight from their mobile hot dog cart in the form of The Texas Ranger, The Nacho Libre, The Seoul Storm, The Tokyo Dog and our fave, The Saigon Fire—a frank with pickled cucumber, carrot and spiced peanut crumble. Who said hot dogs were just meat, mustard and ketchup?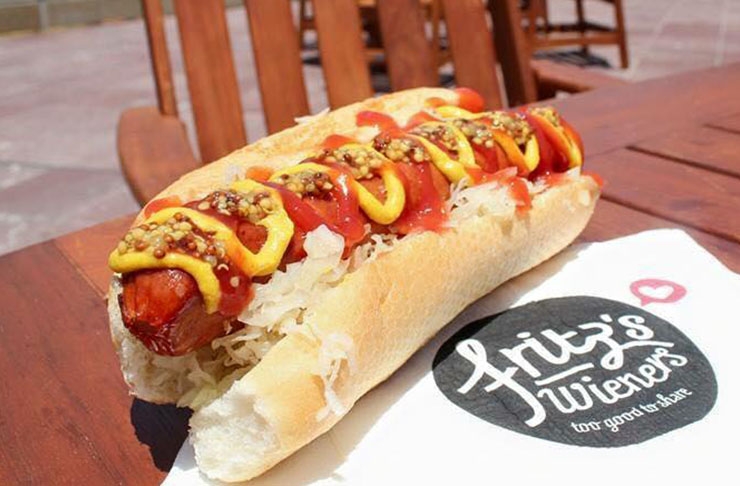 Fritz Weiner's
Food Truck
Fritz and his wieners sure do get around. You'll find them at various events and food truck stops in Auckland where they win people over with their delicious dogs. With copious amounts of sauce to choose from, this is ya classic hotdog in full glory. If you're up for a challenge grab the Double Banger—two sausages in one bun. Best of luck.
Imperial Lane
CBD
Fort Street's beloved Imperial Lane boasts some of the best dogs in Auckland, a selection they like to call 'The Imperial Dogs'. The Cuban is a must-try, with a beef dog, house made chilli, jalepenos, onion, smoked gouda and mustard. Or for something a little out there, opt for The Vietnamese—Pork dog, capsicum relish, fresh chilli, spring onion, fried shallots, coriander, mint and basil! If you don't love it, we're questioning ya tastebuds.
The Fed
Auckland CBD
When it comes to the simple union of sausage and bread, The Fed like to keep things classic and us Aucklanders think it's somethin' pretty special. Their NYC inspired Street Dog is brought together with cart relish and an option to go hard on the OGs of hot dog condiments—mustard and ketchup. Finish things off with a sweet, sweet slice of cheesecake and you've got yourself a cracking American feed.
Rock Dogs
Food Stall
Rock Dogs aim to bring you a rocking hot dog experience and that's just what they'll do. While we can't go past The Rammstein (onions, sauerkraut and horseradish dijonnaise) and The ZZ Top (chilli mince, smoked American hickory BBQ sauce and cheese), however if you're after a meat-free version, The Joan Jett is one of the best vege hot dogs in Auckland. It features a meat-free frankfurter in a gluten-free roll with baby kale, spinach leaves and their mango and coconut hot sauce. Healthy hot dogs? Who knew?!
Lord Of The Fries
K Road
New to Auckland's food scene, Lord Of The Fries looks after our vegetarian amigos. With three delicious bangers to choose from, you'll have no idea these are sans-meat. Our pick has gotta be The Melbourne, complete with a homemade veg, jalapenos, cheese, onion and spicy tomato sauce with a whopping of sour cream to calm down the taste buds. They all can be made vegan-style too!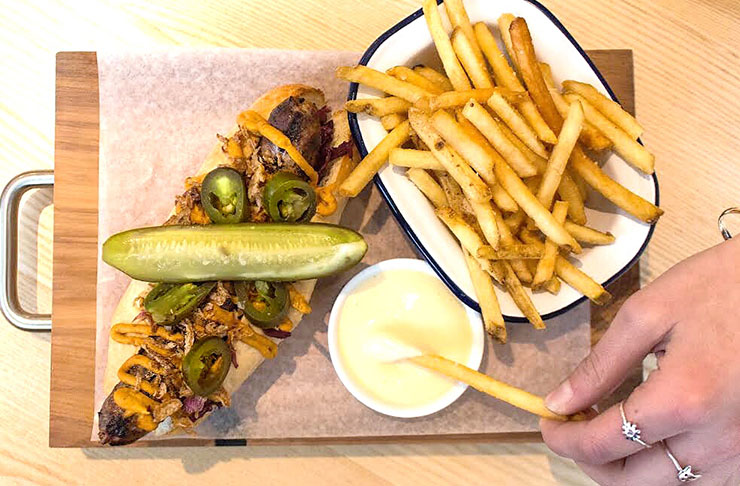 The Franklin
Beachlands
Let your love of hot dogs take you on a road trip to The Franklin in Beachlands. The bar-slash-eatery is all about hearty, wholesome eats including—you guessed it—hot dogs. While there are multiple dogs to choose from, our pick has to be the spicy bratwurst. The hot dog packs a punch with chilli mustard and a whooole lot of jalapeños—yeow! Rest assured, the dog is topped with an all-important gherkin to help cut through the spiciness.
Want More?
Image credit: Warren Nicholson, Fokker Bros, My Dog Frites, Fritz Weiners