Not all of us have the funds or time to fly around the globe and try the amazing different cuisines our fabulous world has to offer. Luckily for us Aucklanders, we don't need a plane ticket to experience international flavours as we have some of the best eateries cooking up pure authentic goodness right here in the City of Sails! Whether it's Mediterranean, Japanese, French, Mexican—you name it—Auckland has you sorted! Without further ado, here is where to get Auckland's best international dinners.
Feriza's Kitchen & Gozleme Bar
Wynyard Quarter
If you're looking for a Mediterranean dining experience, look no further as Feriza's has authenticity running through the roots of this eatery. Feriza's is owned by siblings Alex and Feriza where they learnt how to cook Ottoman dishes from their grandmothers cookbook in Turkey. The menu consists of dishes that are inspired from the kitchens of Greece and Turkey and emphasise the "mezze" culture with their huge and delicious platters. From the tahini, hummus, falafel, lamb and everything else on their menu, the food here is authentic and the ambience of Feriza's is highly sophisticated with their deep blue colour scheme. You can't leave a Mediterranean restaurant without tasting their slow cooked lamb and Feriza's does a mighty fine job, so make sure to add it to your order!
Kushi, Japanese Kitchen & Bar
Durham Street West
Japanese cuisine is all about freshness and quality over quantity. Kushi embodies these principles perfectly. From the Zen fit out, dim lighting, calming environment and a menu that seems to go on and on, Kushi may be one of the best restaurants to get your Japanese fix in Auckland. Kushi embraces the izakaya bar culture of Japan which is all about inexpensive dishes to share to accompany the alcoholic drinks. With the huge range of dishes from grilled veggies, yakisoba noodles, seafood and meat to fresh sashimi are the perfect pair to your traditional Japanese sake or plum wine. The all-Japanese staff and chefs will also provide an authentic experience from the flavours of the food to the highly attentive service and will make you forget that you're dining in an restaurant located in the streets of Auckland.
Al's Deli
Queen Street
Montreal born, Aleks Lazic has blessed Aucklanders by opening up a restaurant of Canadian eats since 2013. Al's Deli stays true to the local deli vibes of Canada with their constantly smiling and friendly staff, hustling cooks in the kitchen that you can hear from miles away and a menu which is just SO Canadian. Their bagels are all individually hand rolled and made fresh on the daily to be extra chewy on the inside and crispy on the outside. Their house cured salmon has been infused with Canadian maple syrup to give it an extra special element of sweetness and cannot be found anywhere else. We can't mention Al's Deli and not talk about their infamous poutine fries which is the epitome of Canadian cuisine. For those who don't know what poutine is, let us explain: it's crispy French fries on a whole new level as hot gravy and melted cheese curds drench the golden slices of potato, yum!
Hansik Restaurant & Bar
Freemans Bay
When we say Korean food, the first things that come to people's mind is fried chicken and Korean BBQ. Yes, these are staples to Korean cuisine but there is so much more to it that people need to know about. Hansik Restaurant & Bar offer a true Korean dining experience that showcases the importance of presentation and nutrient density of Korean food. Every element of every dish that gets sent out of the kitchens of Hansik have had immense amount of care and thought put in to them—from the flavours, the look and the texture. Some traditional dishes you should get amongst to fully enjoy a Korean dinner are the bossam which is slow-cooked pork belly that is enhanced with soybean paste sauce. Another recommendation from us is the raw beef carpaccio, which is accompanied by a raw egg yolk to give it extra creaminess and balances the strong flavours of the uncooked protein. Raw meat and raw egg may sound a little strange but hey, when it's done right it's an absolute knock out so don't be shy!
Mexican Specialties
Ellerslie
Mexican is probably one of the most popular delicacies in the entire world which may also be a reason to why people love the cuisine so much! It's hard to find authentic Mexican these days but Mexican Specialties located in Ellerslie are a different story. This place goes back to basics with their classic menu of familiar Mexican dishes such as tacos, chips and dip, enchiladas and they do everything perfectly. Margarita's and tequila shots are an absolute given for this Mexican joint but Mexican Specialties goes the extra mile by providing chilli hot chocolate and coffee sourced all the way from Mexico. From the menu, to the vibrant colour scheme and cheerful staff, this Ellerslie gem is to go-to eatery when you're wanting to satisfy your Mexican cravings.

Orleans
Britomart
AMURICA, the home of epic cheat meals like fried chicken, burgers and shakes. For the ultimate American-style indulgence, head to Orleans in Britomart! The timeless design that is decked out in classic wood resembles a local bar and eatery located in the big US of A. Orleans has become popular because their food and drinks menus are as epic as each other! And, of course, the importance they place on counting the memories instead of the calories. Some of our faves include the fried chicken waffles and BBQ ribs for that Southern-style feast. To pay true respect to the American cuisine, Orleans also provides the most American of desserts…pies! Banana pies, spiced pumpkin pies and pecan pies, these guys have it all. If you're in the mood for something sweet with more of a kick, check out their hardshakes. How does a salted caramel thickshake spiked with spiced rum sound?
Saan Thai Restaurant
Ponsonby
Most of us have had our fair share of Thai food but let's be real—many of us have not branched out of the familiar plate of chicken pad Thai and bowl of green curry. If you want to branch out and explore the wide range of yumminess Thai cuisine has with their unique flavours and textures, Saan is the place to go. The menu derives mainly from the Lanna and Isaan regions of Thailand and have been passed down through the owner's family for four generations. Their crispy soft-shell crab covered in coconut sauce, spiced with dill and coriander is an accurate take on the traditional Thai dish. Saan even cooks up authentic Thai desserts like a killer wild sticky rice pudding which is paired with caramelised pineapple, young coconut, palm seeds, cashews and coconut sauce. Saan's warmly lit and modern fit out showcases the high-end dining experience of Thailand and is therefore one of the best Thai eateries for dinner.
El Sizzling Chorizo
Ponsonby
You can't say you've had a proper BBQ without experiencing a BBQ the South American way! El Sizzling Chorizo know how to cook up an amazing feast with a mouth-wateringly delicious menu that we're sure you'll love as much as we do. The intimate, zesty and interactive environment of El Sizzling Chorizo stays true to the South American BBQ culture of sharing the experience of epic meat, wine and, most importantly, conversation. Talk to your loved ones over a huge selection of meat, take your time to enjoy every flavour and moment with the people surrounding you. Nothing can go wrong when it comes to ordering off their menu as everything tastes 10/10 but we can't let you miss out on their empanadas. They're a common starter among the South Americans and they can vouch for the fact that El Sizzling Chorizo are doing it absolute justice.
Pasta & Cuore
Mt. Eden
Italian eateries are a common one in Auckland which made it so difficult to decide which one to list for this cuisine. But after some digging and thinking, we have come to the agreement that the story and menu behind Pasta & Cuore embodied pure Italian authenticity. The owner Stefania has a mother who cooked for one of the most prestigious restaurants in Northern Italy while her grand-mother helped her refine her culinary skills by teaching her the tricks to making a mighty fine bowl of pasta. Stefania opened her first restaurant in Italy in 1999 where she then was given the honour of receiving precious recipes from her grandmother. After years of new experiences and projects, she opened the doors to Pasta & Cuore in Mt. Eden and serves up pure Italian goodness from antipasti, a wide range of pasta, desserts and wine. Their carbonara is like no other—it's rich and creamy but not heavy as real carbonara doesn't use any milk or cream!
Sun World Chinese Restaurant
Newmarket
Going back to basics and Chinese cuisine comes down to three elements—colour, smell and taste, and the staples of rice, noodles, wheat and some source of protein. And on restaurant that does it all well is Sun World Chinese Restaurant located in Newmarket. Popular for their yum char lunches but also for their authentic Chinese dinner menu, Sun World has become a favourite among many New Zealand Chinese locals! The crayfish dish with added noodles would is our absolute favourite as the crayfish is cooked to perfection, making it so tender and is contrasted with the chewy noodles. As mentioned before, Chinese cuisine is diverse in terms of flavours and price range but Sun World is a great place to have a hearty and filling Chinese dining experience.
Mamak Malaysian Restaurant
Chancery Square and Takapuna
Did you know those little instant noodle packets "Mi Goreng" were actually a budget take on a traditional Malaysian cuisine? Malaysian food has been trending in Auckland these past couple of years and Mamak Malaysian Restaurant does it sososo right. They pay homage to the street food of Malaysia, which is packed with all sorts of flavour from mild, medium to spicy. Of course, their seafood laksa is a compulsory dish to add to the order as well as their good old nasi lemak. Also, order the Mamak Mee Goreng in order to pay this dish its full respect as it is so much better than the two-minute version that we're so familiar with! However, there's a lot more to Malaysian food that Mamak has in store for us that need to be tasted. These include the buttery roti, sambal chicken on rice and tom yum nasi goreng. The Chancery outlet has limited capacity so can get quite crowded but the Takapuna outlet is spoilt with seating and is a prime spot for a Malaysian dinner in Auckland.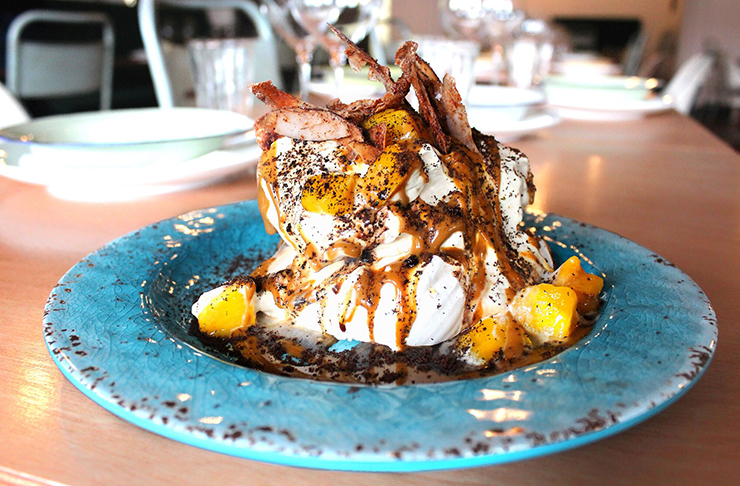 Kai Pasifika
Eden Terrace
Paying homage to the beautiful cuisine of the South Pacific Islands, Kai Pasifika is one of the only eateries that offers Polynesian meals in Auckland. The environment is warm and the staff are friendly and welcoming. Now, let's get started with the food! Pasifika cuisine is all about using predominately natural ingredients to create something wholesome that comforts the soul. The faiai fe'e is a traditional Samoan meal consisting of octopus that has been baked and cooked in coconut cream, making it oh so fragrant and unlike any other octopus dish. For all those who aren't that fond of seafood, opt for the pua'a Samoa—succulent pork belly coated in a koko glazing—this dish is a must! What we love most about Kai Pasifika is that it's not only a dining experience but also a learning experience as all the staff are more than happy to give you a little further information on the origins of the menu items and the sharing culture that is so strong in the Pacific Islands.
Cassia
Fort Lane
Yeah yeah, butter chicken and naan bread are great but so are all the other billion Indian dishes that you probably haven't tried! From the chef who brought you one of the best fine dining restaurants in Auckland, Sidart, Sid Sahrawat teamed up with his wife to create Cassia. The unique mix of modern dining and traditional Indian flavours and textures has made it one of the best restaurants in Auckland. Utilising the classic spices and flavours of India and adding a modern twist makes everything on their menu special. Pani puri is a traditional Indian dish that is served at Cassia and Sid has perfected it—from the crackling, crispy thin shell and flavourful fillings—it's pretty much edible heaven. As for their curries, you won't find that familiar bowl of butter chicken at this authentic eatery. Take a chance and go for their delhi duck, kumara, lychee and cardamom curry and you'll open your palate to flavours you didn't even know existed!
Sen Vietnamese Kitchen & Bar
Mt. Eden
Head Chef of Sen Vietnamese Kitchen & Bar Billy Dang opened up a restaurant of traditional Vietnamese food to showcase the diverse and complex flavours of the delicacy. Vietnamese food is all about the scents and use generous amounts of herbs and spices to liven things up and Sen does this so right! With their pristine interior decorated with photographs from the streets of Vietnam, Sen is the best place to get your authentic share of a Vietnamese dinner. The first mouthful of their beef pho broth will fully convince you that this place is no joke when it comes to staying true to the tastes of Vietnam. Everything on Sen's menu embodies the Vietnamese elements of freshness, fragrance and flavour and choosing from their extensive menu will be a challenge…just warning you. As for dessert, Sen doesn't hold back as they do a banging banh cuon nhan dua—a common Vietnamese street food which consists of a sweet crepe with coconut sugar and whipped cream!
The French Café
Eden Terrace
Wine and dine like a Parisian at Auckland's top French eatery located in Eden Terrace, The French Café. The exquisite combination of food, atmosphere and service has led to this restaurant to be recognised as not only Auckland's best but also one of the best restaurants in the world. Every bite of every dish is an indulgent sensation with their use of fresh produce and premium ingredients. Enjoy a four-course dinner and get a taste of the richest truffle butter and artisan cheese as well as top quality chocolate. To get the full experience, we recommend booking a private dining session where you can get up close and personal with each element of each dish. The chef will get intimate and teach you about the food and how to make the most of every aspect of your meal. They'll also advise you on which French wine will do its best at enhancing and complimenting the flavours of each dish which is crucial when it comes to a French dinner.
Image Credit: Kate Rose, Jaiden Bhaga
Want More?