If you're not obsessed with smoothie bowls right now then who even are you? We've been on the lookout for Auckland's most fabulous bowls of goodness topped with everything from golden granola clusters and freeze dried berries to bliss balls and nut butter to tropical fruit and edible flowers to... well, the list goes on. Wanna know the best part? Not only do they taste amaze, they are also one hundred percent 'gram-worthy. Talk about breakfast goals.
Bowl and Arrow
Orakei Bay Village, Parnell
This would not be an article about Auckland's best and most beautiful smoothie bowls without mentioning Bowl and Arrow, a one-stop-shop for all things smoothie bowls. Choose from eight delightful creations with everything on the menu from the 'Soul Mate' (think peanut butter, cacao, kumara and dates) to the 'Six Pack' (pineapple, mint, spinach, banana and avo), we'll take one of each!
The Raw Kitchen
City Works Depot
For all your raw food needs including epic smoothie bowls, head to The Raw Kitchen. You may find it hard to go past their delish chia pud and granola breaky, but if you do, we totally recommend the Caramel Chai smoothie bowl—a delightful blend of banana, chai spice, vanilla bean, sea salt and date with cacao muesli, cacao nib and coconut. I'm sorry, but it really doesn't get much better than that!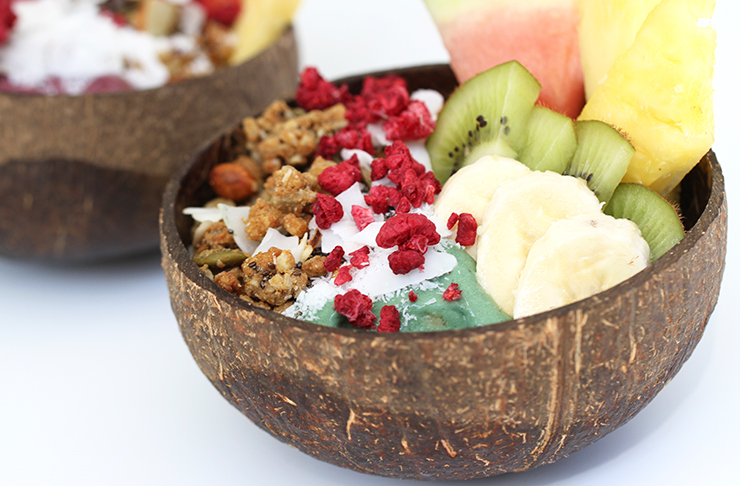 The Smoothie Bowl
Takapuna
If you didn't pick it up from the name, The Smoothie Bowl is, well, smoothie bowl specialists—our favourite kind! We recommend getting yours to takeaway and enjoying down at Takapuna Beach. Mmmmm... summer come at us! P.S. we may or may not have seen a mermaid smoothie bowl sneak peak on their Insta and we may or may not be very, very excited about it...
The Unbakery
Multiple Locations
Undoubtedly one of the best spots in town for smoothie bowl goodness, is The Unbakery. Think luscious, purple acai (made from the berries, not the powder) topped with their famous grawnola and house-made coyo—this is the real deal, guys. Plus, they have a monthly smoothie bowl special brought to us by their smoothie geniuses, which is always worth a try (and a 'gram, let's be honest).
Together
Rothesay Bay
The team at Together are basically the queens of catering and now they have a cafe too (yay!) so everyone can enjoy their gorgeous, tasty and healthy treats! Their Rich Aztec Smoothie Bowl, topped with granola, fresh passionfruit and kiwi is definitely one to add to your Auckland smoothie bowl bucket list.
Dear Jervois
Ponsonby
Okay, first things first, the menu at Dear Jervois is to die for, so good luck choosing BUT if you do decide to opt for their Acai Smoothie Bowl you are in for a real treat! This baby comes with house-made muesli, kiwifruit, toasted coconut, banana, goji berry and chia seeds. Is anyone else salivating right now?
Cafe Mimosa
Takapuna
Everyone loves a cheeky mimosa and with that said we think it's safe to say everyone in Auckland also loves a smoothie bowl. Cafe Mimosa do the latter and we ain't complaining! With a choice between green, acai and mango smoothie bowls, there's something for everyone. Served up with your visual senses in mind, these are definitely Sunday brunch-time goals.
Wise Cicada
Newmarket
The team at Wise Cicada definitely know how to make a sensational (and photogenic) smoothie bowl. They have different flavours to match your mood but they all include something crunchy, something fruity and some edible flowers, duh. They even serve them in cute coconut shell bowls giving you all the Bali feels....
Major Sprout
CBD
If you've seen (or tasted) the smoothie bowl at Major Sprout, you'll know it's a total work of art. Picture luscious acai, painted artistically with coconut milk and then topped off with a seasonal fruit salad, freeze-dried berries, coconut chips. Really, what more could you ask for? It's Auckland-famous and for good reason. If you're looking for 'gram-worthy smoothie bowls, we recommend you get yourself here ASAP.
Image Credit: Jaiden Bhaga, Lauren Matilda Matthews, Major Sprout
Want More?