Whether we're in the mood for a quick fix or we don't necessarily have the time (and money) for an extended fine dining experience, there's something for all of us. Auckland has some eateries that are fast paced and straight to the point when it comes to food but leave you feeling satisfied, happy and cheerful with their friendly service and quirky vibe. Here is a list of Auckland's quick and cheerful restaurants.

Best Ugly Bagels
CBD and Newmarket
The smell of freshly made bagels, sizzling bacon and pumping music will draw you in this place. The staff at Best Ugly are fast but that doesn't mean they don't provide premium quality with their food and service. The person on the till will repeat your order by screaming it to the kitchen staff and they'll all scream it back to make sure they remember your order and have your back. Their bagels are chewy and overflowing with toppings and they're perfect for on-the-go and you're also welcome to pull up a chair and enjoy them at the eatery to soak in more of the fun vibes.
The White Lady
Commerce Street
Although it's not necessarily a restaurant, The White Lady provides a vibe that can't really be found anywhere else in Auckland. This food truck makes the ultimate drunk food and they know it, which is why they keep their wheels running all night on weekends. From greasy burgers, cheesy toasties, classic hot dogs and thick as milkshakes, this place does bomb tasting food. With an open kitchen and tight seating plan, The White Lady makes us feel like we're in another city and it's an experience every Aucklander should have.
Giapo
Gore Street
When we think of fast food, we don't necessarily think the best in terms of quality. But Giapo will never let time efficiency be an excuse for lack of quality as these guys produce nothing but the best. Their staff are always giving service with a smile and give you a quick but educative run down of all their gelato flavours. The shop is constantly busy, so the never-ending influx of customers keeps the vibe lively and fun along with the enthusiastic workers. Their kitchen is also open for us to see them decorate the desserts which adds to the experience and excitement.
Ichiban Ramen
Albert Street
A quick bite while dining alone is a concept that is very normal in Japan and Ichiban have replicated an environment to stay true to the dining culture. Ichiban is set out like an authentic ramen restaurant, just like the ones found on the streets of Tokyo. The walls are covered in Japanese comic book collections and the stools facing outside make Auckland seem busier and bigger than it really is. Whether you're going with friends or solo, Ichiban has is a fast paced and crammed environment that'll make you leave feeling like you've experienced something completely new.
Sushi Train
Chancery Square and Viaduct Harbour
Speaking of Japanese cuisine, how could we not mention sushi? The workers will welcome you in Japanese whether you understand them or not to really set the tone of an authentic Japanese restaurant. Sushi Train has a conveyor belt of different sushi creations that you choose from and they count up the plates at the end and add it to your bill! The freedom of choice and constant surprises you find on the train makes Sushi Train a crowd favourite and to make it even better, you don't have to go through the painful process of ordering and waiting!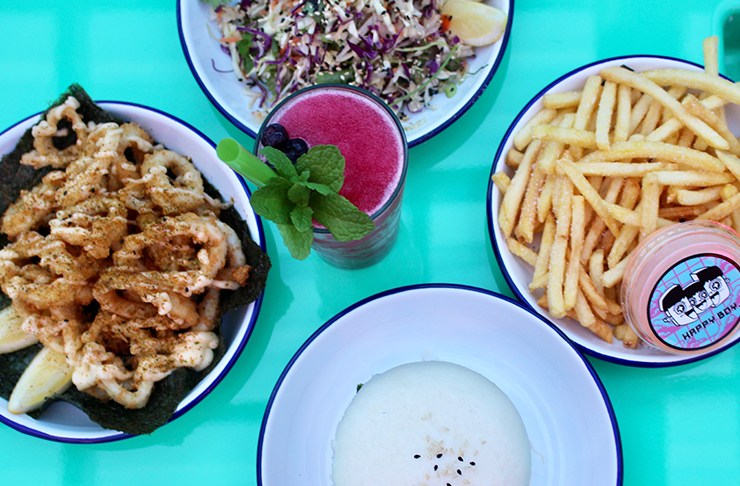 Happy Boy Eatery
Royal Oak
How could we write about cheerful restaurants and not mention Happy Boy Eatery? With their colourful colour scheme and creative menu, Happy Boy will make sure they put a smile on your face during your dining experience. How could you not give in to the fluorescent lighting and steamed bun burgers?! Although their food is made fresh, these guys churn them out quick so you don't stay hungry for too long. If you want to crank up the fun, check out their alcoholic slushies. Our fave is the Watermelon Vodka Slush.
The Pie Piper
K' Road
Auckland does a killer job with the artisan desserts but we all get a hankering for classic treats like doughnuts and pies. The Pie Piper located on K'Road have an American-inspired cabinet with sweets that look like they've been hand baked by your grandmother. Their red and white picnic table cloths, bottomless cups of black filtered coffee and friendly staff really make you feel like you're at a small town local diner and is perfect for a quick sugar fix.
The Occidental Belgian Beer Café
Vulcan Lane
The Occidental Belgian Beer Café has earned the reputation of being the go-to place to get your pub grub on, making it a favourite amongst locals and tourists. Their big mussel pots come out quick as you basically do the work for them by taking them out of their shell but hey, we're not complaining as not only do they taste 10/10 but it's actually pretty fun! Pair those mussels with a glass of Belle Vue Kriek and you're good to go. Oh, for all of you who don't know what Belle Vue Kriek is, it's cherry beer!
Image Credit: Kate Rose, Jaiden Bhaga
Want more?