If there's one thing my 22-year old self can't seem to grasp, it's cooking for one. Don't get me wrong, I'm totally into whipping up feasts for friends and fam, but when it comes to the essential adult skill of cooking for just myself, I suck.
When I'm not out and about, spending all my money on food, a typical evening feed will either be: A) a bread roll stuffed with close to half a bag of spinach (gotta get them greens), rotisserie chicken, and ridiculous quantities of mayo and relish, because I'm condiment obsessed, or B) wine and cheese, the two constants in my life.
Can't be good for the bod.
Luckily for me (and other struggling solo cooks out there), Nadia Lim has come to the rescue. You'll recognise this badass babe and mother-to-be from Masterchef, however these days Nadia keeps busy at the helm of My Food Bag—a food parcel service filled with fresh ingredients and delish, healthy recipes. And the best part? It's delivered straight to your door!
Nadia and her team recently launched My Own Food Bag, which is pretty much the epitome of lifesaving for useless people i.e., me. Much like the other My Food Bags (My Classic, My Family, My Gourmet and My Veggie), My Own Food Bag hands you the ingredients and recipes for meals for one, so all you have to do is cook!
Sounds awesome, right? Well I tried it, and it is. Here's what happened: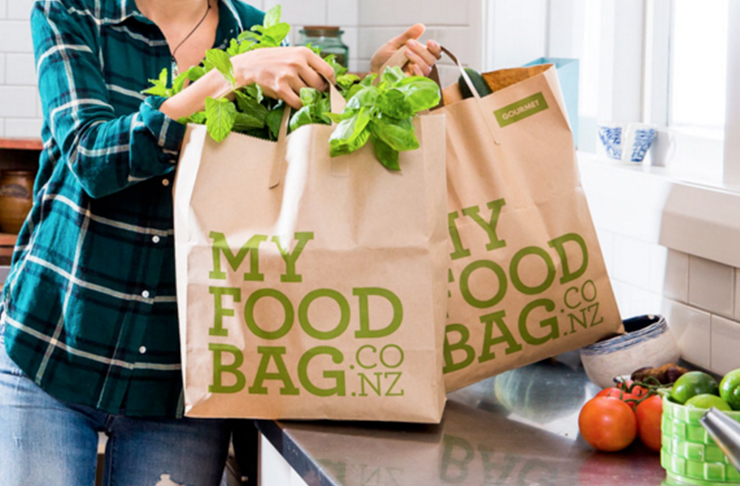 Day 1, Sunday
Sunday night was like Christmas. I arrived home to a brown paper bag and silver box sitting on my doorstep. Food! Hurrah! I smugly waltz into my flat, unpack the goodies, and announce to my flatties that, I, Olivia, will be cooking proper food this week. A lot of eye rolling ensued, but I went to bed brimming with excitement.
Day 2, Monday
After smashing through work, I raced home to get cookin'. Miso Orange Glazed Salmon with Asparagus Radish Salad and Brown Rice was on the menu (fancy, huh?) and I was ready to get stuck in.
Everything was oh-so-fresh. I chopped up the salad, put the rice on, cooked the salmon, and it was done. A nutritious meal lay before me and there was no rotisserie chicken in sight! It wasn't all that pretty (my food stylist mother wouldn't be impressed), but, dayum, did it taste good.
Day 3, Tuesday
Cooking two days in a row! Look at me go. Tuesday's dinner was Tandoori Roast Chicken with Carrots and Masala Potatoes and there was enough for two—either leftovers for lunch, or to share with a hungry flatmate. I did the latter. The spice mixes came in dinky paper pouches, and the chicken was as easy as chucking it in the oven and letting it do its thang. We gobbled it up stat.
Day 4, Wednesday
Another day, another stellar dinner—Lamb with Roast Kumara, Asparagus, Cherry Tomatoes and Chilli Yoghurt. Wednesday evening was spent watching Caylie, our Marketing Manager do yoga in the air at Aracnation. Tough work for her, not so much for me, but I was ravenous by the time I got home.
I got started, and suddenly my flatmate was peeking over my shoulders. Looked like I was cooking for two again. Realised I used all the asparagus on Monday (my bad) so improvised with beans as a replacement. That's the beauty of My Own Food Bag, if you want to bring in extra elements, no one's gonna stop you.
We even had leftovers for lunch! How that happened I do not know.
Day 5, Thursday
Energy! Where did you come from? Must admit I'm feeling like a bit of a spring chicken. Nutrients, I suppose—My Own Food Bag is packed with them. For dinner I eat Open Lasagne of Courgette, Cherry Tomatoes, Artichokes and Pesto. I'm usually a meat-or-it-doesn't-count-as-dinner kinda gal, however this lasagne was delicious. Layers of fresh pasta filled with veggies and drizzled with pesto might be my new vegetarian go-to.
Thanks My Food Bag, you did good. Not only did I cook meals for myself (and my pesky flattie) for 4 days straight, I realised that cooking for one isn't all that scary. While I'd love to eat like this every week, life is still going to get in the way of my cooking time—and even My Food Bag can't fix that. But when you want to get on the solo cooking bandwagon, you know where to go.
You can try My Food Bag by ordering at their website, but if eating out is your thing, check out our directory of the best restaurants and cafés in Auckland.