Dena Kaplan, or Dena Amy as she's professionally known, is an actress, dancer and DJ. She's effortlessly cool, confident and thinks nothing of mastering a new art form.
The South African-born, Australian-raised DJ has been kicking goals left, right and centre from a spot in the Australian Ballet School and tour of The Lion King at an early age to a leading role on Dance Academy and more recently, hitting the decks at festivals like Your Paradise and Coachella.
How did you get into DJ'ing?
I come from a long line of musicians and artists and was always surrounded by music. My grandparents were directors and dancers, my parents were musicians, and both sisters are performers. It was in my DNA.
I never thought I would end up being a professional DJ but music was always a very important part of my life as a dancer/choreographer and theatre performer and then as an actor. I always use music heavily to emote or create a scene. I then progressed into curating music, DJ'ing, producing and singing. My goal has always been to become a 360-degree artist and doing it all like Childish Gambino, Jared Leto and Beyoncé. When I am an EGOT I'll be satisfied (an Emmy, Grammy, Oscar, Tony nominee).
Your journey into DJ'ing has taken off like a rocket! Do you ever have 'pinch me' moments? Or does a lifetime of performing make it seem almost natural?
Performing is definitely where I am most at home and I love being on stage however, I certainly have my fair share of 'pinch me' moments. In fact, any time people just show up to watch me play I am genuinely shocked and so grateful. It amazes me that people take the time to come see me do what I love. I count myself very lucky. Before any event I always say to my manager, "no one is going to be there" and I am genuinely shocked to see beautiful, supportive faces out there really understanding what I'm doing.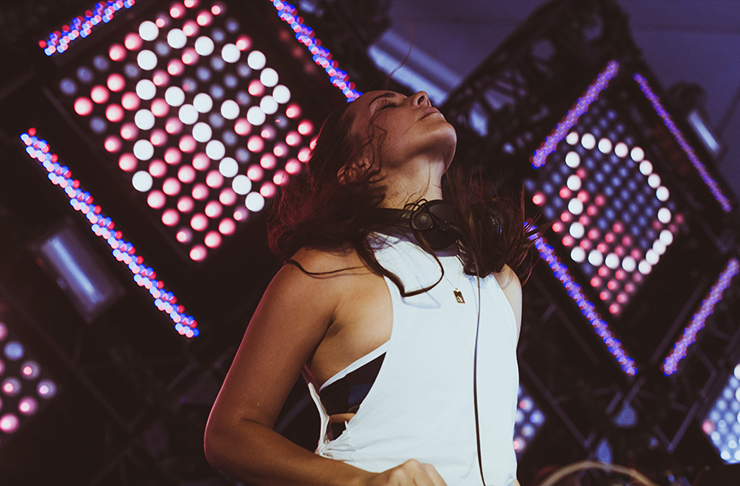 What does a Dena Amy festival set sound, look and feel like?
It feels like a journey, it's different. I'm not a typical tech house DJ. I'm very inspired by Nico Jaar, Black Madonna, Peggy Gou and Black Coffee, so I try to keep it genre-free. It's tribal and worldly, sexy and dark, disco and fun, and always sweaty and filled with dancing. I keep my shows eclectic as possible, and just make it about the feeling, energy and vibes. I like to make every set different and play with really interesting songs that are unreleased or edits so it's always new and fresh for each crowd.
Festivals are so high energy, how do you prep yourself for one?
Being a DJ seems very glamorous but it actually takes a lot of discipline, especially if you want longevity in this industry. With the touring and late night shows I really have to prioritise my health. I eat very clean, train, hardly ever drink (my rider has kombucha not vodka on it), meditate and use saunas a lot. For every event or festival I also get my hair and glam done at Edwards and Co; it's the only place I trust.
I burn incense before every set and I really do the work so that when I'm on stage I am prepared and confident. You will usually find me three hours before a set going over five different options and last minute song discoveries.
What's your go-to festival food/drink?
Kombucha, coconut water and a touch of tequila if I'm celebrating! I love finding delicious festival food trucks. You can usually find some amazing healthy options and I always have almond butter and fruit on my rider.
What has been your favourite festival as an act?
Performing at Coachella was incredible. It was truly life-changing. CRSSD festival in San Diego was a really beautiful experience and I love playing Australian festivals like Beyond The Valley and FOMO! I also just got back from Your Paradise in Fiji and that is without a doubt one of the most fun - yet relaxing - festivals I've ever played.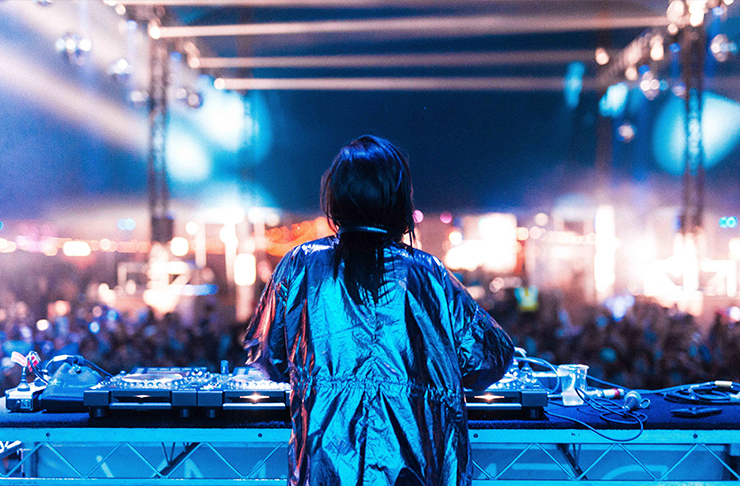 What has been your favourite festival as an attendee?
Electric Forest in Michigan was ridiculous. It was like Harry Potter world meets Twilight meets Sleep No More - there was something for everyone. It was truly an artistic experience with the most incredible art installations and unique lineup. I had the time of my life.
I also LOVE Secret Garden in Sydney, I had so much fun at that festival, and Hangout Music Festival in Alabama is another unmissable one. It's on the beach and so well done. I remember watching SZA and Kendrick Lamar while floating in the ocean, pretty special.
Do you have any plans to collaborate more in the future with your partner Jon George and his act RUFUS DU SOL?
Jon and I love creating together and we are actually sitting on some gold. We have about six really awesome unreleased tracks but we're just waiting 'til we both have time. At the moment we're focused on our own projects with his amazing album SOLACE just being released and my upcoming EP being my main focus. But yes, he's a dream to work with and my ideal collaborative partner. He's one of the best producers in the world so it's a real honour to work and learn from him.
If you could play any festival in the world, what would it be?
Dekmantel in Amsterdam, Sónar [Barcelona], or AfrikaBurn.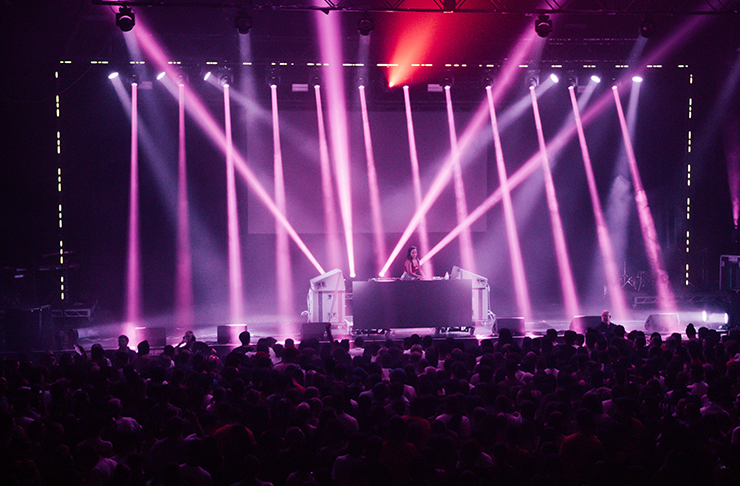 Do you have any regular Sydney spots to hit for a night out or brunch?
For brunch I love Bondi - you can't go wrong. I love Cali Press for coffee and Orchard Street for beautiful, healthy food. As for a boogie, you can't miss Chinese Laundry in Sydney - one of the best clubs in the world. I will be headlining there in January and it's always one of my favourite clubs to play in Aus.
You're a master of so much, if you were to add another skill, what would it be? Note: firewalker, juggler and 'the next-next James Bond' are all viable options.
Haha thank you! I am really obsessed with the ocean so I wish I could add pro surfer or diver to the list but realistically I'm seeing myself fall more in love with directing and visual work.
I'm inspired by artists like The Blaze and FKA Twigs who direct/choreograph/cast and produce their own work. I see a future in music video direction or film sync, something to combine my passions of both cinema and music.
Finish these sentences:
Dancing has given me… confidence and an appreciation for the amazing things our bodies are capable of doing! I've learnt to really respect and take care of my body.
Acting has given me… compassion and a deeper understanding of the human psyche. When you play darker roles on television you need to understand where they come from and why they make the choices they do, this gives you a better understanding of society and therefore more compassion.
DJ'ing has given me… freedom. Release, therapy and a feeling of power… a female empowering kind of power! It's a gift.
We also stopped for a hot minute to chat LA-living with RUFUS DU SOL.
Image credit: Supplied