If you're looking for your next cheat meal, you've come to the right place. In a laneway in the heart of Britomart, you'll stumble upon Orleans. Oozing intimate, speakeasy vibes, the bar-slash-eatery is all about music, liquor and New Orleans-inspired eats.
When it comes to their mouth-watering, finger-licking dishes, they don't do things by halves. Over-the-top and deliciously indulgent, we suggest leaving your diet at home. Their new menu is as epic as ever with everything from chicken waffles and deep-fried burgers to po'boys and coffee bacon PIE. Here's what's making our tummy rumble…
First Things First, There's A Waffle Tower
It's very much 'go hard or go home' at Orleans. And, quite frankly, the only option is to go hard. There are three mammoth 'headliner' dishes to devour including the insane waffle tower. A regular on your Instagram newsfeed, it's crammed with fried chicken, duck wings, pork belly, onion rings, cheese and—of course—fluffy waffles. The stack is then lovingly drizzled with maple chipotle and served with curly fries.
You Can Order A Kilogram Of Ribs—Yes, An Entire Kilo!
Calling all rib enthusiasts! Orleans has your back (or should we say stomach?) when it comes to meaty goodness. Also a 'headliner' dish, Orleans serve a whole kilogram of good ol' barbecue ribs. These bad boys come with house-made barbecue sauce, corn relish and oh-so crispy onion rings. Prefer chicken and/or duck? You can also order a kilogram of chicken and duck wings served with peanut butter barbecue sauce. Licking your fingers clean is not only acceptable—it's encouraged.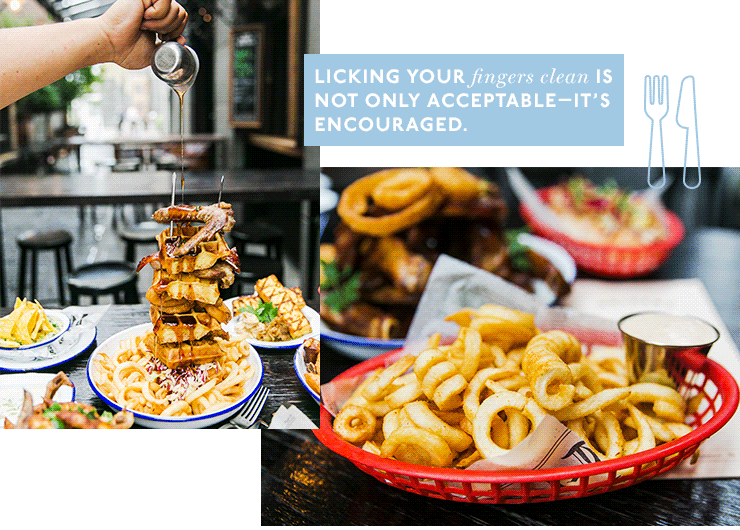 No Visit Is Complete Without A Fried Chicken Waffle
Speaking of chicken and all things delicious, Orleans is known and loved for its fried chicken waffle. Trust us: the combination is a thing of mouth-watering beauty. We're talking a delightfully fluffy waffle, topped with crispy fried chicken and drizzled with sweet-yet-spicy maple chipotle. For added measure, it's garnished with crispy sage and herb butter. Pro tip: keep your eyes peeled for Orleans' Waffle & Shake Wednesday.
Deep-Fried Cheeseburgers Are Officially A Thing
Everyone knows the two best foods are 1) cheeseburgers and 2) anything deep-fried. Orleans has combined the best of both worlds to bring us…yep, you guessed it...a deep-fried cheeseburger! One for the cheat meal bucket list, the burger is stacked with a beef patty, tomato, lettuce and pickle. It's then battered and deep-fried to ooey, gooey cheese perfection. You know you want to.
Let's Be Honest, The Rest Of The Menu Is Equally Epic
Arrive hungry because, regardless of what you order, you're in for a total feast! From pork belly and grilled calamari to grilled cheese cornbread and curly fries, dining here is totally indulgent. We suggest rounding up your squad and eating your way through a lavish selection of dishes. Fried pickles, smoked fish pâté, confit chicken and unmissable po'boys…this is a cheat meal at its finest.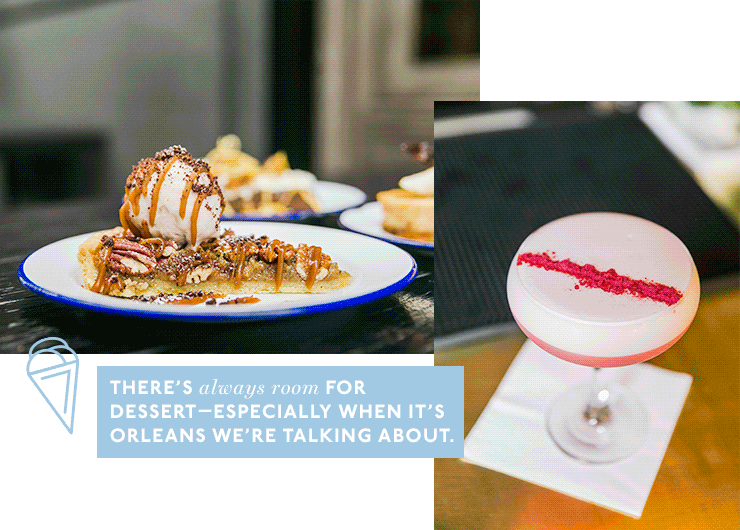 Room For Dessert? They Serve Life-Changing Pies
There's always room for dessert—especially when it's Orleans we're talking about. You'll find four mouth-watering creations under the aptly named 'life-changing pies' menu. Choose from chocolate with candied orange peel, pecan alongside cinnamon ice-cream or cherry with frangipane. We can't go past the coffee and bacon (yes, bacon) slice with chocolate bacon, maple glaze and caramelised banana. Our advice? Opt for their three-pie combo!
Wash It Down With An Equally Over-The-Top Cocktail (Or Shake)
Feeling parched? We're not surprised! Sip on American-sourced wine, cocktails or a creamy hardshakes (that's right, milkshakes spiked with alcohol). Just like the food, the cocktails are totally OTT. Sip on a Sazerac (aka the official cocktail of New Orleans), a rhubarb and raspberry St Louis Sour or a shareable big easy punch. It looks like you just got a new fave watering hole!
Editor's note: This article is proudly sponsored by Orleans and endorsed by The Urban List. Thank you for supporting the sponsors who make The Urban List possible. Click here for more information on our editorial policy.
Image credit: Lydia Arnold