Truth: being surrounded by fried chicken 24/7 is the dream. For Morgan McGlone, chef and owner of Belles Hot Chicken in Australia, this dream is a reality.
Born and bred in Tokoroa, the Kiwi chef is a long way from his parents' local fish and chip shop 'Tikis Takeaway'. He's travelled the world, worked with other acclaimed chefs and built a soul food following wing by wing. How you ask? Damn hard work and some clucking good fried chicken.
Together with Estrella Damm we caught up with McGlone to talk growing up in New Zealand, Kiwi seafood and perfecting the ultimate fried chicken sandwich.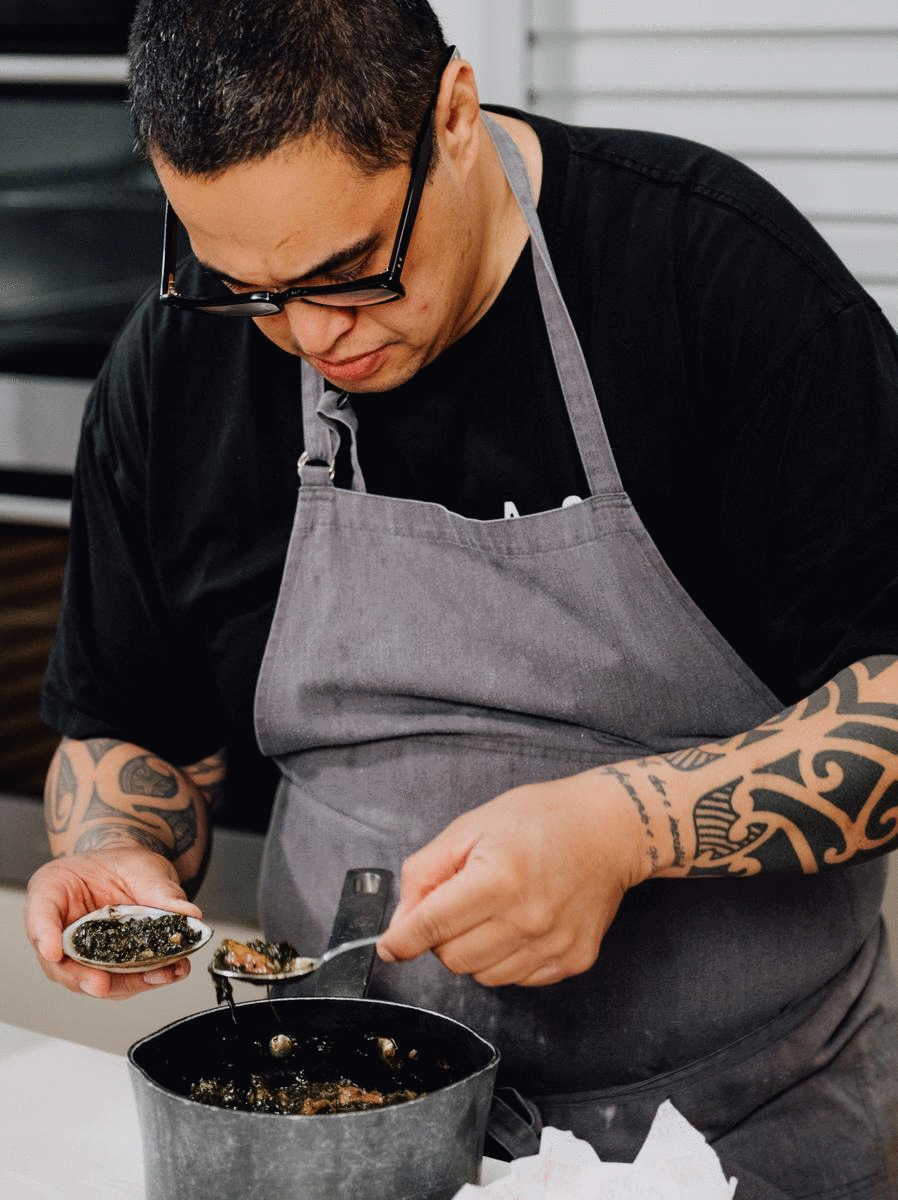 Tell us a little bit about yourself
I'm half-Maori, half-Irish, born in New Zealand, but I trained as a chef in Australia. I've had a lucky life working overseas and now I have a pretty successful business—Belles Hot Chicken—six shops and six tonnes of chicken a week. A lot of chickens.
What was growing up in Tokoroa like?
I was born and lived in Tokoroa until I was six years old. I remember going to school in bare feet and playing rugby there for the first time. My parents owned a fish and chip shop called Tikis Takeaway and we would always go there after school on Fridays with my best mates. I will always remember the milkshake cups with the giraffe on it, the Longest Drink in Town, and we would just drink milkshakes and eat fish and chips. That was the highlight of my week.
Was that your first exposure to New Zealand cuisine and cooking?
Yes, and my mums family is from the Hawkes Bay so we used to always go to Waimarama beach and my uncles would go diving for paua, crayfish and kina all the time. In the school holidays we would catch eels or go picking for pipis at low tide. We were always around seafood, that was a natural thing for us and a big part of growing up.
Why did you decide to become a chef?
My grandfather and my father were both chefs. I always thought that I would become an All Black but I was kind of lazy when it came to sport and thought, well, I'm not going to be the next Sonny Bill Williams. Having that exposure at a young age to the fish and chip shop, and growing up around really good food, cooking was a natural progression for me. My dad told me from an early age that you'll always have a job as a chef because people need to eat.
Can you tell us about how you discovered Estrella Damm?
My friend owns a bar in Barcelona, and I was lucky enough to cook there last year when I went to Sónar festival. He took me to a local tapas bar called La Cova Fumada and there they had these incredible small Estrella Damm bottles—the beer just married so well with the really punchy flavours of the food.
You've travelled the world, which city's food scene has influenced you the most?
It would have to be Nashville, Tennessee and Charleston, South Carolina. I lived there for two years and had the opportunity to work for Sean Brock as the first non-American head chef of his restaurant Husk in Nashville. The food scene has this juxtaposition of Southern-style barbecue and then an incredible Laotian community, along with Nashville Hot Chicken of course, which is what Belles Hot Chicken is based on. I also really love country music, I'm a massive Garth Brooks fan. I love George Jones, Charley Pride and T-Swizzle—don't judge me.
Nowadays I'm probably more influenced by Japan and their ethos of doing one thing well and each day aiming to do better and better.
Do you have a mentor?
I definitely have two. My father, who was the first chef that I looked up to—he pushed me in the right direction to start my cooking career and taught me that working hard was an important part of getting ahead in a job. My big-time food mentor has to be Sean Brock who I had the pleasure of working with side-by-side. Understanding his philosophy about taking your time and learning about restraint had a massive food influence on me.
What's been the most exciting thing you've done in your career?
Having the opportunity to travel, cook with some of the best chefs in the world and having exposure to different cuisines. One minute I could be in Paris with a family of Algerians eating couscous on a Sunday, and then the next day dine at a three Michelin star restaurant. These are the sort of experiences that I never envisioned as a young Kiwi boy.
What's been your biggest obstacle to overcome?
So far, I'd have to say becoming a restaurant owner and working with partners. My dad told me at an early age that the only ship that doesn't sail is a partnership. When I came back from America I had $5,000, which gave me enough money to set up my company—so the deal that I had was the deal that I had. As chefs, we make amazing chefs but terrible businessmen because our egos get in the way. You can become so concerned about the food but what makes it is the whole package; dining, service, drink pairings—all these things help to make a really enjoyable dining experience.
What's your go-to comfort dish?
It's a Egg McMuffin. I'm kidding, it's definitely something like buttermilk fried chicken or incredible soul food like biscuits and gravy or awesome Chinese food. Stuff that has really punchy flavours, that's my ideal comfort food.
What makes a great food and drink pairing?
It's flavour profile. The most important thing about a food and drink pairing is using simple and punchy flavours, and I think with Estrella Damm the lightness of this beer adds a really crisp flavour to seafood and doesn't overpower it.
How did the idea for Belles Hot Chicken come about?
It came about with a mate of mine sitting on a porch in East Nashville. We'd ordered some fried chicken and drank some incredible beer and I just sat there and said, 'I'm going to take this back to Australia because I think I'm going to make a lot of money.' It was really just a simple concept; good fried chicken, good drinks, good times. That's all it was and all it has been.
What's the secret to a perfect fried chicken sandwich?
Three things; brined chicken, seasoned flour, well-seasoned oil. That's it.
What's next for you, any big plans?
Basically overseeing the expansion of Belles Hot Chicken into other states of Australia, namely Queensland, South and Western Australia. And then maybe going overseas, maybe even New Zealand.
What's special to you about Kiwi cuisine?
It's home. I was born here and I spent a lot of growing years here so everything I taste has a food memory of my family or a place.
Fried food and beer, name a more iconic duo. Pair your next flavoursome dish with Estrella Damm, the perfect complement to any delicious experience.
Editor's note: This article is sponsored by Estrella Damm and proudly endorsed by Urban List. Thank you for supporting the sponsors who make Urban List possible. Click here for more information on our editorial policy.