As a designer, surfer, mother and business-owner, Danielle Clayton is the pure definition of boss lady. The founder of Salt Gypsy, a sustainable surfwear brand for women, has been riding the entrepreneurship wave for six years—building out what started as a blog and a pair of surf leggings into a considered and curated line-up of surf products and more recently, surfboards for women.
We caught up with Danielle to talk about early surfing memories, designing for women and must-have Kiwi eats—spoiler alert: it's a pie and we couldn't agree more.
What's your first memory of surfing?
Sitting on the beach as a teenager at Pakiri watching my boyfriend go surfing with his friend and vowing to never sit on the beach again. Surfing looked way too much fun.
How did you get started in the surf industry?
I worked part-time at local surf shops in Auckland throughout high school and university. After living in Japan post-university, I then landed a job at Billabong NZ as a sales rep/account manager. I loved my job, the team and retailers that I worked with, and used those two years learning as much as I could about sales and brand management. That has been the foundation on which I've built Salt Gypsy.
What's been one of your biggest 'pinch-me' moments so far?
Most recently, it was sitting on a panel of four business owners discussing innovation as part of Amazon Australia's Launchpad Program event and realizing I was the only one sitting up there who started with zero capital and no business partner/s (or even a plan to start a business). It was a pinch-me moment in recognizing what you can achieve with limited resources and relentless tenacity for a vision much bigger than yourself. And every time I surf one of our Salt Gypsy boards, that's a pretty rad feeling!
How would you describe your personal style?
As a surfing and working mum, very casual and fuss-free. I feel way more bold and confident expressing my personal style in the sea than I do on land.
Why did you start Salt Gypsy?
Originally, Salt Gypsy began life as my personal blog while I worked as a surf guide in the Maldives. I needed a way to connect online with like-minded female surfers while I was surrounded by blokes in the Indian Ocean for months on end back in 2012 and at that time, blogs were developing as a great way to build an authentic community and share the things you love. Through the 2012 season, I had two pairs of surf leggings made for myself as I couldn't find anything in the marketplace and began blogging photos of me wearing the leggings in the surf. At the end of that season and after some feedback from other female surfers, I launched the first iteration of customizable surf leggings, received a handful of orders and have slowly, organically, developed our product range and responsible supply chain ever since.
Can you tell us a bit about the brand?
We are a women's surf lifestyle company celebrating everyday ocean women and style in the lineup. We use responsible manufacturing processes and sustainable materials to produce high-quality surf garments for discerning women of the sea. Our goal is to support women in feeling good and surfing better.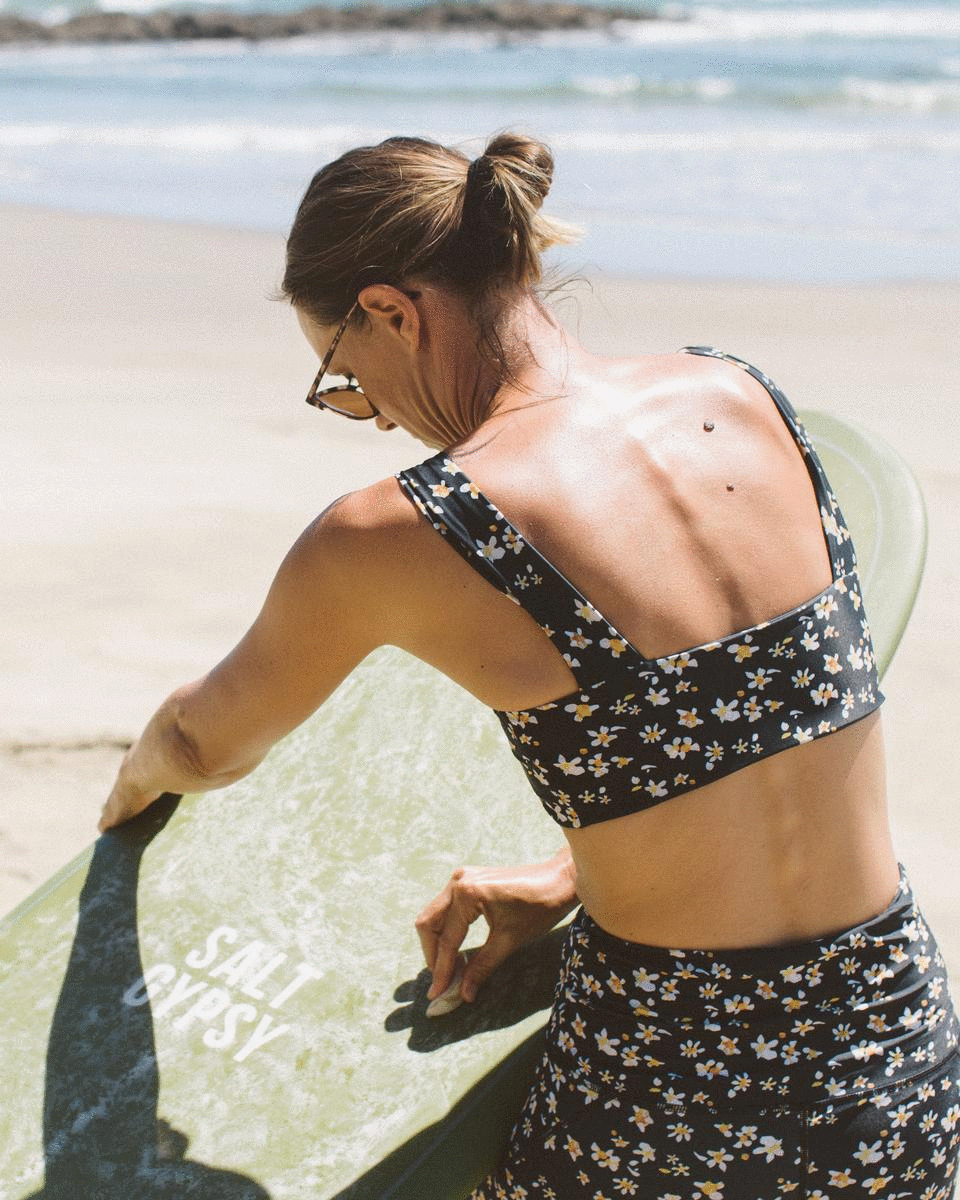 What inspires your designs?
I keep tabs on what's happening in streetwear and high fashion and constantly think about how to translate apparel styles and prints I like into gear I'd want to wear in the surf. As the regenerated nylon yarn in our Italian fabrics means our pieces last four to five times longer than cheaper stretch fabrics, I'm mindful of carefully designing our surf garments to transcend fast fashion trends and offer women classic, mix and matchable surf separates they can style back with their existing surf and swim wardrobe for years to come. Our design challenge is how to make sun protection cool enough that women, both young and older, will want to wear and ultimately, help reduce the risk of skin cancers and melanoma.
You've recently released some killer surfboards for ladies in NZ?
Yes, being first to market with a board range specifically designed and marketed for everyday female surfers is an opportunity I am very excited about. One of the things I've learned about being in business and using it as a platform to help drive change in an industry, is that you have to have skin in the game in order to be a part of that change you wish to see. This is our starting point: zero plastic packaging and designing our boards to be cared for over years and years. I'm really looking forward to seeing how this category (women's surfboard ranges) can develop with the help of technology and more environmentally friendly materials as they become available to the surfboard industry at large.
What's one of the hurdles you've overcome on your business journey?
Where do I start… considering Salt Gypsy has survived for nearly seven years when statistically, more than sixty percent fail within the first three years is something I'm proud to have overcome! But seriously, just launching a product was a hurdle as I had zero capital and had to learn very quickly to think outside the box with how I could launch this new concept (of wearing leggings in the surf). That was how I came up with customizable surf leggings—a first of its kind product, as a minimum viable product and have operated as a lean startup ever since.
What do you love most about your job?
Seeing firsthand how women light up when they feel stylish and confident in our surf wear—a hard task for garments made from skintight fabrics!
What's next for Salt Gypsy?
Launching our kids range and establishing a Take Back program for our surf garments that we can forward on to women and children community groups around the globe who need gear to support their surfing ambitions.
Fast Five
Favorite surf beach?
This is a hard one… can we blend the warmth of Byron Bay beaches with the raw beauty of NZ's west coast?
Dream surf destination to visit?
Madagascar.
Must-have Kiwi meal?
Is it bad that I immediately think of pies and ginger crunch… is that a meal?!
Favorite song right now?
California Soul by Marlena Shaw… Diplo Remix… but if you ask my one-and-a-half-year-old it's Bennie and the Jets. On repeat.
Next big surfing trend?
I see two things: The rise of female surfers in business shaping our women's surf culture to better reflect our everyday surf experience and the shift to sustainable materials and ethical production as the way of making products better.