Having seen some stunning trapeze pics appearing on my Instagram feed recently and being the ever-curious exerciser, when Access Circus invited me down to Brighton Beach Reserve to join a flying trapeze class, I emailed back a big fat 'YES!' straight away.
I turn up after work on a balmy Thursday evening with a whole lot of thoughts running through my head. Will it be hard? Will it be scary? Will I fall flat on my face? Will I have abs after one class?
There are eight people in my class—a mixture of 'frequent flyers', first-timers and a tiny 7-year-old girl who proceeds to put the rest of us to shame over the next hour.
After being strapped into our harness belts, we gather in a circle for a few stretches, then cover the basics on the ground. Toes over the edge of the platform, grab the bar, bend your knees, bum out, chest up…and fly! All pretty easy so far.
Watching a couple of people take their turns before me, I fluctuate between feelings of disbelief that I'm really going to do this to overwhelming excitement to get up and give it a go.
Before long, it's time for me to climb up the 10 metre high ladder. At the top (after temporarily being dazzled by the gorgeous sunset!) I reach out for the platform and step off the ladder. I'm a tiny bit scared of heights, and while the ladder and the platform were fine, grabbing the trapeze for the first time was scary as hell. It required full trust that the instructor behind me was holding onto my harness…which of course he was.
With toes dangling over the platform and gripping the bar tightly (too tightly? You should have seen the calluses on my hands the next day!) I was instructed to squat, jump and raise the bar. And I was off!
All sorts of primary school monkey bar memories came flooding back as I flew through the air, flipping my legs through my arms and over the bar, letting go of my hands and soaring back the way I came.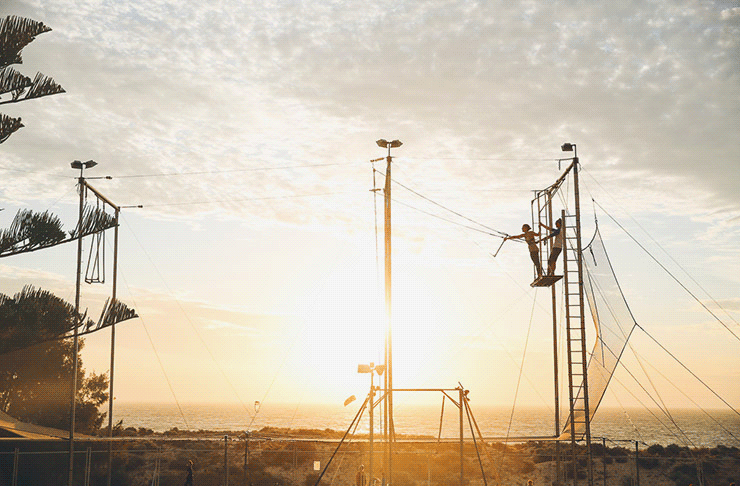 While it was tempting to holler with each swing (it was so much fun!), it actually took a fair bit of concentration to focus on the instructor's commands while swinging upside down. There were a few times that I missed my cues to drop from the bar, but by the third swing I had it down pat.
Along with the other students in the class, I rotated through five trips up the ladder, on to the platform and into the evening sky. We learnt how to swing our legs up onto the bar and release our hands, how to do a backflip dismount, and, toward the very end, a catch.
Judging by how sore my abs, arms and legs were the next day, I understand why trapeze is such a great workout for your whole body. My instructor said that with regular practice, participants tone their upper body and core muscles and become stronger and more flexible.
If you've ever wondered what it feels like to fly, have a secret dream of running away to the circus, or are just sick of slogging it out at the gym, this workout could be right up your alley. Even after one class, and despite the fact I was pretty sore for a few days, I can't wait to fly again.
Still want more? Read all about the time we tried Aerial Yoga!
Image credit: Louise Coghill