Sometimes in life, the post-work dilemma of what to cook for lunch and dinner can get all too much. Pasta or pita? Salad or soufflé? The mere thought of having to pick up a pan is enough to make you want to throw the next one you see out the window. The struggle is real and we feel your pain.
On those kinda days, we vote you head out to the big city for a stress-free feast. But, don't you worry your socks off, convenience doesn't have to compromise healthiness here. We've got your healthy, lazy food needs covered with a round-up of Auckland's best cafes and restaurants to hit up for a healthy feed. You're welcome.
Restaurants
Burger Burger
Takapuna, Newmarket & Ponsonby
What better way to kick off a health article with a burger joint, right? Burger Burger's menu is super versatile for those who are aiming for health. All you need to do is replace the burger buns with a lettuce wrap or salad—the bunnace and the balad. Burger Burger also has a variety of vegan and vegetarian options for people trying to cut out animal products. As far as sides go, their chargrilled broccoli is not to be missed. They have some of the best kumara fries in town too, and we all like to think sweet potatoes are a little healthier than regular potatoes (which is actually true, we promise).
Food Truck Garage
Ponsonby & CBD
On a mission to prove that fast food can be good food is Food Truck Garage. Their simple and fresh meals spin the favourite classics in a healthy way, keeping the same delicious flavours but minus the nasties. Alongside their extensive burger menu are flavourful wraps, salads, tacos and bowls. While the food is incredibly delish, it is the details that make Food Truck Garage really stand out—using free-range range meat, sustainably caught fish, gluten-free tortillas made fresh each day, kumara buns on the burgers and plenty of dairy-free, gluten-free and vegan options. The nutrient-dense meals are as tasty and as speedy as your favourite fast food joints, makes it an easy choice right?

Janken
Herne Bay
Crockpots and hotpots are just some of the healthy yet hearty meals waiting for you to devour at Janken. The team at this Japanese Herne Bay hub have also conjured up a mighty fine range of Shojin dishes—vegetarian meals cooked in Buddhist tradition. Get amongst the perfectly rolled sushi, delicate sashimi or tasty bowls for a light and healthy dinner, packed full of the good stuff. All desserts here are free from animal products, white flour, white sugar and gluten so don't hold back—indulge. Janken easily makes our list as one of Auckland's best healthy restaurants, and we can never say no to a good sushi roll.
Hello Mister
CBD, Parnell & Newmarket
Vietnamese food is no doubt packed full of flavour, but it can also be a healthy option if you are craving Asian food. Hello Mister pride themselves on being fast, fresh and flavoursome and we can definitely attest to all three of those claims. With traditional dishes like Banh Mi, rice paper rolls and Pho, there's no shortage of fresh produce to keep your meal light and nutritious. Take your pick of protein including chicken, pork, prawns or tofu and enjoy the hit of authentic and bold flavours. If you're in a rush but don't want to sacrifice taste and health, Hello Mister has your back.
Sushi Train
Chancery & Viaduct Harbour
Sushi Train is the haven of omega 3's, protein, healthy carbohydrates and veggies. What's great about this place is that you basically have control over everything. Help yourself from the conveyor belt of endless options and stop when you please. With sushi, ramen and an array of fresh seafood on the line-up, there will be something for even the pickiest eaters. Make sure to check out their menu as well, as you can also make an order if nothing on the train toots your horn. There are tons of vegetarian and vegan options to choose from as well and we guarantee you'll easily find a healthy dinner here.
Poké Poké
Takapuna
If you're looking for a chilled-out environment, check out Poké Poké in Takapuna. Using the freshest local ingredients, you can construct your own salad to suit your own dietary and taste requirements. Poké Poké's allergen labelling is on point so you don't have to be "that guy" when placing your order. The bowls are packed full of a variety of ingredients that work together to create an explosion of flavour, and you know you're getting a nourishing meal at the same time. Feel free to get it as a takeaway and enjoy your poke bowl on Takapuna Beach for ultimate Hawaiian vibes.
The Blue Breeze Inn
Ponsonby
Look up some photos of The Blue Breeze Inn and you'll see a whole lot of green. Don't let this fool you though, the dishes that come out of this kitchen are packed with all kinds of flavour while also being nutrient-dense. The modern Asian fusion restaurant uses fresh and colourful produce with all of the bold and punchy spices to create mouth-watering dishes. Pro tip: order a wide range of things from their "smaller appetite" menu to share and enjoy everything in moderation. This way, you'll fly out of the restaurant feeling light and absolutely content.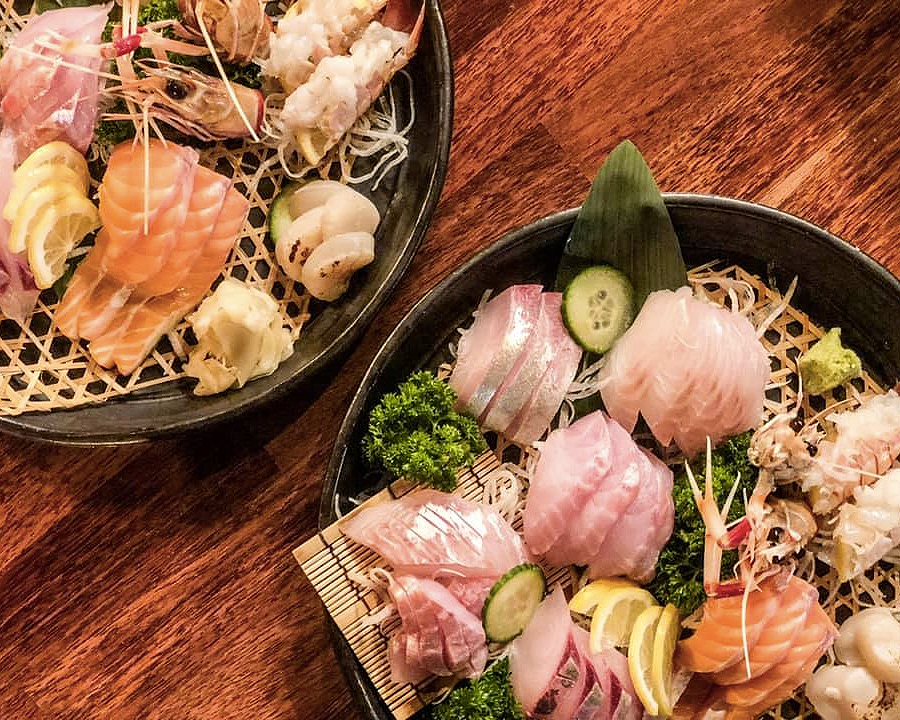 Hansik Restaurant & Bar
Freemans Bay
Asian cuisine is incredibly popular these days, whether it's Japanese, Chinese, Vietnamese, Malaysian or Thai. But guys, Korean food needs to be talked about. Korean cuisine has a strong base of vegetables and are big believers of the fermentation process and probiotics (hello kimchi). Hansik Restaurant & Bar provides an ambience of fine dining and a menu which is rich in micronutrients and different proteins from tofu, fish and meat. It might just turn into your new go-to when craving those bold Asian flavours.
Green Time
CBD
Named one of the best plant-based restaurants in Auckland is Green Time, the Fort St gem that always saves the day. This restaurant is fully vegan and doesn't deep fry any of their dishes, saving our digestive systems for the night. Dine-in or takeaway, the food is wholesome and seriously tasty, you definitely won't be missing the meat. They do amazing sweet vegan treats as well so feel free to extend your dinner to dessert, minus the usual guilt.
Cafes
Ripe Deli
Grey Lynn
With a philosophy focused on fresh, seasonal and nutritious food that tastes delicious and is made with love, Ripe Deli is the wholesome joint that will keep you coming back for more. The team in the kitchen add a creative touch to traditional recipes, offering a mouth-watering selection of salads, gourmet sandwiches and wraps, as well as decadent home-baked slices and cakes. The cabinets are chocka with freshly made and easy to take away lunches, and even better are the freezers brimming with healthy frozen meals, soups and desserts to take home for an easy dinner.
Catroux
Westmere
Simple, honest and fresh, Catroux is the place to head for tasty food that your body (and tastebuds) will thank you for. The heaving cabinet is full of bright salads, tasty sandwiches and sweet treats. All of the wholesome food is made on-site, with the choice of eating off of the seasonal brunch menu or ever-changing cabinet goodies. The superfood smoothies and fresh juices will really bring the health kick home coupled with one of the dishes. Catroux also offers amazing catering options for your next event or work lunch shout, including the most incredible grazing platters you've ever seen.
Revive Café
CBD
Plant-based and with a focus on eating for overall health, Revive is much more than just a café. With no deep-frying, no processed sugar or white flour and no flavour enhancers, Revive concentrate on fresh, seasonal vegetables to create their delicious dishes. The weekly changing menu is always exciting and inventive, and you can choose between the salad box or a hot box. Mix together multiple salads or hot dishes to take back to your desk for a no-fuss lunch. There is also catering and delivery options for even more convenience, healthy doesn't need to be difficult with places like this.
The Raw Kitchen
CBD
Located centrally in The City Works Depot, The Raw Kitchen is the sweetest little spot for grabbing a takeaway lunch, coffee, juice or sweet treat. Their plant-based, seasonal menu changes depending on what produce are best at that time, and everything is hand prepared. Free from animal products, gluten, dairy, refined sugars and soy, you can trust that you will only be getting wholesome and healthy food from this spot. Each day in the cafe is different, with constantly changing fresh and vibrant salads, buddha bowls and wraps to choose from.
Little Bird Un-bakery
Ponsonby
One of Auckland's OG raw food spots, Little Bird Un-Bakery is a trusty option for healthy food that tastes like it shouldn't be. You can pop in for breakfast, lunch, dinner or an easy takeaway from the cabinet to give your body a hit of serious health. The menu changes seasonally, always celebrating the freshest organic produce. Free of gluten, dairy and refined sugar, then menu offers only things that are made from scratch by the team. That's right, their nut milk, cheese, bread, spreads and condiments are all made on site—you always know you're getting good honest food from Little Bird.
Mondays Wholefoods Bar and Kitchen
Kingsland
Tucked away in Kingsland you'll find a sweet little spot that offers beautiful wholefood meals in a relaxed and pretty setting. Monday's is a great place for functions and events, as well as any catering needs you might have, or to simply pop in for breakfast, lunch or dinner. The simple and seasonal menu caters to everyone from paleo to vegan, and you know you'll be getting a hit of wellness after dining here. The incredibly tasty and even healthier food served up will nourish your insides and make you feel like a wellness queen.

Bowl and Arrow
Remuera, Parnell
There's not much better than a nutrient-packed smoothie to fuel you up and keep you feeling light and energized. Bowl and Arrow are the champions of smoothie bowls, creating beautiful and delicious flavour combinations topped with all of the good stuff. The simple and unprocessed ingredients are blitzed up into a smooth and creamy smoothie, then topped with fresh fruit, granola, coconut flakes, nut butter and freeze-dried raspberries. The bowl of the month is always one to keep an eye on as it is always something inventive and delightfully tasty. Oh and be sure to take a good look at the cabinet for the indulgent raw treats, they make the perfect afternoon pick me up.
Misters
CBD
Using high-quality organic wholefoods and traditionally farmed protein from land and sea, Misters has healthy eating nailed. They offer a wide range of lunch options, perfect to grab on your break or when you are on the move. From smoothies and juices to delicious loaded bowls, the menu is entirely gluten and dairy-free making it perfect for those with sensitivities or trying to cut certain things out. You can also order online to make this a super speedy option, just pick and order off their website and then either collect it or get it delivered straight to your desk. Talk about the whole package—Misters do local, healthy, tasty and convenient better than anyone.
Trying to up your veggie game? Here are Auckland's Best Vegetarian eats.
Image credit: Food Truck Garage, Janken, Hansik, Bowl And Arrow