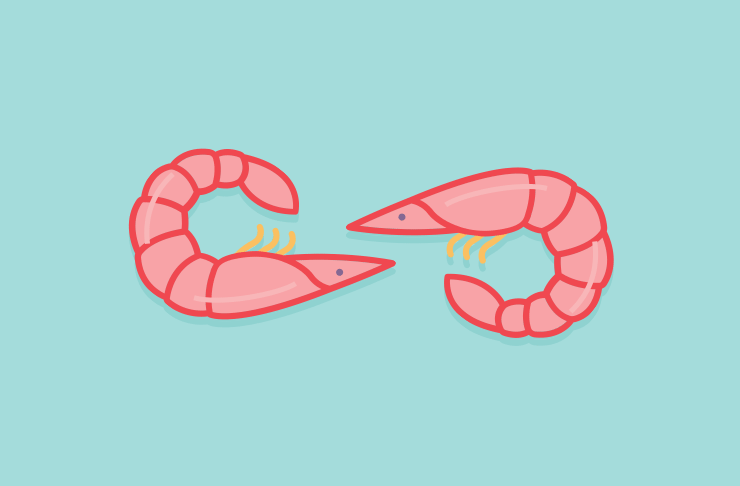 Unfortunately, all good things must come to an end, but you know what they say, when one pop-up closes, another boutique ice-creamery opens... if you live in Auckland, that is. So this week is all about new beginnings and thank God, because the three-quarter year crisis is very real and we needed a second chance at 2017.
Here's what you're *really* in for this week.
Gemini
Listening to your heart is always easier said than done. But this week as Uranus enters your Third House, you're going to be paying no mind to those little voices in your head and focusing on your heart's desires instead.
The heart always wants chocolate. Have you met Devonport Chocolates?
Cancer
Everything in your life may not be going to plan, but that doesn't mean that things never will. While your life might appear messier than you last Saturday night, there'll soon be light at the end of the tunnel.
You need some quality 'me time'. Treat yo'self at this dessert haven.
Leo
You're not getting any younger, but that doesn't mean you aren't getting finer with age *winky face*. It's time that you take that wisdom and channel it towards planning something awesome... a holiday perhaps?
Just in case you need some bucket list inspo, here are 50 things to see around the world before you die.
Virgo
Mars is entering your Fourth House this week and it's bringing you a wave of bravery. Consider this an astronomically perfect time to plot that grand gesture you've been scheming for the past couple of months, you know the one.
Guys, this just in... There's a new rooftop bar in Britomart *Immediately drives to Britomart*
Libra
Despite what your last three Tinder dates might be saying, you don't need to grow up. If they don't understand your humour, they probably don't deserve it.
We're glad you've decided to accept the fact that you're a giant kid too. Mainly 'cause we know exactly where to get poo emoji cookies in Auckland. And it's dough-licious!
Scorpio
This is probably going to sound weird, but this week's all about dough in unexpected places. Hey, who are we to argue with the Universe? You lucky Scorpions are going to be in the midst of one serious cash-flow, epic enough to give Niagra Falls a run for its money. Drinks on you this week.
Oh and speaking of dough in unsuspected places, a fried chicken and doughnut pop-up is hitting K' Road and you definitely need to visit.
Sagittarius
We know indulge was on this week's high priority section of the to-do list, but according to your stars this week, it's your time to be a lil' bit naughty and a lil' bit nice in your fave room of the house. We were talking about guilt-free meals in the kitchen—weren't you?
Your Higher Powers are partial to a freakshake (or five) too, but this week they're in the mood for organic, vegan deliciousness at Little Bird's Unbakery.
Capricorn
Juggling more than three items at a time is hard… in real life and while pretending to be a clown. But your chart this week is showing that the key to success is to strike that perfect balance. Yeah, good luck with that.
Quit worrying about that work/life balance for a sec' and chill out with some yoga.
Aquarius
You've been copping so many losses recently… even your local sports team struggled big time on the weekend. They probably won't be making finals, but that doesn't mean you that you aren't on your way to winning this season. Your House of Triumph is up and about this week and it appears that spring is yours for the taking.
This sounds like a win to us. A celebratory feed at Citizen Park is definitely in order.
Pisces
We know you've got the capability to binge-watch every episode of Love Island in a row, but this week's all about getting into gear. That's why this week is all about dedication. Hey, thinking about getting off the couch is a great start if you ask us.
Trust us, there's multiple things we'd rather be doing than treadmilling, too. And those things include dodgeball, trampolines and mega cushions. Thank God for Uptown Bounce.
Aries
It's what on the inside that counts, especially when we're talking about tacos. But on a more cosmic level, this week as Saturn moves into your Fifth House, you're gonna need to do something to fill that void. You know, the one that makes all of those rumbling sounds when you haven't eaten in like one hour. Oh yeah, your tummy.
It's a good thing Häagen-Dazs ice cream is finally here to make you feel complete. The news is too good to be true.
Taurus
Sometimes the world seems like a dark and gloomy place (or is that just Auckland weather?). But as Mercury moves into your Second House mid-week, things will start to be looking up. You won't see your future bae walking into your life with your head down. Spring has sprung... and by the end of this week it looks like you will be too.
There's a possibility you'll meet them on the dancefloor at The Lula Inn. Get grooving.
Image credit: Gabrielle Stjernqvist