Whether you're sick of counting sheep, or you won't be told when to go to sleep or, you've just painted the town red and need a fix to try and help soak up those numerous bevvies, sometimes a late night feed is just what the doctor ordered.
We've all been there—where we have felt the rumble of our bellies telling us it's feeding time—when our favourite eatery tell us that they have stopped serving for the night. Cue violins.
Well, ladies and gentlemen of Auckland, never fear, as The Urban List has your back, as we have rounded up 15 of Auckland's late night joints that can conquer those late night cravings once and for all. You can thank us later.
The White Lady
Serving until 3am—4am
A true icon in Auckland's food and restaurant industry, The White Lady has been serving up their beloved burgers and grub for more than 60 years! Taking the crown for the oldest food truck in Auckland, it should come as no surprise that The White Lady sure knows what they are doing when it comes to late night food in the City of Sails. Looking for your late night burger fix, look no further. Mc who?
Kiss Kiss Eatery
Serving from 5pm until late
Located in Mount Eden, Kiss Kiss Eatery serve up their cocktails and food until the late hours of the night. Branch out from your usual cheeseburger and fries and go for a lemon grass fried chicken steamed bun and prawn crackers. If you're still lasting through the night and want a little more liquor in your system, try the coconut vodka cocktail complimented with pineapple, coconut cream and lime.
Gogo Music Café
Serving from 5:30pm until 2am
Sometimes we want something a little heartier than a burger or bun of some sort for our late night feed. Let the beast inside you come out and shred down some $1 lamb skewers that have been infused in chilli powder at Gogo Music Café on Dominion Road. If you can't say no to the comforting carbs, spice up your life with their spicy stir fry chicken in Xinjang special sauce with some added handmade noodles. This dish will wake up all your senses and make going back to sleep a struggle.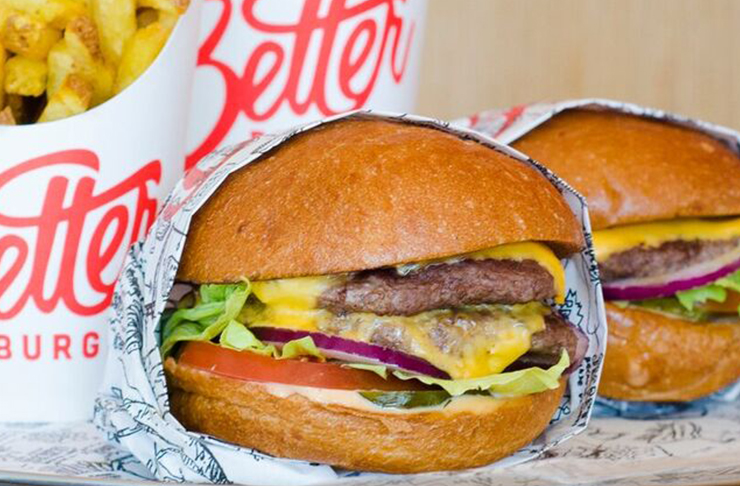 Better Burger
Around 10—11pm
Situated in either the Britomart or Vulcan Lane location, you have two opportunities to grab a late night feed at either restaurant. Stumble along those streets and sniff out those burgers and fries (or loaded fries if you ask nicely!) and soak up those espresso martinis! The team at Better Burger won't leave you waiting for you treats, all food comes out speedy and hot! Praise the gods!
New Flavour
Serving until around 4am
Dumplings, oh how we love you! These little morsels of tastiness wrapped up in little parcels, make us feel like it's Christmas! What better way to enjoy everyone's favourite dish than with a group of friends, a bottle of vino and a good old BYO night out. New Flavour is the place to be, and the fact that they are open until the early hours of the am mean that you can cram in the dumplings all night long!
Twenty One
Serving until last call
With fries, hot wings and burgers to boot, travel on up to Twenty One in SkyCity to grab some tasty bar snacks while sipping on your Sauv. Serving up tasty treats until last call, you can sit back and relax while not feeling guilty about ordering the large serving of fries. It's mood lighting, no one will see you…
Pocha
Serving until around 4am
With their extensive range of Korean fried chicken (nine different variations to be precise!) we wanna hit Pocha up all day, err day. However, if you're on those late craves of authentic and flavourful dishes, you should thank your lucky stars that Pocha is here. Open til 4am, yes you heard us right, you can grab all the deliciousness and more!
XuXu Dumpling Bar
Serving until 10—midnight
For a bit more of a superior dumpling experience, head on down to XuXu, as they serve up the most scrumptious and thought-provoking dumplings Auckland has to offer. Picture beef and lemongrass, or spinach and water chestnut as your choice of decadent dumplings. If that's not enough to get your taste buds going, they offer these tasty morsels all throughout the evening…as if we ever needed another excuse to get dumplings!
Soul Bar & Bistro
Serving until around 2am on Friday and Saturday Nights
It's never too late for a good session of wining and fine dining! Soul Bar & Bistro are at our service with their premium quality food and delish cocktails till 2am on weekend nights and 11pm on weeknights. You don't always have to opt for greasy fast food in the late hours of the night when there's a beautiful scampi pasta waiting to be eaten at this Viaduct Harbour gem.
Dr. Rudi's Rooftop Brewing Co.
Serving until 4am
Pizza tastes so much better after midnight—we don't have any idea why but it just does! Take your midnight pizza feed to the next level by ordering a foot-long one at Dr Rudi's. They not only do one foot or even two—they go all the way till three! They also do some bomb as nibbles like jalapeno brie cheese poppers and crispy parmesan and polenta chips. Enjoy your late night bite with a view of the waterfront and maybe play a game of bowling.
Little Turkish Cafe
Serving until 3:30am—6am (depending on the day)
Kebabs are a saving grace for most punters who stagger out of the clubs and bars in the early hours of the morning and K Road's Little Turkish Cafe are no exception. On Saturday and Sunday morning, you can get your kebab fix until 7am! Yes, we said it correctly, 7am! In the weekday, how does 3:30am sound for all you badasses staying up on a school night?! Forget cornflakes, kebabs are the new breakfast!
Twelve
Serving from 5:30pm – 3am
Twelve located in the Chancery serves Korean drunk food till the late hours of the night or shall we say the early hours of the morning. Take a chance and try some cheesy spicy rice cakes or crispy fried chicken that has been sprinkled with parmesan cheese. Their corn cheese dish is also a banger with creamy corn and ooey-gooey melted cheese goodness, can you tell Koreans love their cheese?
Tanuki's Cave
Serving until around 11:30pm—midnight
One of Auckland's beloved Japanese restaurants not only serves up a true and authentic taste of Japanese cuisine at regular dinner hours, but also right up until around midnight! Expect to feast upon traditional yakitori skewers and kusiage (deep fried meat and vegetables dipped in breadcrumbs) alongside your glass of sake or Japanese beer!
Andy's Burgers & Bar
Serving until late
Look up and use the shining beacon of Auckland's Sky Tower as your guide to find yourself a late night burger feed. Andy's Burger's serve up some of Auckland's best burgers to those who are sick of counting sheep and would rather munch on a tasty lamb burger instead. Don't be fooled by the name though—the team at Andy's don't just serve up badass burgers, they also dish up ribs, wings and all the slathered saucy meats you can imagine. With the likes of bourbon pecan pie and chocolate cookie burger gracing the dessert menu, we know that as soon as we do hit the hay, we'll be dreaming of these in no time! Cue dribble drenched pillow...
Fed Deli
Serving until 1am on Friday and Saturday
Located right next to the Sky Tower, you can use this majestic beacon to bring you to Fed Deli for a late night feed. With buffalo wings, bagels and hot dogs on offer, we can't get enough of the NYC authentic Jewish style late-night menu. Not only have they got a range of savoury snacks to cure those cravings, they have also got their famous cheesecake and pies to finish us off! Forget trying to get that cute person's eye all night, Fed Deli will give you all the lovin' you need.

What More?
Image credit: Xuxu Dumpling Bar, Better Burger, Dr. Rudi's, Jaiden Bhaga