Dumpling fans listen up! Our fave dumpling joint, Sumthin Dumplin has joined Ponsonby's strip with their epic new beer garden Midnight Gardener.
Now for those who know Sumthin Dumplin, then you know that their little juicy morsels are to die for, but for those who don't here's a recap—Owner Shane Liu first opened his boutique eatery on O'Connell street serving up a variety of home-made dumplings which were in such hot demand he opened a second take away spot on Wellesley Street.
Fast forward two years and Shane has teamed up with OG hospo heavyweights Phil Clark and Luke Dallow to open Midnight Gardener which is nestled into what used to be Ponsonby Road Garden Centre. Keeping with the heritage of the space, the bar has a very relaxed backyard vibe, where you can munch on some good grub and catch up with mates over a pint or two.
The outdoor space is filled with beautiful greenery and fairylights galore. Just like the two city venues, the walls are lit up by Chinese mythology graffiti to match Shane's tattoos. There is also a small indoor dining area for those that want to escape the cold, but never fear as there are plenty of outdoor heaters to keep you snug and warm throughout the winter months.
Now back to the grub—the perfectly packaged treats come in a selection of flavours and trust us they're not your ordinary dumpling filling. We nibbled on the Beef and Cheese, which is inspired by New Zealand's love for meat and cheese pies. Picture this, premium beef, onion and a blend of mozzarella and parmesan all in one crispy wholemeal bundle. Don't worry you won't be getting one measly dumpling, these bad boys come in batches of five and they're huge.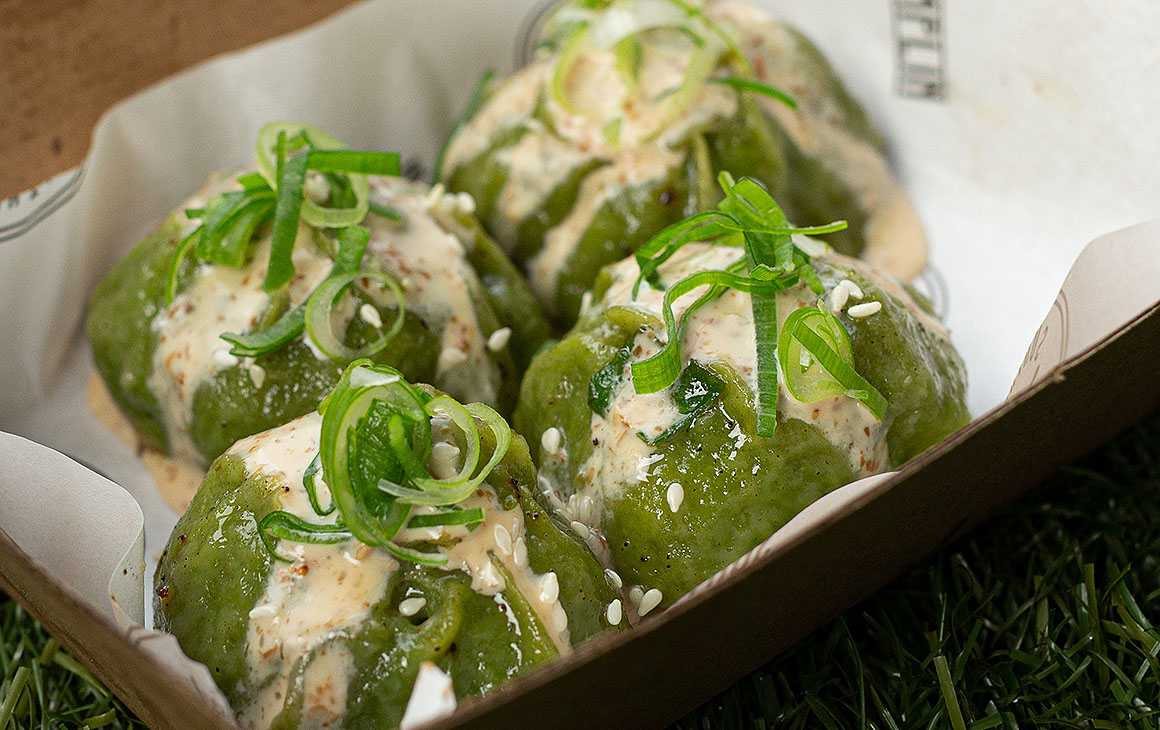 If Beef and Cheese doesn't take your fancy then never fear as there are plenty of other tasty treats to sink your teeth into. The OG is filled with premium pork and cabbage while the Great White is home to shredded chicken breast with shitake mushrooms. If you're vegetarian or vegan try the picture-perfect Monk–a concoction of fluffy tofu, shitake mushrooms and bok choy encased in a spinach wrap.
All of the dumps are served with a dipping sauce of your choice, try the homemade chilli oil, we promise it won't bite. Wash it all down with a craft beer or an ice-cold Asahi, that should take the edge off.
Whether you're wanting to grab a quick bite, or are after something to satisfy your late-night cravings, Midnight Gardener caters for all. It's a trendy hotspot that is sure to be a hit amongst the locals. So, if you have a serious dumpling craving, then head to Ponsonby to check out Sumthin Dumplin's latest venue and get your much-needed fix.
For more images and information, including opening hours, click here.
Image credit: Wono Kim