Fashion loves a decade to reference. While style canon from the 90s has driven us totally wild in the last few years—as this decade wraps, we've been wondering what style cues will truly define the 2010s in years and years to come?
Will it be 2014's beige-hued anti-trend "normcore", which eventually morphed into "basic"? Will it be chunky designer sneakers or just whatever Meghan Markle wore? Will it be AirPods, VSCO girls, or the more recent and kind-of absurd tiny bag movement (shout out to Lizzo for that category-defining Valentino miniature at the 2019 American Music Awards).
If we're placing bets—we'll go with athleisure, the ultimate wear-it-anywhere-anytime blend of activewear and streetwear that absolutely drove style across the decade.
But what's fashion without the people that wear it, right? In a decade of style driven by Instagram, and a time in which the fashion industry is on the precipice of great (necessary) change, who dared us to drive our wardrobes to new heights, to expect a better, more inclusive vision from fashion brands and style mags, and to embrace sustainability, playfulness and irreverence head to toe?
Behold, the eight people that defined fashion in the 2010s.
Alessandro Michele
Creative Director, Gucci
I think it's pretty safe to say many people in the world didn't really "get" Gucci before Alessandro Michele stepped in as creative director in 2015. While Gucci under Tom Ford had been absolutely iconic—a slick, defining era for the major Italian fashion house—Michele made Gucci one of the most covetable and relatable high-end labels on the planet, and fast. "It's time for this brand to tell another story," he said in a New York Times interview. "I'm changing everything."
His vision might be summed up in luxurious late-night vignettes of an eccentric 70s-era New York City ballroom—oversized square-framed rhinestone sunglasses, purple velvet, brass detailing, afros, sequins, feathers and pimp hats. But then there are renaissance style frills, Yankees jerseys, tigers and "GUCCY". It's a mishmash of the past made into a modern whole, and in a league of its own—and it remains to be. But it was his devotion to accessories and logos and insignia-clad streetwear that placed Gucci squarely into the hearts of the masses.
The decade-defining item: the Gucci logo t-shirt.
Rihanna
Founder, Fenty
Rihanna is case in point that style has a hell of a lot to do with attitude, confidence and creativity. And just like we'll look back at the 2010s as the time Beyoncé became Queen Bey, the 2010s were also the years that Rihanna became the fashion force to be reckoned with that she is today. More than just a set of celebrity "designed" (read: endorsed) brands, Fenty Beauty, Savage X Fenty lingerie, and the recent debut of a brand new LVMH Maison called Fenty—Rihanna spent the best part of the decade proving she means fashion business. Centred in inclusivity—her vision has shifted the way the fashion world ticks, in some cases being the spark to ignite change in other brands who've come to feel a touch irrelevant in the shade of the Fenty powerhouse (Victoria Secret, for example, after the Savage x Fenty Spring 2020 show). Oh, and who can forget her Met Gala moments in the latter half of the decade.
The decade-defining item: that meme-worthy Met Gala 2015 Guo Pei dress.
Kanye West
Founder, Yeezy
Controversial, maybe. But that's a part of the Kanye West brand—and fashion would be boring without a bit of controversy thrown into the wardrobe. After the Alain Mikli shutter shades era (chuckle), Kanye made a few weird, wild and quick dips into the fashion world (including a supposed internship at Fendi alongside another legend of 2010s style, Virgil Abloh). And in October 2015, West gifted the world Yeezy Season 1 (an extension of a sneaker collab with adidas). It was athleisure in a sort of apocalyptic, extremely artistic netherworld—neutral tones, leggings, hoodies, dusty white space boots. Each succeeding presentation was outside of the rigour of regular catwalk shows and generated tonnes of hype in so doing—the last few seasons borrowed the mega-celebrity of his wife's Instagram in a set of paparazzi-style shots.
Luxury sweats and sneakers have been a key element in 2010s styling, and Yeezy is hugely to thank (or blame) for that. West's style of creativity is in breaking down boundaries—and whether it's your vibe or not, his decade features enough pops of fashion artistry to push us all towards something far, far beyond the status quo.
The decade-defining item: adidas Yeezy boost sneaker.
Virgil Abloh
Founder, Off-White
Moving on from controversial to the plain and obvious—Virgil Abloh and the Off-White mega-verse came to being in the 2010s, propelling streetwear, drop culture and a new and far more relevant social currency couched in irony and inverted commas straight into the very heart of high-end fashion.
It kicked off with a Tommy Ton snap of Abloh, Kanye West and some mates outside Paris Fashion Week in 2009 (the image became a South Park parody, it was that good). From there, he art-directed West's album with Jay Z, and launched a brand called Pyrex Vision, where he printed $40 dead stock Ralph Lauren polo shirts with Michael Jordan and sold them for $550. In 2013 he founded Off-White and his 2014 womenswear line debut at Paris Fashion Week earned him a finalist spot in the coveted LVMH fashion prize. In 2017 his limited-edition sneaker partnership with Nike, The Ten, cemented Off-White as one of the most hyped labels on the planet, and Abloh as one of the decade's greatest design visionaries. Thanks to Virgil Abloh, luxury has a new meaning as we enter a new decade: streetwear.
The decade-defining item: anything in inverted commas, including Abloh's IKEA rugs: "KEEP OFF" and "WET GRASS".
Phoebe Philo
Former Creative Director, Céline
Phoebe Philo has been a seminal designer of the 21st century, first at Chloe (from 2001 to 2006) and then, and maybe her most extraordinary tenure, at Céline for a decade all of her own (2008 - 2018). Philo's brand of restrained elegance has driven the way women dress—steering us into the world of wide-leg pants, mid-length skirts and slip dresses, far, far away from the bubblegum-coloured "It Girls" we entered the decade with (Paris Hilton, Lindsay Lohan). Hers was a sort of subtle feminism that was centred in functionality and dressing for yourself, not being sexy for someone else. Philo's time at Céline also inspired the super popular Instagram account, "Old Céline".
The decade-defining item: the Céline furry slides.
ASAP Rocky
Rapper
Rocky's decade might have included a few month's jail time in Sweden, but the best part of it was establishing himself as rap music's ultimate style god (alongside Kanye). The 2013 track "Fashion Killa" featured shout outs to some of the fashion industry's most exciting, and most historic labels (Ann Demeulemeester, Raf Simons, Rick Owens)—bridging the slippery divide between good design and rap. Rocky's style wasn't about being showing and flashing logos, as predecessor rap stars were prone to do, it was about creativity, playing that hard-to-do game of balancing cutting edge looks with casual streetwear.
The decade-defining look: Hard to pick. The matching Loewe look he wore with black and white Vans to the Dries Van Noten show at Paris Fashion Week probably takes the cake.
Billie Eilish
Singer, Producer
Billie Eilish's quick pathway into the music zeitgeist begun in 2016 when she dropped a tune called Ocean Eyes on Soundcloud. Her talent was mesmerising and her sound was new—and it's the same lick of otherworldly creativity that Eilish lends to her hand-selected wardrobe. She's an avid sneaker collector, and her wardrobe of baggy tees and matching skater-style shorts, gothic jewellery and neon lime green hair has become a style all of its own. Not rigid like a cookie-cutter popstar uniform imposed by a record label, Eilish's style is wacky, unpredictable and dense. It spoke to a generational rally cry to be allowed to be outrageously yourself, to blur the lines and be a bit brave.
The decade-defining item: her neon green roots and Melbourne-based label Heart of Bone's gothic bunny ring.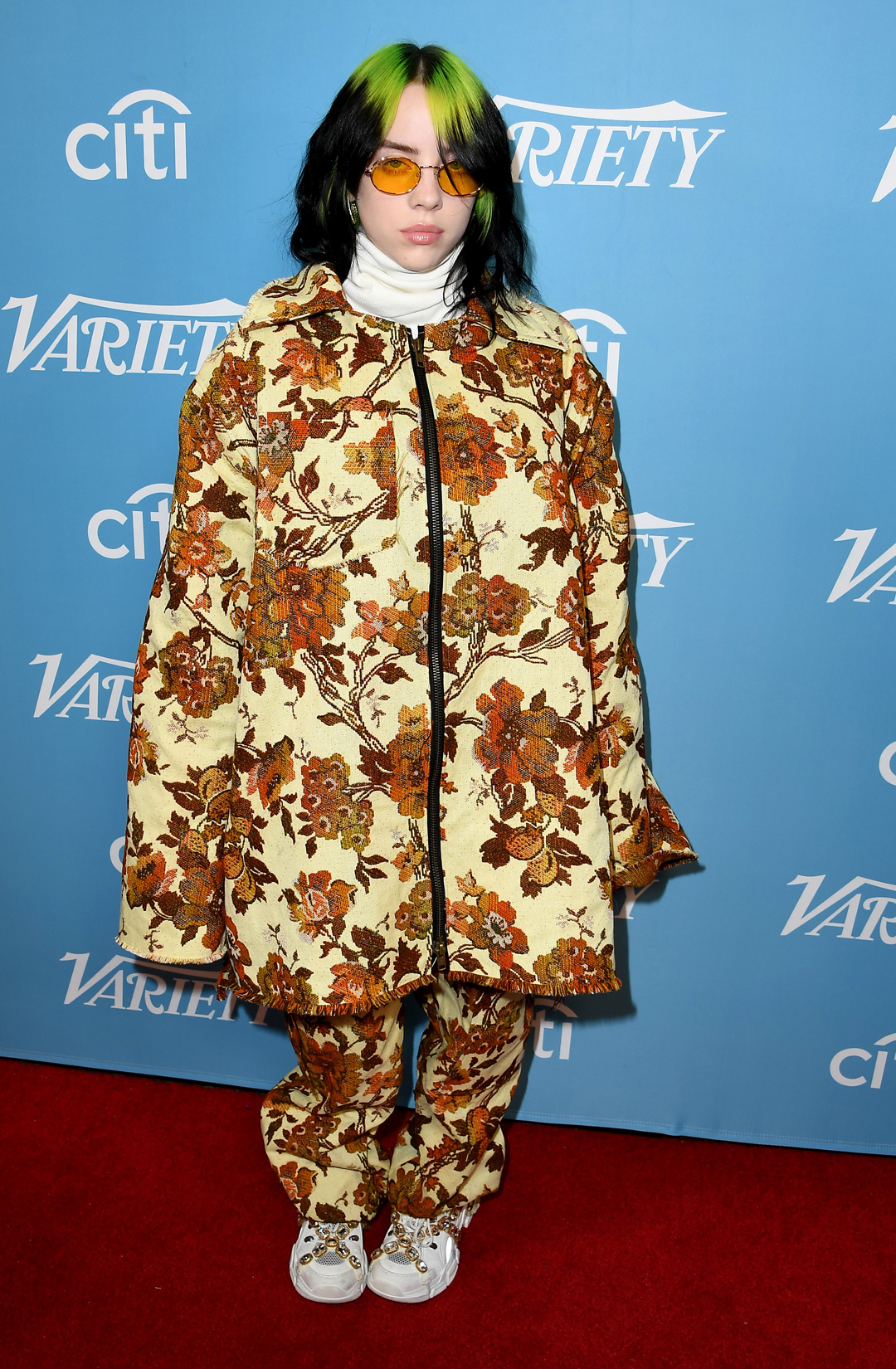 Design credit: Kate Mason
Image credit: Getty