Listen up! A tasty new eatery, where you can indulge in delicious Asian fare and sip on outrageously good cocktails all night long, has set up shop in the heart of Ponsonby and from what we've seen it's absolutely scandalous—we mean that in the best way, of course.
Scandal has brought its exotic Asian flavours to the spot that used to be Teddy's and before that, Thai restaurant Moo Chow Chow. Totally transforming the space into a work of art—quite literally. Feast your eyes on the beautiful street art plastered on the walls, created by Melbourne-based artist Gabrielle Wilkinson, who takes inspiration from British urban artist Hush.
The interior plays tricks with your mind as the custom-built marble bar that lights up is rather suave and sophisticated, while the exposed brickwork with 'Scandal' engraved into the wall adds a more rustic street edge touch—but it works and we love it.
There is nothing street about their food, in fact like everything else they offer, the menu is also a masterpiece. Vietnamese Head Chef Steven Nguyen takes inspiration from all around Asia and certainly knows how to cook up a storm.
The menu is not only easy on the eyes, but easy on the lips too. Think melt-in-your mouth pork buns, flavoursome curries, vegan delights, quirky sweet treats—oh heck let's just delve right into it, shall we?
Designed for sharing, we suggest grabbing a few mates and a couple of plates and you're good to go. The raw salmon served in red Nam Jim sauce (a traditional Vietnamese sauce) is the perfect light bite to get you started, alongside the sin-free vegan pumpkin chips, served in togarashi spices and a smooth avo dip—warning: they are devilishly moreish so it's easy to consume multiple bowls.
Next up has got to be the dumplings—cue the saliva action (we couldn't contain our excitement either). These bad boys are not your average deflated measly morsel, they're jam-packed with fresh and flavoursome ingredients. Taking the title of the only gluten-free dumplings in Ponsonby is the Wagyu Gow—a five-spice beef parcel made from tapioca pastry. Get in our bellies now. Served in portions of 4, each bundle is like a little present for your palate.
As if all of that wasn't enough, we're not even halfway yet. Unzip your jeans a little more as we get into the bigger dishes. Don't be fooled by the name 'Little Curry' as these creations are certainly anything but little. Feeling hungry? The green chicken curry—made from a whole half a chicken, is sure to fill you up. Holy cluck, that's a lot of chicken.
If you're mad on spice then the papaya salad is a must, also used as a refreshing palate cleanser in between dishes. Get your paws dirty with the pork bun, served with a gochujang sauce and topped with crispy lotus to add that crunch. Bao wow!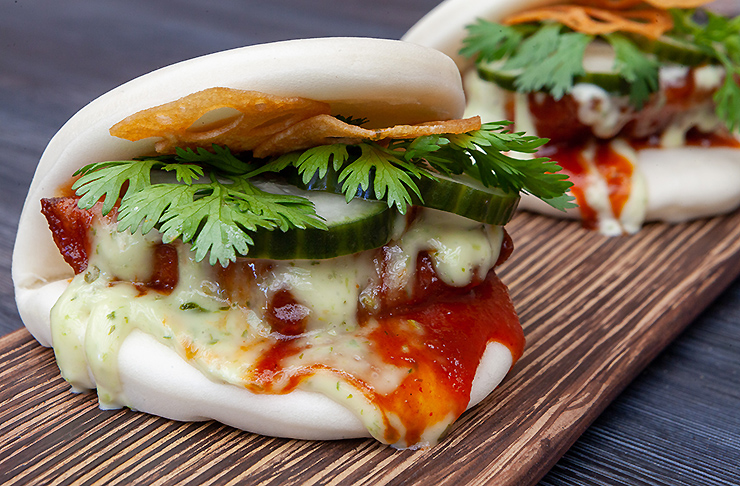 Our top pick has to be the scallops, wrapped in a crispy Lap Cheong (Chinese sausage), fennel and a Thai Nam Jim dipping sauce to finish it off. This is the definition of love at first bite. We think it's fair to say watch out Ponsonby, as Scandal will be taking over one scallop at a time.
To wash down all that goodness, we think a tipple or two is in order. Serving up classics with a twist, the Tom Yum Negroni is the drink of choice if you like a stiff drink. The Mikan caught our eye, with its sweet lemon meringue topping—after all who said cocktails can't be dessert.
Although if you're after a real *taste buds tingling* type of dessert, then the smoked eggplant doughnuts served with sweet pumpkin curry and lemongrass lychee sorbet will do the trick. Don't knock them until you try them, trust us, you'll have no regrets.
So, pull up a pew at the bar or in the green room at the back, which is bright in the day yet dark and sexy in the night—now that's a mood. Dine in for lunch or if you're feeling a little more mischievous drop in of an evening at the weekend, when the name Scandal is brought to life.
For more images and information, including opening times, click here.
Image credit: Wono Kim