If we told you someone made a movie about free speech, peaceful protesting, deploying the national guard and the radical left–you'd be forgiven for thinking it was about 2020. As it has so many times before, "the whole world is watching" the United States, amidst a chaotic election year, with continuing protests against systemic racism and police brutality. It's fitting then, that The Trial of the Chicago 7, and its historically resonant ideas be released now on Netflix for all to see.
The latest Aaron Sorkin feature is a dramatisation of the infamous Chicago 7 trial, following violent clashes between police and anti-war protesters during the 1968 Democratic National Convention. The seven anti-Vietnam war protesters (although, initially eight) were charged with conspiracy and crossing state lines to incite violent riots on the streets of Chicago.
If you don't know Aaron Sorkin by name, then you'll most likely know him from his works. He's penned some of the greatest fast-talking, fast-walking and captivating works of the past three decades including The Social Network, A Few Good Men, Moneyball and The West Wing.
Sorkin is at his very best pitting people against powerful institutions, bringing tensions to a head and letting intellectual arguments flow back and forth in a way distant from reality–but entertaining as hell. Think the deposition scene in The Social Network–"you have part of my attention, you have the minimum amount". Or the famed trial climax in A Few Good Men–"you can't handle the truth!"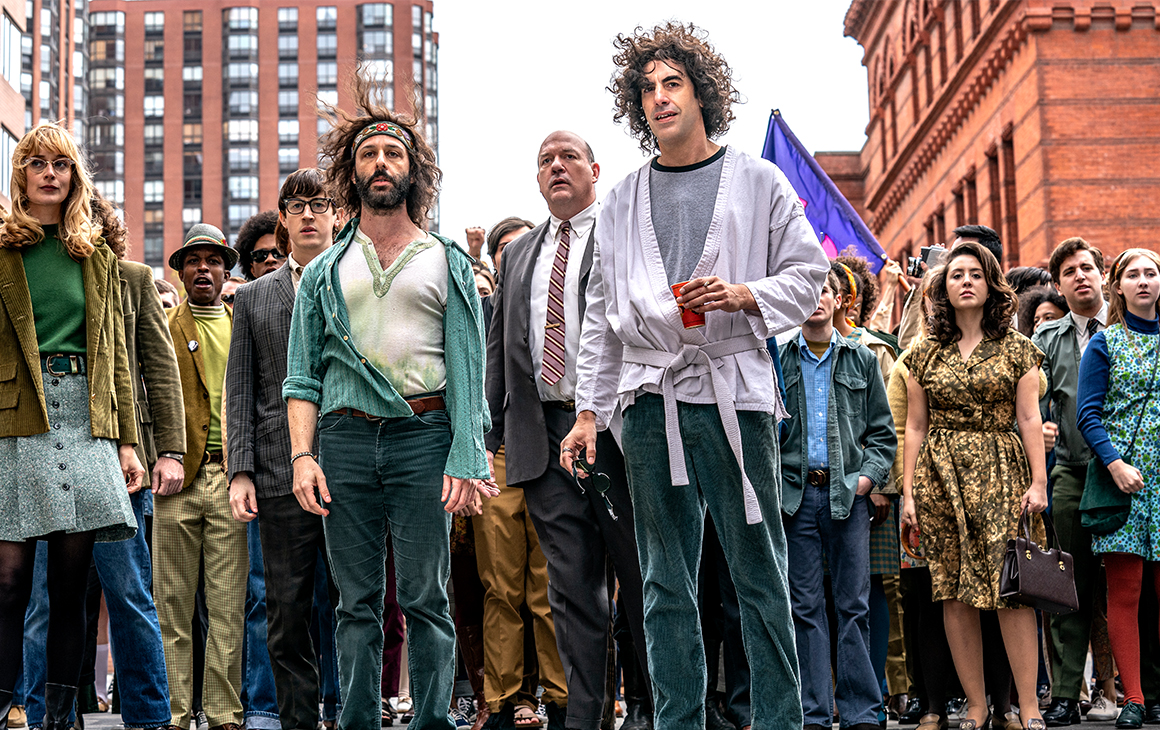 Once again, Sorkin finds himself in a courtroom drama, tackling issues that resonate as true now as they did in the late '60s. "I wanted it to be about today," the writer and director told CBS in an interview.
The film's watchability owes as much to the incredible (albeit, overwhelmingly male) ensemble cast as it does to Sorkin's snappy and witty dialogue. Abbie Hoffman (Sacha Baron Cohen), Bobby Seale (Yahya Abdul-Mateen II), Tom Hayden (Eddie Redmayne) and Jerry Rubin (Jeremy Strong) headline the protesters on trial, against the tough but fictionally sympathetic prosecutor, Richard Schultz (Joseph Gordon-Levitt). Mark Rylance shines as defence attorney, William Kunstler, and the always enjoyable Michael Keaton pops in as former United States Attorney General, Ramsey Clark.
It's difficult to pick a standout, but we'd be lying if we didn't really enjoy watching Succession's Jeremy Strong play the long-haired, bearded hippie alongside the expectedly charming and comical Sacha Baron Cohen doing his best version of a Boston accent. The pair's constant courtroom interruptions and funny quips keep the movie and its heavy themes somewhat light-hearted.
However, the film repeatedly grounds its audience back to a core message with poignant and jarring riot scenes, and the looming threat of institutional violence to this day.
Since his directorial debut, 2017's Molly's Game, it's clear that Sorkin has sharpened up behind the camera. The Trial of the Chicago 7 is a fast-paced, highly enjoyable, cleverly edited film, with a flair for the dramatic.
It's sure to receive a lot of Oscar buzz and feels like the kind of movie we'll be talking about for the rest of the year.
The flick drops on Netflix Friday 16 October. Scope the trailer below.
Need something juicy to binge right now? Check out our round-up of the Netflix movies AU and NZ and Netflix shows AU and NZ.
Image credit: Nico Tavernise/NETFLIX