Just when we thought there couldn't possibly be room in our hearts (or stomachs) for another seaside opening, along came Viaduct Yacht Club. Occupying the space that previously housed Bungalow 8, this chic new bar and eatery is the perfect spot for a stylish day(or night) time escape with friends.
And an escape it most certainly is. Climb the small flight of stairs at the entrance and you're welcomed into a sophisticated, black and white oasis that, while connected to the outside by huge, floor-to-ceiling windows, somehow feels oceans apart from the busyness playing out below.
The décor may be monochrome, but it's far from boring—think walls covered in black and white photographs (maritime-themed, of course) and a grand marble bar—combined with beechwood furniture and a collection of rather fancy-looking lights. Overlook the accents of your companions, and you could very well be dining at a yacht club thousands of kilometres away in The Hamptons.
This is exactly the kind of vibe owner, Rebecca Bradley was hoping to create—a 'grown-up' bar reminiscent of days spent watching the sun go down, cocktail in hand, while holidaying overseas.
The food here is a colourful contrast to the furnishings—a vibrant line-up of South American-style dishes that were inspired by the chef's travels throughout this part of the world.
With a name like Viaduct Yacht Club, it's only fair to assume that seafood would appear at least somewhere on the menu. As it turns out, there's plenty—take your pick from zesty kingfish ceviche or delicately-flavoured clams with butifarra sausage, onion and smoked paprika, to name a few.
Our favourite dish, however, isn't of the seafood variety—it's actually a hot dog. The choripan takes everything you knew about the humble sausage in a roll, and blows it out of the water. Based on the version that's popular throughout Argentina, this blend of subtly-spiced chorizo with creamy chimichurri, served on crunchy bread is guaranteed to get your tastebuds tingling (just the right amount, we might add).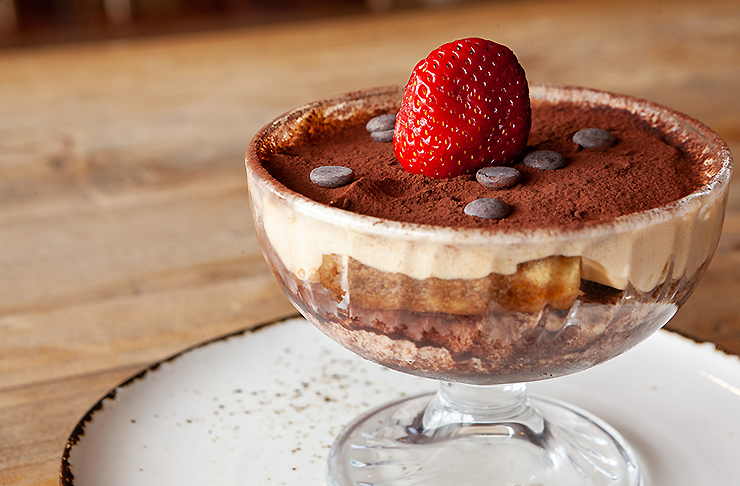 The dessert menu is short and sweet, but it's a goodun'. Our pick has to be the tiramisu—layers of Sambuca-infused sponge married with lashings of creamy mascarpone and a dusting of cocoa, it's an expert reimagining of the classic Italian treat (and a fitting testament to the chef, who, by the way, is actually Italian).
Caffiends will also appreciate the espresso martini—with its combination of buttered Cognac, vodka, Oreo crumb and of course coffee, it is, in our opinion, the only proper way to finish a meal here.
However we know coffee isn't everyone's cup of tea, in which case you should check out the wines, craft beers and other cocktails that make up the carefully-curated drinks list.
So grab the gang and head along to this stylish new spot by the water for a heavenly time by the sea. Who knows, after a couple of drinks you might actually think you're in The Hamptons...
For more images and information on Viaduct Yacht Club, including opening hours, click here.
Image credit: Wono Kim