After the crazy year it's been already, you deserve a time out. Not just a few hours, but a massive day of calm to reset and recharge. Far from a Netflix and chill day though, research tells us nothing works better at helping cool our anxiety than some movement, good food, breath work and a bit of pampering. We caught up with Holistic Physio and Wellness Retreat Creator Caitlin of Aprivé Wellness to share her tips about creating a luxe wellness retreat at home.
Having a retreat in your own space at the weekend is one of the best ways to mix up your daily routine, especially if you're still working from home. The benefits will blow you away, including:
Less stress

Better concentration

Improved decision making

Better self-esteem and empowerment

Improved attitudes towards movement, exercise and healthy lifestyles

Improved motivation for creating long-lasting lifestyle changes
Don't know where to start? Let me take you by the hand and walk you through the steps.
Start The Day With Movement
I'm so lucky to have worked at some of the world's luxury wellness retreats, and one thing they all have in common is morning movement. Starting the day with energetic movement is key, so inject a bit of core strength and try Pilates. A great place to start are online Pilates classes like mine. As a physio I explain how to do the movements, plus how they can help you with everything from better posture to eliminating back pain. Not sure if you're on the right track? You can get handy tips on my Insta too.
Recharge With A Nourishing Green Smoothie
Every wellness retreat offers amazing smoothies in the morning, so why not create your own.
Blend together:
1 x banana
1 x cup of baby spinach
1 x kiwi and/or feijoa
1 x squeeze of lemon juice
1 tsp. Chia seeds
1 tsp. LSA mix
1 tsp. Spirulina
1 x ½ cup ice
1 scoop of Renew+ Marine Collagen with Detox
There's no special trick to this smoothie, it's just about blending everything together. It's jam-packed full of prebiotics and nutrients, plus it gives you two of your five daily scoops of veggies. That's a win!
Keep Moving With A Yoga Class
You've done one movement class, and now it's time to get stretchy too. Yoga and Pilates go together perfectly, and you can even use the core strength you practiced in Pilates throughout your yoga class. Yoga with Cat Meffan helps keep your energy up with a fun approach to yoga that's inclusive for everyone, no matter which level you're at or how spiritual you are. This is my favourite workout of Cat's this year.
Enjoy A Superfood Lunch
A dreamy salad bar is a must-have at the world's best wellness retreats, so make your lunch a superfood salad. Here's a quick and easy recipe:
Chickpea Salad with Creamy Dressing
Drain and rinse one can of chickpeas

Sautée chickpeas with olive oil, salt, pepper and Masala spice

Once gently browned, let them cool in the pan while you throw a handful of rocket, kale, baby spinach, baby tomatoes and red onion in a serving bowl.

Mix ¼ cup of natural yoghurt (or cashew yoghurt) with salt, pepper and any fresh herbs you have in a mug.

Add the chickpeas to the salad, and cover with the yoghurt dressing.
Tip: Add a spoonful of NZ's own Be Nourished Goldern Turmeric Raw Sauerkraut for an extra probiotic hit. Your gut will love you for it.
Try to eat your salad without any distractions. This mindful eating strategy may sound a bit woo-woo, but it's really amazing what you can taste when you concentrate on your food.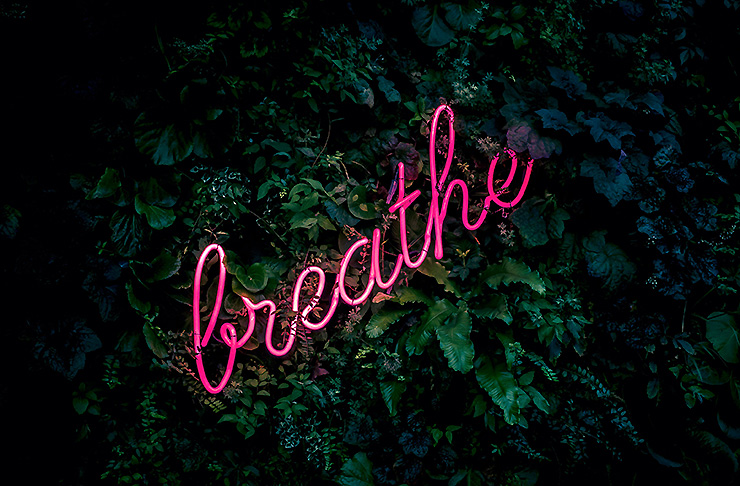 Slow It Down With Meditation
Find a comfortable, quiet space for afternoon meditation. Take it slow and listen to the calming, relaxing voice of ex-monk Andy Puddicombe, founder of Headspace. If you already use an app like Calm, Insight Timer or Headspace, choose your favourite meditation and go ahead. Here's one of my favourites with some handy isolation hints from Puddicombe.
Light Some Candles With A Conscience
Set the scene for some luxe pampering by lighting a perfumed candle in an evocative diamond-cut glass from Downlights. Downlights offers employment opportunities for young adults living with Down syndrome, plus intellectual and learning disabilities. The Illumina Lux Candle in Bamboo & White Lily is giving me life right now. Another candle company with a conscience is Bentley & Hart. Struggling to find their autistic daughter gainful employment led to them setting up this lovely candle business to help her and people like her. My fave would have to be Jasmine and White Hyacinth and they deliver nationwide. By adding a stunning Downlights or Bentley & Hart candle to your at-home retreat, you're giving back to others, while also pampering yourself. Living is giving right?
Get Your Glow On
You've been moving, you've eaten nourishing food and you've created slow calm with meditation. Now it's time for some pampering:
Cleanse your neck and face with an oil cleanser. You'll find it leaves your skin feeling more hydrated than a classic foaming cleanser.

Add a hydrating serum for the most moisturised skin you've ever had. Our favourite is from vegan luxe brand Samson & Charlie.

Add one of our classic favourites: Tailor Skincare's Gold Dust to fight hyperpigmentation and wake up with glowing skin.

Apply another layer of moisturiser or face oil. Check out this top face oil for breakout-prone skin.

Now your skin is glowing, take care of any stray hairs that might have prospered during lockdown with one of Marzena's gorgeous wax strips made from sustainably sourced pine tree resin and leave no straggler behind.
Make Yourself A Healthy Dinner
Fix yourself a tasty dinner featuring a bit of lean protein and plenty of veggies, or, check out our guide to healthy deliveries you can get delivered to your door. Just make sure to check the restaurants' socials to find out how to get your hands on their goods during the lockdown era.
Keep Your Screen At Arm's Length
Luxury wellness retreats don't let you tap away on your phone as it ruins your calm, focused zen. Try to recreate this rule at home. It's hard though, so you may need to turn your phone off and keep it in another room. You can do it. For more tips on disentangling yourself from the blue light, check our article here. Fill the technology void with picking up that book you've been meaning to start/finish and do some gentle stretches before bed. We love this bedtime routine by Alicia Archer that will help you slide into a smooth, restorative sleep that your body will thank you for.
About Caitlin
Caitlin is a Physiotherapist, Pilates instructor and wellness retreat creator based in NZ. She's passionate about helping everyone move their best at any age. Caitlin works 1:1 and as a visiting practitioner at wellness retreats and hotels overseas, aiming to make evidence-based wellness meaningful, fun and a little luxe for everyone.
A walk in nature is always a good plan, check out NZ's best walks for some epic inspiration.
Image credit: Timothy Dykes, Roberto Nickson, Fabian Møller