The presents you receive on Christmas Day say a lot about who you are. A lot.
Sometimes the gift-giver will have put a huge amount of thought, time and effort into deciding what to get you, while at other times it will have just been a last-minute panic buy.
Whatever the case, the subconscious has a lot to do with which presents end up under the Christmas tree with your name on them.
The people who know you best are capable of peering deep into your soul and exposing it to the world on the morning of December 25th, whether they know it or not.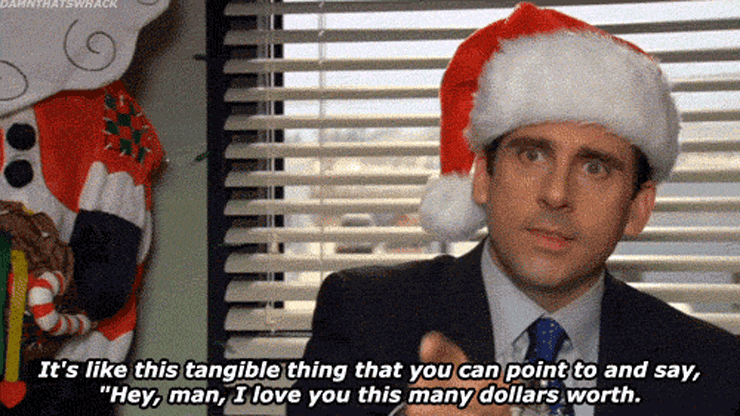 Here is what your gift says about you:
Selfie Stick
You are possessed with such remarkably magnetic personality that you will almost certainly be internationally famous within five years.
Socks
You are an absolute panther in the bedroom and you don't care who knows it.
Belt
You are far too stylish to use a loop of old rope to keep your pants up, and far too 'real' to wear suspenders. I feel like 2016 is going to be YOUR year, you magnificent bastard.
Best-Selling Novel
Not long ago you were considered something of an intellectual bantamweight; the kind of person who has trouble understanding the weather report and moves their lips when they read. You have made remarkable progress in recent years, however, (perhaps it's all that salmon you're eating) and your loved ones recognise this and have chosen a present to reflect your burgeoning intelligence.
Cookbook
At school you were the kid who always peed your pants. Now you make magic in the kitchen.
Golf Clubs
You will be homeless within five years.
Skincare Products
Though your family doesn't love you, the people at work are normally content to tolerate you.
Perfume/Cologne
It's not that you smelt bad before. Actually, that's exactly what it is. Apply once a day and remember to bathe every now and then.
Lingerie
It's only a matter of time before your sex tape ends up online.
Tool Kit
You work in an office.
Power Tools
You work in an office and your father never hugged you.
Sleepwear
Your extraordinary love-making foibles mean there are only one or two people on the planet who can actually handle you in the sack.
Pearl Necklace
Your partner appreciates everything you do for them.
Diamond Earnings
Your partner thinks your blog is really well written.
Dart Board
The present-giver thinks you are worth more than a pack of cards but less than a pool table.
Polo Shirt
You are exactly who Camus was thinking of when he said: 'There is in me an anarchy and frightful disorder. Creating makes me die a thousand deaths, because it means making order, and my entire being rebels against order. But without it I would die, scattered to the winds.'
Espresso Machine
Looking back, you realise the mistakes you've made in your life have led you to be the person you are now and you don't regret a thing. Not even the secret love child you had when you were 15.
Biography
Your greatest fear is being buried alive.
iTunes Vouchers
You're not sure where you stand on the whole Mozart v Salieri, German composers v Italian composers thing and consider it something of an overplayed rivalry, especially considering Salieri lived in Vienna for nearly six decades and produced a style influenced much more by the likes of Gluck and Gassman than by the Italians of the period. But you fricken KNOW you like 1D more than 5SOS.
Wallet
Your favourite Christmas album is the Mariah Carey one. You had glow-in-the-dark stars on the ceiling of your room as a child. You once threw a cat out of a second story window to see if it landed on its feet (though you did feel guilty about that afterwards).
DVD Box Set
By the end of Christmas Day you will have gotten so tremendously drunk that your family will have called the cops on you and your pets will never be able to look you in the eyes again.
Kitchen Accessories
You'll change your hairstyle at least four times in 2015 and fall in love online.
Digital Photo Frame
The present-giver didn't think you'd be able to handle a selfie stick.
Bodyshop Gift Basket
Karl Stefanovic is your spirit animal.
Wine Decanter
You haven't had sex since 2008.
Fancy Pen
What you really wanted was a light sabre but you suppose this will also come in handy at work.
iPad/Tablet
The next 12 months will be huge for you. You'll change jobs. You will discover a new allergy. Someone will take out a restraining order against you. You'll even get bitten by a lizard. Yet the thing that will have the biggest emotional impact on you will be Beyonce and Jay-Z's divorce.
Like this? Find out what your dog breed says about you.