There's no denying that cheese is, quite simply, the best foodie creation ever. Melted, fried, grilled, grated, sprinkled, sliced—the possibilities are endless and we love it. But just when we thought we've maxed out the ways that we can devour cheese, along came the oh-so magical raclette. Both a cheese and a dish, Raclette is the totally genius way of smothering your fave winter foods in a blanket of rich, melty cheese. Sound like you need this in your belly asap? Heck yes you do! Lucky for you, we've rounded up exactly how and where to get raclette in Auckland. Enjoy!
Le Garde Manger
Ponsonby and CBD
If you're after a way to indulge in a truly authentic raclette experience, then look no further than Le Garde Manger! Here you can enjoy a mouth-watering raclette dish as if it came straight from the French Alps. In true French style, their raclette menu includes all the traditional trimmings such as various meats, potatoes and a buffet salad, and most importantly—a whole plate chokka-block FULL of raclette cheese! Yum in your tum.
Melt
Food Truck
We love food trucks and we love cheese, so it's a no-brainer that we are totally in love with Melt— the only food truck dedicated to cheese and raclette in Auckland (or, in the rest of the world for that matter)! You can catch these guys at various events around the city making our favourite street food even better by smothering them with lashings of gooey raclette. Here you can treat your tastebuds to the classic potato-cornichons-onions-bacon-raclette combo or something a little more out of the ordinary like raclette over a meatball sub!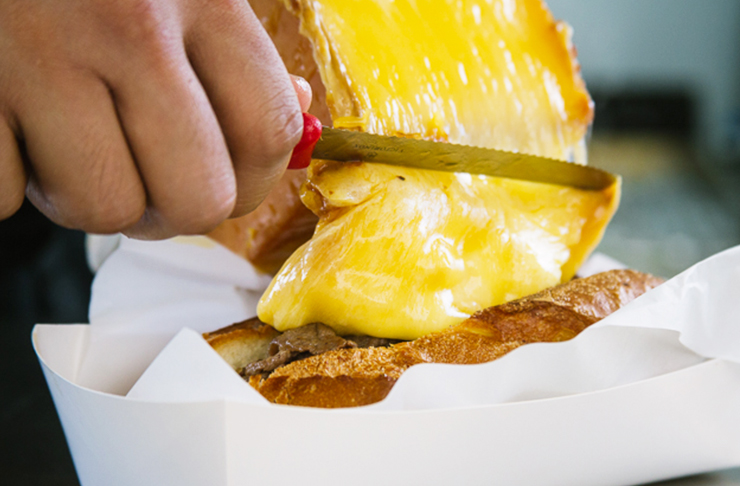 Safka Continental Goodies
K' Road
Eat yourself into a raclette coma from the comfort of your own home thanks to Safka Continental Goodies. At their K' Road store, you'll be able to get your mitts on your very own wheel of raclette cheese, straight outta Switzerland. Impress your friends at your next dinner party with a melty raclette creation or, y'know, just keep it all for yourself (we won't judge).
Pyrénées
Mt Albert
We can always count on Pyrénées to deliver the goods. They've got all our foodie faves from cheese to charcutrie, and are one of the places we can count on to find raclette in Auckland. At this Mt Albert café and specialty store you can pick up a piece of this glorious cheese as well as all of the foods that go oh-so-well with it like cured meats, bread and even a dessert if you still have room for it (which, fyi, you won't after raclette is through with you).
Want More?
Image credit: Andrew Wilson at Melt