From must-know trends to winter wardrobe essentials, Kiwi fashion favourite Nicole Ku sure knows a thing or two about mastering effortless cold-weather ensembles.
As a stylist and fashion photographer, Ku sets the bar with career goals, regularly making the rounds with high-profile clients like Smith & Caughey's, Lancôme, Balmain Eyewear and most recently Samsung, in partnership with their new sleek, stylish and compact accessory—the Galaxy Z Flip.
Nicole serves us wardrobe inspiration on the reg, through her passion for photography with the streets of Auckland as her backdrop. We stole a few moments and sat down with the rising creative to chat all things personal style.
When did your love affair with fashion begin?
I was very shy as a child. Moving to a new country at a young age took a while for me to adjust to, and to figure out how to express myself. It wasn't until I was in high school that I discovered the John Galliano Dior era. From then on, I fell in love with fashion. I had never realised that fashion could transform someone into a different character or provide a feeling that is lacking or needed to help you become the best version of yourself.
How would you describe your personal style?
My personal style is monochromatic, practical and ever-evolving. It's always parallel to my mood and what makes me feel strong at that point in time.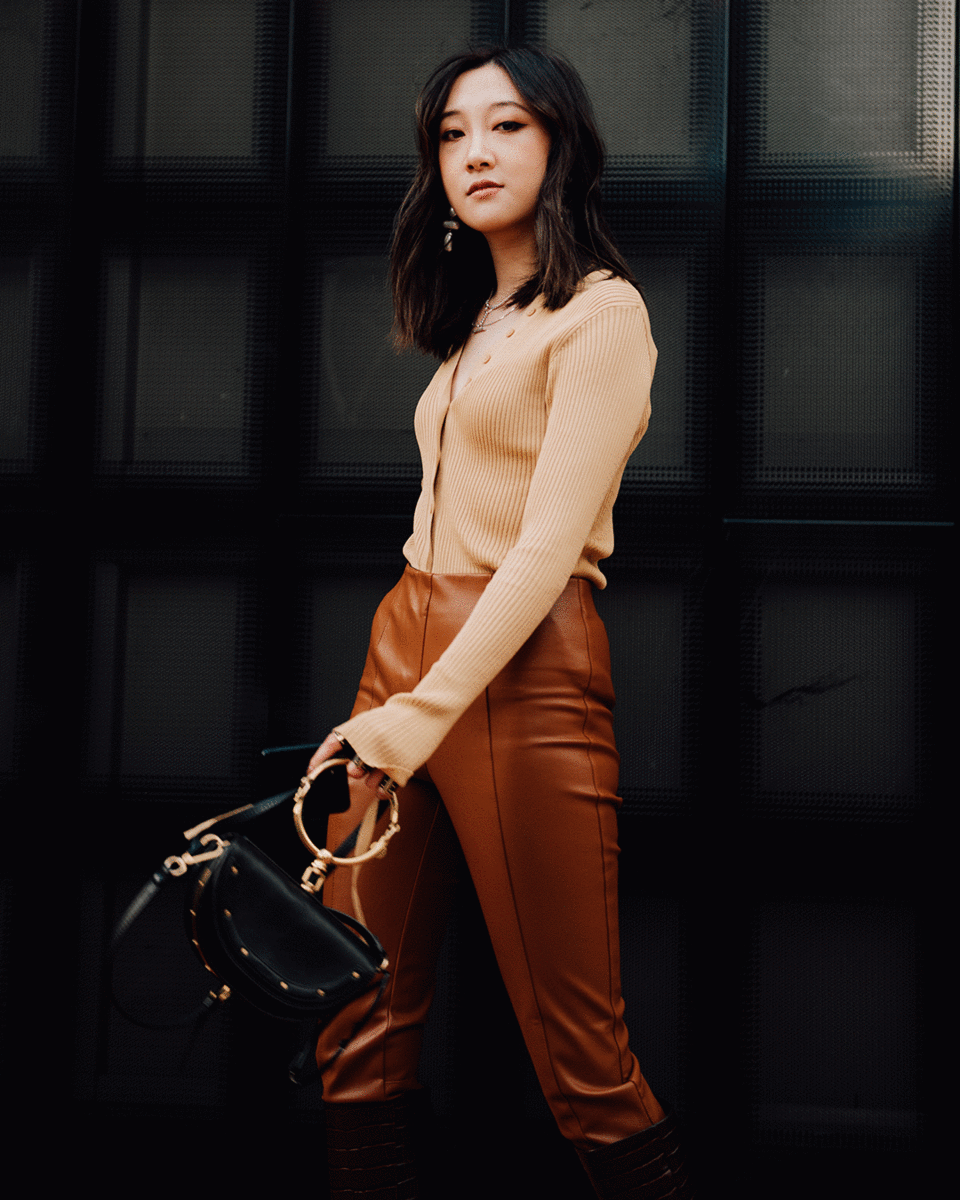 Where do you find creative inspiration?
It's a bit of a mixed bag. In a world so saturated with media, it's very easy to find something new and fresh. On Instagram, I find a creative I enjoy and tap on the image to see who they have tagged and worked with on the shoot. You will be surprised to see how amazing the work is that each creative has produced. Using this method, I always find creatives that have unique perspectives within the fashion industry—influenced by their different upbringings, geography, experiences and emotions.
This is cheesy, but I also believe creative inspiration really comes from the heart. If you are truly inspired by something and it has moved you in some way, you will produce work that is genuine. Before creating anything, I always try and see whether I am truly inspired or whether I am unknowingly following a trend.
Your Insta is goals, how exactly can we nail a fashion self-portrait for the 'Gram?
Thank you! I am in no way an expert in self-portraits, but from experience, stand in front of a mirror to discover your best angles and make sure to look into the lens like it's a deep ocean. Place your phone somewhere and set it on self-timer. I love my Galaxy Z Flip because you don't need to get an extra tripod for it. You can just fold it and it stands by itself! You don't even have to bother with a self-timer with the Z Flip either. For a fashion photographer and stylist, it's seriously the coolest accessory.
Can you talk us through your favourite look of 2020 so far?
My favourite so far is the knee-length faux leather shorts with shoulder-pad blazer look—I love the masculine vibe paired with tiny accessories such as tiny matrix-like sunglasses and a small bag. I find the contrast makes the whole look unique and different.
We're well and truly into the chilly season, what are your winter plans this year?
I'm someone that gets extremely afraid of the cold. I even get cold during summer so it's definitely a hard season for me to get through. But in light of New Zealand at Level 1 [COVID-19 restrictions], I'm looking forward to possibly flying down to Queenstown for some hot pools and good food.
Can you tell us about your top winter style must-haves?
A good faux-leather outfit, a long coat and a small bag for a size juxtaposition. Oh, and a Galaxy Z Flip, the ultimate style accessory.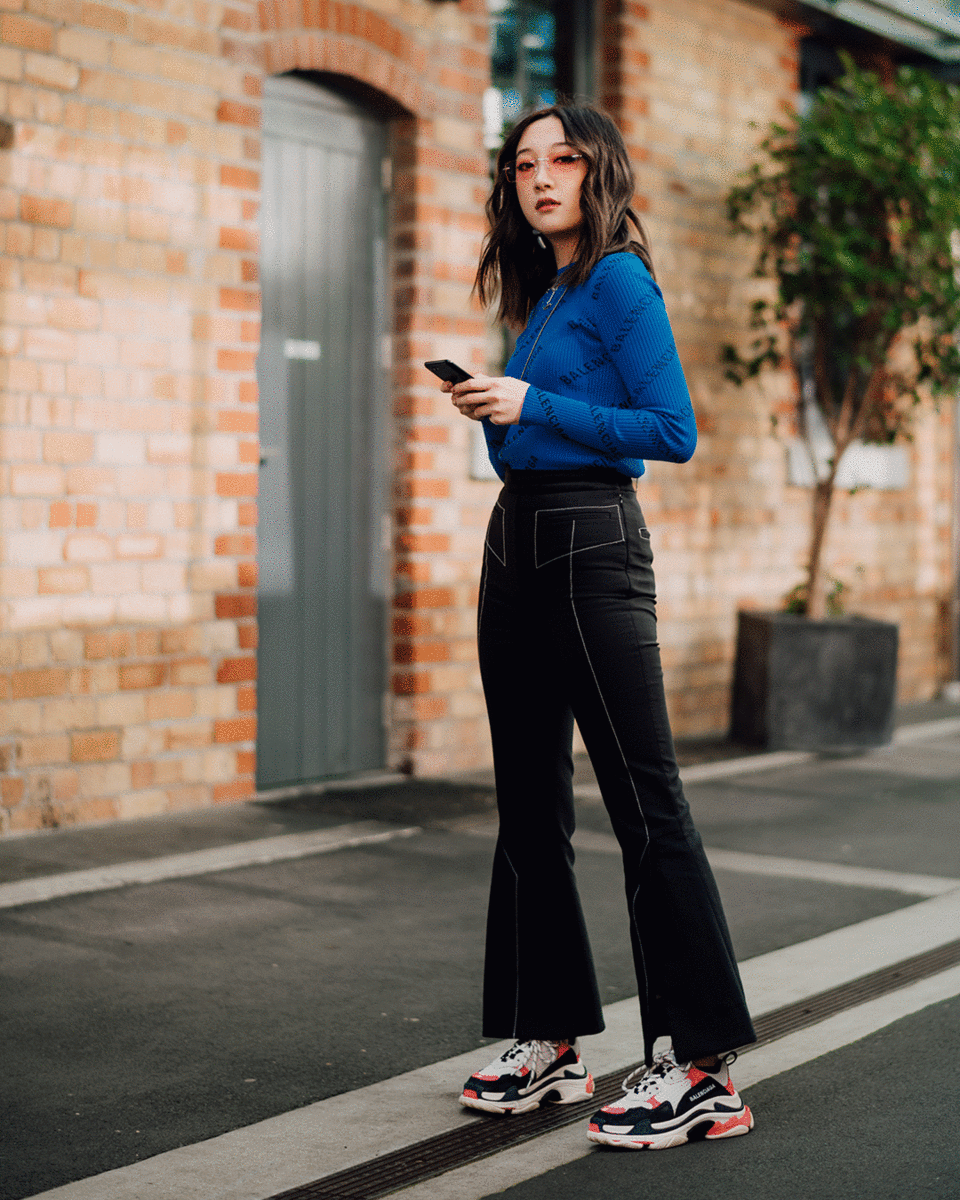 What are your trend predictions Kiwis should expect to see a lot of this season?
Two-tone clothing, faux-leather, balloon sleeve sweaters and pops of bright colours in unexpected layering.
When you think about the future of fashion, what are you excited for?
I'm excited for less of a need for trends, thinking more about practicality and having pieces that stand the test of time. I think because of recent events, consumers are more conscious of what they put their money towards and where their clothing comes from, so people can finally dress for themselves and not for others.
What are your favourite local brands we should all know about?
There are so many and I could go on and on, but my absolute favourite right now is Benjamin Alexander. I always call him the 'brightest future in fashion'. It's so refreshing to see a brand that mixes tradition and contemporary innovations in the luxury market. When I saw his work at New Zealand Fashion Week to receiving my first piece of BA, I knew there was something special there.
I also love Georgia Alice, Paris Georgia, Kate Sylvester, Salasai, Marle, Maggie Marilyn, Deadly Ponies, Kowtow and Stolen Girlfriends Club.
And FINALLY, Can you share your top style tips?
I've only started to adopt this method a couple of years ago, but one of the top tips I would say is to make a conscious decision in purchasing a garment right from the beginning, no matter how affordable and tempting the price is. If your garments in your wardrobe are truly what you would wear, not only will you feel good wearing them but you will have less room for error, no matter how you style the pieces.
Get ready to level up your next selfie thanks to the innovative Samsung Galaxy Z Flip. It's the ultimate high-tech fashion accessory that makes shooting your next self-portrait a breeze.
Editor's note: This article is sponsored by Samsung and proudly endorsed by The Urban List. To find out more about who we work with and why read our editorial policy here.