William Shakespeare was on to something when he said "I would give all my fame for a pot of ale." We sometimes feel like this too after a long week at work. And luckily for us, Auckland has an abundance of craft beer bars and breweries that churn out the delicious nectar we so greatly desire.
But, if you haven't heard already–in which case you must have been living under a rock—craft beer is a BIG thing here in Auckland. So, we thought we'd take the hard yards out for ya and leave you with a simple list for the best breweries in and around Auckland. So start at the top and work your way down and don't forget to get a glass or two of water in between!
Common' team, hop to it!
Sawmill Brewery
Matakana
Moving last year from their original site in Leigh to the new location of Matakana, The Sawmill Brewery is worth the drive and the carpark crammed full of cars just proves it. Since opening its doors back in 2004, The Sawmill Brewery are all about brewing top quality natural beers free from sugar, preservatives and colour. Their beer is also unpasteurised, giving it a vibrant, thirst-quenching flavour. Their India pale ale beer won a gold award this year at the Brewers Guild Awards and is described by The Sawmill Brewery as having a "Pale golden colour with a foamy white head. Light biscuity malt notes carry the hops. A mix of American Citra and NZ Cascade hops give the beer a bright and vibrant citrus burst. Crisp and drinkable." And, to top it all off, their beers are poured fresh from the tap with their unique rough sawn Manuka handles. It's no wonder they're on our list of the best breweries in and around Auckland.
Wild On Waiheke
Waiheke
Just a hop, skip and a jump away (or more realistically a ferry ride) is Wild on Waiheke. The Brewery was built in the '80s and is considered more of a micro-brewery, but being a fantastic destination for the whole family makes this brewery worth visiting! Their range of beers may be small but they pack a punch! They've got the Baroona Pale Ale, the Matiatia Malty, the Wharf Road Wheat beer, the Onetangi dark beer and a for somethin' a little sweeter, you can try out their cider. And, after you've finished your brew (or maybe before, to be on the safe side) you can get the team together for some archery, clay bird shooting or "wildtag" and they've even got a spectacular playground for the kiddos.
The Shakespeare Hotel and Brewery
Auckland CBD
The Shakespeare Brewery is housed in a building that's 120 years old! And the brewery—which was founded in 1986 is the first micro-brew/pub in New Zealand! You'll be visiting a piece of Kiwi history when you walk through these doors. And pouring fresh from the taps you can find mouth-watering brews such as The Jetset Pilsner, The Gentlemen Stout, The Bastard IPA, The Lover Blonde ale and The Bard pale ale. Don't get too attached though, these beers change on the reg, but that's just another reason to keep coming back for more! And if you get too sloshed, just check yourself in to one of their 10 rooms in the Shakespeare Hotel to sleep it off.
Brothers Brewery and Juke Joint
Mount Eden
Brothers Brewery is another staple in the Auckland craft beer scene. One of the bigger inner city brew/pubs on our list of the best breweries in and around Auckland. These guys really know how to nail a great brew. Pouring fresh from nine huge stainless steel tanks straight to the tap you can find beers such as The Brothers Tropical Ale, The Brothers Pilsner, The Brothers Mexican Lager and The Brothers red Ale— just to name a few. Then they've got rotating guest beers on tap such as The Piha Beer salt water Gosa and The Piha beer party wave IPA. As well as the Brewery, Brothers have two other locations in Orakei and City Works Depot where you can chill out in their retro-styled bar while you sip away on any of the aforementioned beers and many, many more!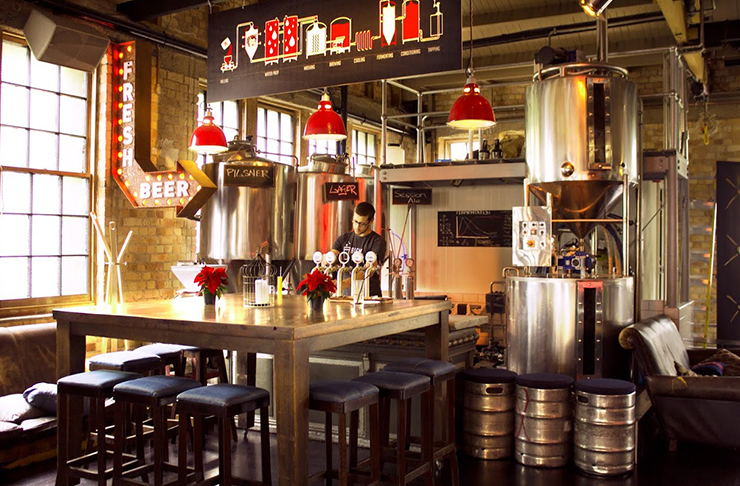 Sweat Shop Brew Kitchen
Freemans Bay
Situated on Sale Street, Sweat Shop Brew Kitchen is a huge establishment featuring a restaurant, a barbershop, function spaces and of course, the brewery. They have rotating taps pouring fresh beers brewed on site such as the Session Ale, The Pilsner, The APA, The IPA and The Lager—a beer to tickle every taste bud. And, if you're keen to gain a little knowledge on how to brew a beer yourself, then you can enrol into their "beer school."
Liberty Brewery
Hellensville
With their slogan being "Fuck that's good beer!" It's hard to not be intrigued by Liberty Brewery. Situated Helensville, this brewery is one of the best in Auckland and their award-winning beer is somethin' to get excited about. Quirky and full of flavour, Liberties beers will leave you wanting more and more and more. They've got The Knife Party—an India pale ale, which took first place at the Westcoast IPA challenge in 2013. The Halo Pilsner, which is a fav among craft beer lovers and for something that packs a bit of a punch, wrap your mouth around the C!tra (citra) which is a double IPA at a whopping 9%! With equally quirky and eye catching labels on the bottles, Liberty Brewery has nailed this beer thing. Guess that's why they're on our list of the best Breweries in and around Auckland then!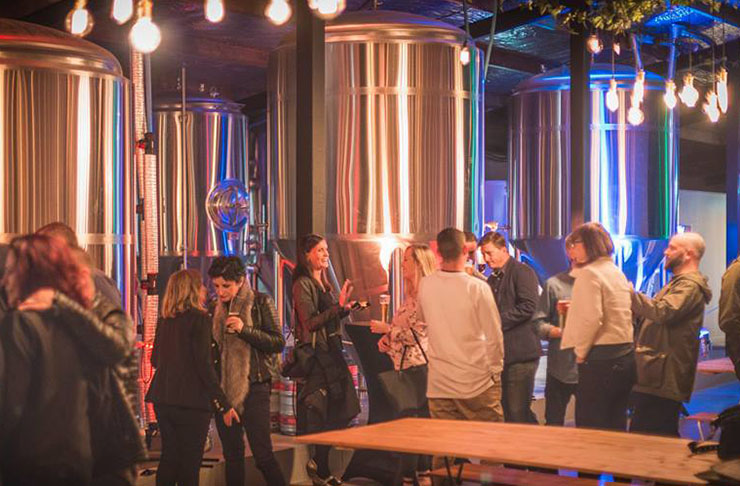 Urbanaut Brewing Co.
Kingsland
The newest addition to the Auckland brewery scene, Urbanaut Brewery is situated in Kingsland and what sets them apart from the rest is that they open their brewery doors for a few hours every day so that the public can sample the beers they have on offer. Urbanaut's beer repertoire includes The Kingsland Pilsner, The Brixton Pale Ale, The Gastown Red IPA and EL SEGUNDO WEST COAST IPA which was a finalist in the 2017 Malthouse West Coast ipa challenge. These guys may be new but their beers are far from amatuer. Head on down to Kingsland and check them out for yourselves!
Deep Creek Brewery
Browns Bay
Winning the 2017 Small International Brewery award, Deep Creek is a front runner on our list of the best breweries in and around Auckland, obvs. And, with so many beers to choose from, you'll be absolutely spoilt for choice! They've got the Steam Funk Project which is their sour beer range, the Lupulin Effect project which are India pale ale style brews and the Nero Project, which are darker styles of beer. And the beer doesn't stop there! They've got even more brews to choose from but we'll let you guys discover them for yourselves! Check out their three locations in Orewa, Browns Bay and Waiheke for all your food and beer needs!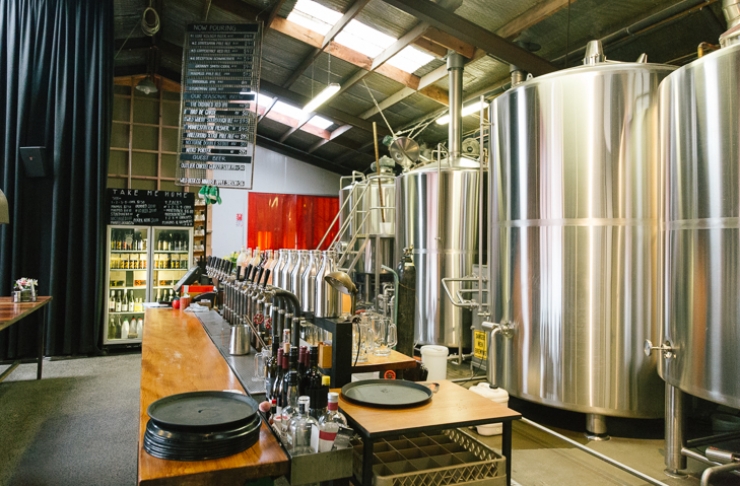 Hallertau Brewery

Riverhead
Brewing the good stuff for 12 years, this north west brewery is the best place to spend a sunny afternoon! Hallertau has their signature 1, 2, 3, 4, 5 & 6 range as well as their heroic range featuring a pretty damn amazing IPA. They've got a seasonal range and their sour beers are some of the best on offer in New Zealand and Australia. Hallertau regularly do some pretty awesome collaborations, previously crafting "The Hateful Eight" beer for the release of Quentin Tarantino's film. They've also released the Fat Freddy's Drop golden Ale beer and more recently Hallertau and McClure's pickles teamed up to brew the pickled Gosa beer, brewed with actual pickle juice! Now how bout that!
Want more? Here are Auckland's Best Craft Beer Bars.
Image credit: Andrew Wilson
SaveSaveSaveSave