Auckland may be known for its celebrity chefs and fine dining restaurants, but sometimes all you want is some good ol' fashioned Kiwi pub grub. Don't worry, we hear you. There's nothing more comforting that a hearty pie and an ice cold pint, which is why we've found the best places to get a quality pub feed in Auckland—and believe us when we say there's no shortage of pubs to take your pick from.
So, pull up a stool, order a cold one, and dig into this list of Auckland's best pubs. Cheers to that!
The Cav
Freemans Bay
Ah, The Cav. This Auckland institution never fails to impress. Since its snazzy revamp, The Cav has seriously upped the ante on the food, drinks and vibes front. The Cav is a scrumptious reminder that not all pub fare is created equal. Don't expect your average steak, egg and chips meal… instead, tuck into Rueben sammies, pulled pork tacos, tiger prawn salad and beer battered crayfish, washed down with a craftie or two. BYO kids, because The Cav caters to the sprogs with 'Worms and Dirt', 'Scooby Dog' and Chicka Chicka Wah Wah' dishes served in bento boxes.
The Shakespeare Hotel & Brewery
Auckland CBD
No Auckland pub crawl would be complete without popping into New Zealand's first brew pub. Located on the corner of Wyndham and Albert Street, The Shakes is over 100 years old, so it's safe to say that they know how pub grub is done. You'll find tasty tidbits to share, woodfired pizzas, gourmet burgs and pub regulars—lamb shank, fish 'n' chips, steak, and BBQ ribs. There are 10 comfy rooms available if you indulge in a few too many brown lemonades and can't make the voyage home.
The Kingslander
Kingsland
A classic detour on the way to Eden Park, The Kingslander is the ideal spot to fuel up before an intense night of cheering, clapping, and questioning the ref. Get the crew together and choose from their range of sharing plates with influences from all over the world. From smoked buffalo wings and pork belly bao buns, to prawn and ginger dumplings and bacon loaded cheesy fries, the hardest part will be choosing which of their craft beer range to wash everything down with. If you're feeling fancy, give one of their stone grill meals a go—choose from their range of smoked meats and complete the meal with their famous rosemary and garlic potatoes and homemade béarnaise sauce.
The Empire
Auckland CBD
The Empire has been a local watering hole for yonks, making sure inner-city revellers remain jolly, hydrated and well fed since 1875. Nab yourself a table in the courtyard and order from their menu of open burgers, pizza, nachos, pasta, salads and small plates.
Puhoi Pub Hotel & Stables
Puhoi
Another pub steeped in history and character, an afternoon at Puhoi Hotel is something every Aucklander needs to experience. The walls are lined with decades of memorabilia and the food is exactly what you want from a classic pub pit-stop—burgers, fish 'n' chips and mussel fritters. Lounge on the grass if the sun's out and take in the view or cosy up inside with a brew.
The Lumsden Freehouse
Newmarket
The home of craft beer in Newmarket and a mighty fine home at that, The Lumsden Freehouse is a customer-orientated pub and beer bar serving up food that's good for the soul and easy on the wallet. Their burgers and pizzas are in a whole other league of delicious, but if you're on a mission to feel the heat, The Lumsden's totally insane wings are ready and waiting. Extinguish any lingering flames with a beer from their whopping 120+ selection or order a serving of sliders and dunk 'em in bacon gravy. That should do the trick.
The Occidental
Auckland CBD
Mussels, schnitzel, and roast lamb? Yes, please! The Occidental has built up a rep for dishing out drool-worthy pub food in the heart of the city. We can't go past their steamed mussels in creamy white wine and garlic with their famous frites and house-made mayo. Carnivores, however, should opt for the South Island venison pie or 500g of angus rump steak and a Belgian beer taster tray. Oh, and a finale of traditional Belgian waffles is compulsory.
The Flying Moa
Mt Wellington
Construct your perfect pub feed at The Flying Moa. This Mt Wellington pub lets you build-your-own tucker by choosing from seafood, steak or a mix of the two. Once that's done, choose two sides (beer battered fries and slaw is the way to go) before selecting your sauce. Or, if you're an indecisive human, go ahead and grab the slow braised pork belly—a fail safe classic for any discerning Kiwi.
The Riverhead Tavern
Riverhead
This Riverhead gem is thought to be NZ's oldest riverside tavern and holds the second oldest liquor license in the whole country. Head to The Portage for a lovingly-fashioned serving of their famous smoky ribs, a seafood pizza or a platter loaded with cheese, meat, relish and fresh, crusty bread. Best enjoyed with a healthy dose of quality banter and a couple of beverages.
The Chamberlain
Britomart
Just like this pub's classically beautiful interior with antique detail, The Chamberlain sticks to simple things done well. Don't expect any groundbreaking gastro-food, but do expect to have your taste buds wowed by their classic pub grub perfected with modern touches—dishes are cooked in a wooden fire oven, bringing a subtle smokiness to every meal. So, chill out with BBQ squid and their always changing "beast fries" with your colleagues at after work drinks, or dig into one of their classic burgers or fresh fish and chips for a hearty dinner.
Clare Inn
Mt Eden
This Irish pub along Dominion Road pours a frothy Guinness and guarantees full bellies with their hearty menu. Start off with Clare Inn's cheesy bacon 'tato skins before progressing to the main event—slow cooked duck, beef wellington, and sausies, mash and whisky sauce. Whatever you get, it's sure to be fecking good.
The Bluestone Room
CBD
Hidden away in the CBD you'll find The Bluestone Room. Its darkened atmosphere and friendly staff make it feel as though you've been transported to another world. Work stress? Not here! The abundant menu will leave you spoilt for choice. Choose from the grazing board or get those hands messy and order the slow-cooked baby back ribs. Smothered in a smoky BBQ sauce, your tummy will be one happy camper.
Matakana Village Pub
Matakana
A trip to Matakana just wouldn't be complete without popping in for a feed at The Matakana Village Pub. Despite its origins in 1903, this pub's menu is anything but outdated, with dishes fit for any self-respecting pub enthusiast. We can't go past their BBQ pork belly with fennel and potato gratin, but their fried sriracha hot wings and crispy polenta chips with whipped feta are enough to justify the drive on their own. Wash it down with one of Matakana's local brews and settle in for a relaxing afternoon in their beer garden like a true Matakana local.
Galbraith's Alehouse
Mt Eden
Galbraith's Alehouse never fails to deliver on totally tasty pub food. We always find ourselves gravitating towards their house-made pork sausages, creamy chicken pie, and scotch egg (one of the best in town). Even better, they brew their own beers, so don't miss out on the chance to sample their seasonal release.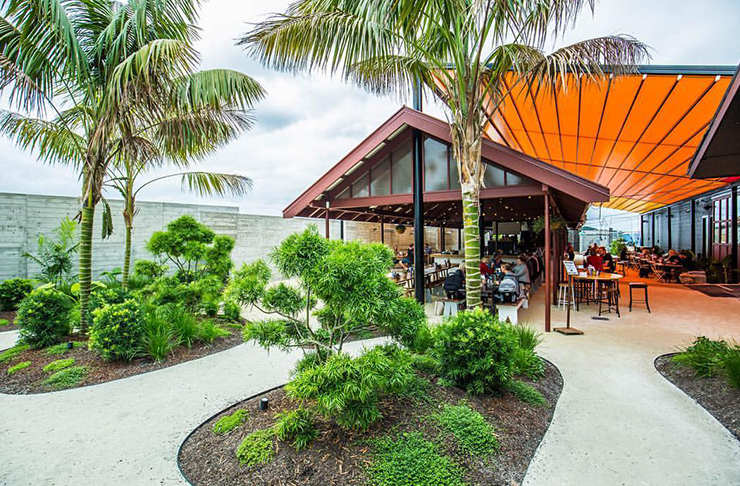 Hallertau Biergarten
Riverhead
If your idea of a good time is to sink a few crafty ones while dining on some great food, then Hallertau's Biergarten is the place to be. Nestled amongst West Auckland's rolling farm land, you'll find this subtropical oasis that is both inviting and relaxing. We recommend ordering the beer tasting paddle and working your way through the matching food on the snacks and sharing menu.
The Good Home
Mt Eden
The folks behind The Good Home are on a mission to create a cosy home-away-from-home experience for everyone who walks through the door, and their menu is no exception. Rustic, hearty and comforting, every dish is a spin on those warming classics which just make you think of home. Chilling out with a group? Grab one of their sharing platters—the meat feast lives up to its title, but if you're wanting something a little lighter the veggie board with its spring rolls, veggie crudités and stuffed dolmas is a must. Make the most of the cosy vibes and treat yourself to their homemade classic tiramisu—the hazelnut praline is something not to be missed.
Ralph's
Mt Eden
If you think Dominion Road is all dumplings and BYOs, then think again because Ralph's has all your craft beer and deliciously greasy food needs covered. We're not going to lie, there's something to be said for spending your Friday night with a beer and a basket of curly fry goodness, but trust us when we say you won't regret chowing down on one of their many burgers either. They've perfected the classic cheeseburger like no other, and they've even managed to recreate the famous big mac, but vegan. With a rotating tap beer selection, an outdoor area complete with spiral staircase, and the most down to earth staff, this might just become your go-to Dom Rd classic.
Looking for the best beers in town? Here's Auckland's Best Craft Beer Bars.
Image credit: The Flying Moa, Hallertau, Marilynn McLachlan, The Chamberlain
SaveSaveSaveSaveSaveSave
SaveSave