We did it Sydney. In 2017 we totally ate our way through the epic cafe scene and hey, we regret nothing. Absolutely nothing. Plus, if there's one thing we learnt, it's that our glorious city will never, ever be short on a solid breakfast, brunch or just good old fashioned bacon and eggs. And we all know that's the key to survival here.
This year our concrete jungle was donned with nostalgic milo milkshakes, vegan sambos (that are delicious AF), Asian-inspired grocers and even treats for your four-legged friends (we're talking pupcakes and pupachinos).

Here are the best cafe openings in Sydney for 2017! Delicious.
Mr. Cafe
Balmain
The Balmain café scene in Sydney's inner west got a whole lot coolegor (and more delicious) in 2017 with Mr. Cafe and hell yeah, he doesn't disappoint. You'll find Will & Co. coffee beans that are roasted on-site, and they've got a short but sweet menu to match. Mr. also serves up their refreshing alcoholic beverages from 10am, if you're after a different kind of pick-me-up with your brekky (again, no judgement). Dine in or take away, Mr. serves daily baked goods, breakfast and a selection of burgers and sandwiches.
Burger Hood
Balmain
From the crew behind Grandma's, The Wild Rover and Wilhelmina's, meet Burger Hood— your go-to for that sweet, sweet food-coma. This buzzing neighbourhood eatery stocks up on everything from a cold one to a good ol' fashioned Milo milkshake (the thick and creamy kind). And you'll be happy to know the food-front is coming in strong too with a Bloody Mary burger and free soft serves for anyone who dines in #winning.
Good Fella
Belle Vista
Never ones to leave out the caffeine scene, coffee addicts around the Norwest business park scored a new place to sort out their morning buzz, or let's be real, arvo pick-me-up. Good Fella is the go-to coffee bar around these parts with salads, sandwiches and bagels all on offer for a casual and tasty AF chow down.
Joe's Sandwich Bar
CBD
Sink your teeth in the epic vegan sambos at Joe's and trust us, your life will change. You'll want to thank the crew behind Sydney institution Verd for this treat because Joe's is the pickling, slow-roasting and veggie-friendly joint taking the location of Zeitgeist. Expect Iggy's sourdough, miso-caramel eggplant combos and smoky AF tempeh. Exactly, it's all sorts of deliciousness here.
LABLD
Marrickville
Just so you know, this 2017 freshy is led by Kabir Sayed (former head chef of Dove & Olive) and Benjamin Terkalas (think Beejay's Cafe). The menu here is Asian-inspired with a grocer packed to the rafters including ethical meats, juices, jams and baked goods.
Concrete Jungle
Chippendale
This healthy cafe is providing sustainable options that are totally edible—unlike your sad attempt at a green smoothie. Try the house smoked salmon, with a slow cooked egg, sweet potato, avocado puree and mustard leaves. Hey, clean eating doesn't sound too bad after all #win.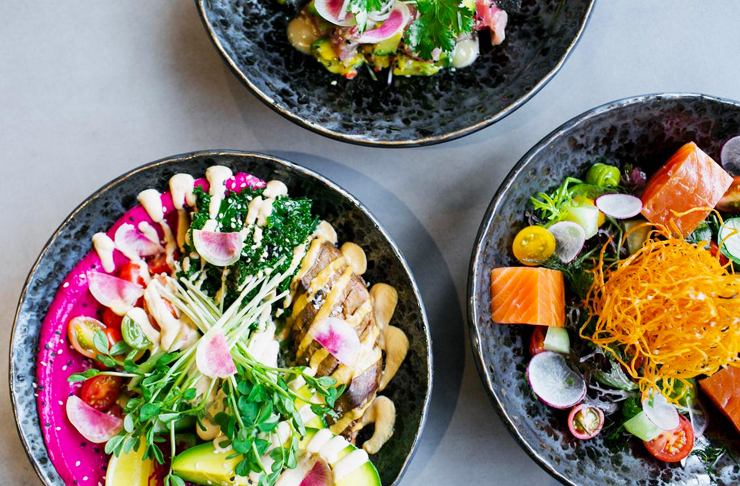 Gathered Kitchen
Glebe
Yeah, we scored another awesome bakery but before you all start groaning about all the extra croissants you DIDN'T need before summer, this cafe is actually churning out nothing but the good stuff. Behold, Gathered Kitchen, a plant-based baked-goods haven with delights like pandan lemongrass waffles, vegan pain au chocolats and delicious AF smylkies.
Verd
Surry Hills
There's no doubt this eatery packed with raw treats and nut-mylk coffee is a major hit (because it's sister hub down in Barangaroo made everyone go cray), plus the world can never have too much spice dahl with mixed lentils topped with COYO.
District Brasserie
CBD
Nestled in the heart of Sydney's CBD District Brasserie is a cross between French fine dining with a take-away bakery. It's all the deliciousness of French cuisine, and just refined enough to guarantee a top notch chardy, without being so fancy that you can't understand a thing on the menu—just how we like it. Get a Single O brew and freshly baked croissant to go from the take-away cafe, or pull up a chair in the gilded brasserie and order the steak tartare (followed by the steak frites, obvs). Make sure you have your Insta story at the ready, because these dishes are (almost) too pretty to eat.
Cuckoo Callay
Surry Hills
One of Newtown's most 'grammable brunch spots found its second home on Crown Street. Yep, we're talking about Cuckoo Callay and lucky for you guys the menu has every single one of their all-time faves. The bacon mac daddy is here along with a few extra goodies that are definitely worth adding to your hit list. Did we mention the fit out is almost too beautiful, with velvet, marble and gold trimmings? Becuase it is. Bring along your doggo (or pat someone else's) because not only is this place dog-friendly, there's also a dog menu serving up—wait for it—pupcakes and pupachinos.
Here are the 50 avocado dishes you should have eaten in Sydney.
Mr, Good Fella & Concrete Jungle | Image credit: Carla Dibbs