While 2020 wasn't without its massive challenges for Sydney's hospitality scene, it just so happens that a slew of tasty new cafes emerged.
Some of these new cafes in Sydney opened their doors right before the pandemic and managed to stay afloat throughout it all with new ideas and takeaway concepts that are now iconic.
Check out the most impressive new cafes in Sydney that opened in 2020.
Bak & Bak
Willoughby
With sustainability at the helm, Bak & Bak is a fresh North Sydney cafe all about cooking from scratch and the simple brunch pleasures. The first thing you need to know is that this breakfast hub sports a bible-worthy selection of feeds to dig into. A major highlight at Bak & Bak is the ridiculously good brunch menu. Available weekdays from 11am onwards and from 8am on the weekends, there is absolutely nothing on here that isn't worth trying. You'll find a creamy eggs benedict, one hell of a salmon bagel (topped with rocket, onions, and cream cheese), a fruity "dirty pancake", mushroom toast and, the magnum opus, a Lotus Biscoff-inspired pancake stack.
Toastiesmith
Chatswood
Sydney is home to some pretty outstanding toasties. From shops dedicated to the humble cheese melt to cafes plating up towering mi goreng toasties, a jumbo banoffee jaffle and a particularly iconic mortadella-laced pressed sandwich—we love a toasted sandwich in this city.
Adding to Sydney's grilled sandwich game this year was Toastiesmith. Modelled off the super-popular South Korean chain Isaac Toast, Toastiesmith is a cafe all about Korean street toast. If you're not familiar with this sort of sambo, and you might not be as it's pretty hard to come by in Aus, it's basically a toastie meets burger mashup made with sweet brioche bread that's stuffed with fluffy scrambled eggs, cheese, and other fitting fillings. Sound good? Yeah well, it is—this place has queues down the street for good reason.
The Mayflower
Darlinghurst
The Mayflower is all soft peach hues and decadent, refined dishes. This Darlinghurst cafe is built into an art deco-style shop front that was once a florist, and everything, from the sweet interior to the menu laced with fancy delicacies (like caviar and truffle), is a nod to the building's floral past.
As for what's to eat, alongside a set of polished staples, The Mayflower's breakfast, lunch, and brand new dinner menu heroes caviar and truffle—you know, the finer things in life. Keep your eyes out for the cafe's new Ferrero Rocher brûlée French toast. This decadent start-your-day plate is layered with Valrhona dark chocolate, the French chocolatier known to create some of the best choc in the whole entire world.
Oh My Days
Glebe
Being a full-time vegan in Sydney is becoming dreamier every day. As well as flavour-packed bowls of gnocchi, plant-based Pisco sours, pho, tacos, and pub grub—thanks to Glebe's brand new plant-based cafe Oh My Days—we've also got vegan croissants, pain au chocolat, and almond croissants.
Oh My Days is more than just stand-out vegan pastries—here you'll also find a sunny courtyard, all-day breakfast, lunch, and house-roasted coffee. The menu is largely South American-inspired. There's a breakfast burrito with scrambled tofu, black beans, guacamole, jalapeno salsa, and chipotle aioli; there are zucchini and jackfruit burritos and gluten-free cauliflower and mushroom tacos too. Oh My Days also bake their own focaccia, sourdough, and banana bread, and there's a selection of paninis and tartines available with fillings like hummus and charred broccoli, or sweet potato, avocado, and basil.
Fabbrica
CBD
Amidst our city-wide shutdown, certain hospitality venues around Sydney went to the drawing board for new ideas and delicious ways to stay in the game. One of our favourite outcomes of this is the CBD's latest takeaway pasta emporium—Fabbrica. From the talented team that has given Sydney Ragazzi, Dear Sainte Éloise, and Love, Tilly Devine, comes your new favourite Italian goods pantry-filler. Stop in for fresh pasta, gluten-free pasta, pre-made sauces, cheeses, Italian wines, charcuterie, and general pasta-making advice from the pros. And then, hang around for a Negroni, a sandwich, or an Italian doughnut. Grocery shopping with a cocktail? Sign us up.
Lox In A Box
Bondi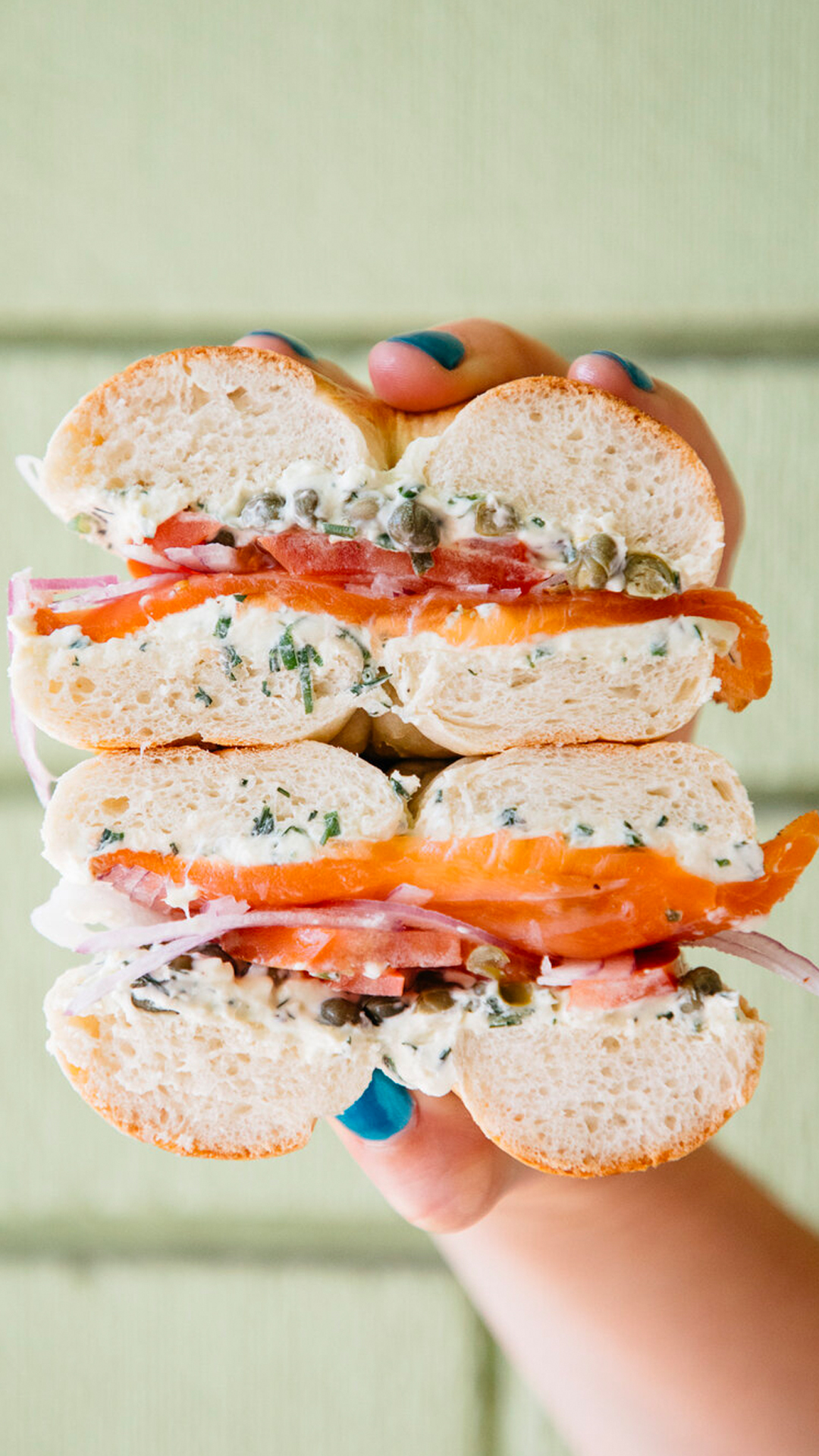 Inspired by traditional Jewish delis, this takeaway joint is open just three days a week—Friday through to Sundays (arguably the best days of the week). Its retro shopfront features a deli menu scribbled on butcher's paper taped to the window, and you won't find more than a couple of benches out the front to soak up all the vintage vibes.
On the no-frills cafe menu, there are fine standouts like a salt-beef bagel (loaded with mustard and pickles) and a vegetarian stack pumped with actual jalapeno schmear. You can also expect the staple lox affair with one of the best herb cream-cheeses Sydney has ever been privy to. And to build on your feed, you'll also be able to pick from more than 20 sides to throw into your takeaway lox box including "Nanna's smashed avo" and an extra creamy potato salad.
Wholegreen Bakery
CBD
Wholegreen Bakery is not a new discovery among the coeliacs of Sydney. In fact, its Waverly outpost is known to churn out the best damn gluten-free croissants, brioche, sourdough, pain au chocolat, and, come Easter time, hot cross buns. This year, Wholegreen Bakery opened a second outpost right in the middle of Sydney's CBD, and, as well as having more access to some of Sydney's hands-down best GF baked goods, Wholegreen's CBD spot is licensed and much larger, with space for up to 60. Wholegreen's new menu also covers off dairy-free, sugar-free and vegan options, and there are also lunchtime staples on offer at the new CBD spot, like spinach and feta pasties, fresh salad rolls, and cheese toasties.
Madame & Yves
Clovelly
It was the delicious new venture that landed in Clovelly's decade-defying Sweet Kiss Cake Shop BC ("Before COVID-19"). Madame & Yves also single-handedly saved Sydney's sweet tooth crowd during lockdown with tasty pastry deliveries filled with sustainably-made treats like lemon meringues, pina colada tarts, baked cheesecakes, almond raspberry croissants, and sultana rolls. However, the real standout was and still is the matcha yuzu roll, made from an airy matcha sponge, mascarpone yuzu cream, yuzu whipped ganache, and shizo leaf gel (look, this year wasn't all that bad).
Harvey's Hot Sandwiches
Parramatta
The latest addition to Sydney's growing cafe scene is Harvey's Hot Sandwiches. You'll find this retro-style sandwich bar in the new Parramatta Square dining precinct, dishing out made-to-order subs served simple (with mustard and swiss cheese) or sloppy (with Russian dressing, coleslaw, and swiss cheese).
It's a simple but larger-than-life sort of concept that's already earning die-hard fans and queues to match. Choose your bread—white or wholemeal—then go deep on your fillings. There's a classic meatball sub, made with pork and veal meatballs, garlic butter, marinara sauce, and mozzarella cheese, and, in true Americana style, a Philly Cheesesteak with shaved scotch fillet steak, grilled onions, provolone cheese, and a hot pepper spread.
Since you're here, check out Sydney's best new restaurant openings of 2020.
Image credit: Madame & Yves, Bak & Bak, Toastiesmith, The Mayflower, Oh My Days, Fabbrica, Lox In A Box, Wholegreen Bakery, Madame & Yves, Harvey's Hot Sandwiches