Brunch. There are fewer words in the English language that get us more excited (except for maybe all-you-can-eat-pizza). The mere thought of diving into a plate of perfectly poached eggs, smashed avocado and all of the coffee pleases us to our core.
It's no secret that cafes in Sydney have nailed the brunch game, so whether it's brunch with the fam (Bugaboos in tow), a catch up with your Pilates buds or a pour over with your pooch, these eight essential Sydney brunch spots should be added to your hit list, stat.
Laneway Cafe
Cammeray
Known for having one of Sydney's best bacon and egg rolls, Laneway Cafe on Sydney's northside also serve up decadent buttermilk pancakes with honeycomb butter (if anyone asks, you should absolutely add bacon and maple syrup) as well as some mean baked eggs. With ample outdoor seating and a cute village vibe, this is one cafe in Sydney you can spend most of your weekend in.
West Juliett
Marrickville
A darling of the inner west cafe scene, West Juliett is ready to take your order. Whether it's one of their house baked pastries (actually, this isn't optional—get one!) or a haloumi egg roll, your belly is in good hands when it comes to brunch time. There is plenty of seating, but it can get busy so either get in early or be prepared for a short wait.
The Incinerator Cafe
Willoughby
Grab a picnic blanket, or simply snag one of the outside tables, The Incinerator Cafe is the perfect place for the whole fam to get their brunch on. There's a menu dedicated to kids as well as avocado smash on toast for under $10 (which is essentially unheard of in Sydney anymore). We love getting our brunch to go and enjoying it in the nearby parklands. Picnic brunch? Hells yes.
Barista & Cook
Zetland
A newcomer to Zetland is Barista & Cook. A huge warehouse-like space, this place is the spot to be for brunch whether you're catching up with friends and family, or just there for the potential dog pats. They're serious about their coffee here (and open at 6am weekdays just to sell it), and also offer fresh and seasonal dishes as well as a few naughty options too—grilled mac'n'cheese toastie, anyone?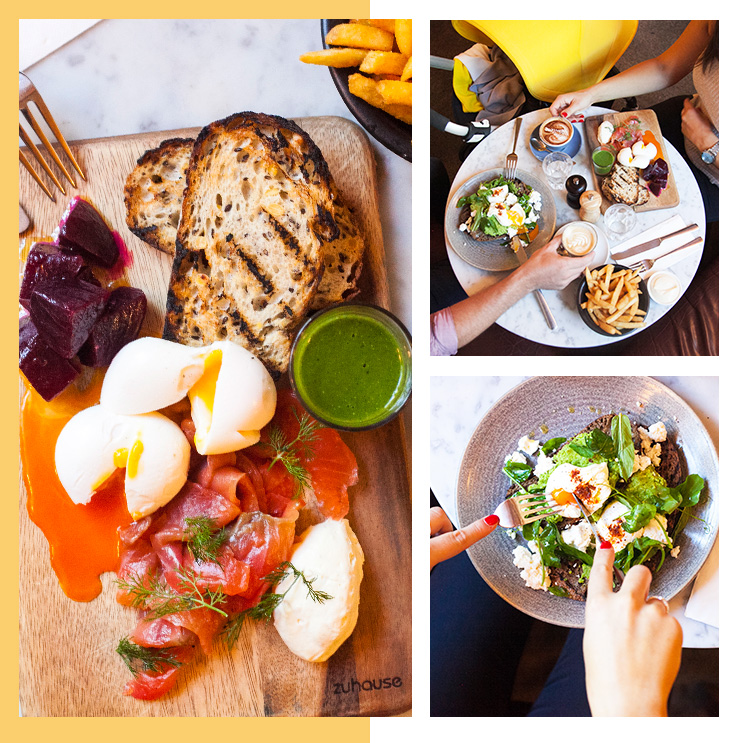 Three Williams
Redfern
Three Williams in Redfern brings the goods when it comes to brunching in Sydney—we're talking about the holy trinity of brunch: food, coffee and atmosphere. With plenty of space for your crew (some of whom may be sporting Bugaboos), don't miss their narnies (the fried chicken option is out of this world), fresh juices and, of course, perfectly poached eggs—a brunch prerequisite.
The Grounds of Alexandria
Alexandria
A visit to The Grounds of Alexandria isn't just brunch. It's an experience. With farm animals (say hi to Kevin Bacon for us—the resident pig), market stalls and their own coffee roastery, The Grounds will keep you entertained and, most importantly, full. If you can manage to fit them in after your brunch, the freshly made doughnuts will make you cry little sugary tears of joy.
The Local Press
Lilyfield
A cute little cafe in family friendly Lilyfield, The Local Press is sorting you out good and proper with chilli pork shoulder hash, breakfast burritos and cafe classic corn fritters. The chocolate pistachio smoothie is a thing of beauty, but if only caffeine will do, the baristas here froth up a great cuppa to help you get through the day.
Smalltown
Avalon
Smalltown in the beachside suburb of Avalon is the perfect spot for a bit of brunch action. Basically, anyone who has a section of their menu dedicated to toasties is alright in our books. But if toasties aren't floating your boatsies, then one of the all day brekkie options will surely satisfy. Oh, and don't leave without taking home one of their specialty doughnuts—they're a wee bit ridiculous (in the best kind of way).
---
Image credit: Natalia Horinkova