Easter, that beautiful time of the year where consuming copious amounts of chocolate is applauded and long weekends are the norm.
If we didn't already love Easter enough—which we totally do—some of our fave cafes, bakeries and cake maestros have been busy creating limited-edition Easter masterpieces that'll wow your tastebuds and send this public holiday into legendary status.
But we're warning you—these deliciously perfect dishes and drinks are "Easter specials", which means they'll only be available for a short time. So, none of this dilly dallying, folks! Whatever your week entails, you need to make these six epic Easter eats a priority before they disappear for good.
Espresso-Infused Chocolate Martini In A Chocolate Egg Cup
You know anything the gurus do is pretty much guaranteed to taste and look ridiculously good. And this epic Easter cocktail is no exception. Pretty much imagine your dream Easter special, then multiply that by a zillion and you'll get Guru Life's espresso-infused chocolate martini, served in a chocolate egg cup—WE KID YOU NOT! It's genius, and we don't say that lightly. Just look at the thing. Available from next week, however Guru will not be open over Easter public holidays, so get in while the going is good!
Edible Gold And Chocolate Easter Bunny
When this choc bunny, hand-painted in edible gold, popped into our Insta feed, well, we may have let out a little squeal because it's so damn pretty. We've already voted and it's unanimous, that this is possibly the best Easter gift you could buy for your lover, Aunty Ginny, your parents (hello, golden child). Available in medium and large ($6.50-$10), you can place your orders all week long, and either opt for delivery or pickup from Lake Macdonald. Want to out-do errybody else? Take it one step further, and go for Wild Child Cakes' dessert boxes complete with a bunch of other housemade goodies and a whole bouquet of flowers. Srsly, you can do no wrong for like a year, after you turn up on someone's doorstep with this!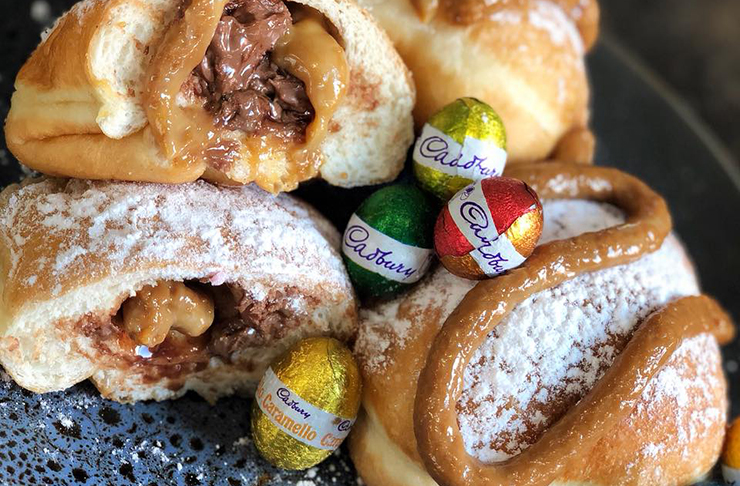 Cadbury Creme Egg Cronuts
This is kinda a public service announcement, because everybody should know about and have the chance to feast on a Cadbury Creme Egg Cronut injected with Nutella and caramel, at least once in their sweet-lovin' life. And, after the super success of their Crème Egg cronuts last year, Sunshine Sunshine Espresso is at it again over the Easter long weekend ONLY! These are super limited, so we suggest you launch like a leopard and get messaging, emailing, or calling the folks at Sunshine Sunshine Espresso, so you can get your hands on this epic mound of #foodporn while it lasts.
Dutch Hot Cross Choc Buns
Everyone who's anyone knows the name Van Wegens. And they also know this Mooloolaba bakery is infamous for making quite possibly the best hot cross buns on the Sunshine Coast. Cooking up traditional buns and sweet Dutch Cocoa Belgium Choc buns (so good!), we totally recommend buying big and freezing a bunch for later, because once Easter is done, you're going to have to wait another 12 months before you get your next fix. And really, that's just too long, dontcha think?
Caramello Easter Egg filled Doughnuts
The masters of OTT naughty food are at it again. Over Easter long weekend this culinary innovator will be making ooey, gooey doughnuts stuffed with Caramello Easter Eggs, and we're already in lurve. That's right, Kenilworth Bakery has long been an obsession of ours here on the Sunshine Coast. They started the decadence with their 1kg doughnut last year. We're sure you all remember? Next up was Australia's first coffee INSIDE a doughnut and, once more, records were broken and excessive amounts were lattes were consumed from the interior of hollow cinnamon doughnuts. And this year over Easter you can eat one of these amazing stuffed doughnuts! Who's in?!
Cadbury Cheesecake Egg
The folks over at Decisions have split their menu into #Superfood and #Superjunk, but at Easter we're kinda just wanting the #Superjunk. And that's EXACTLY what they've delivered with their latest creation. Introducing the Cadbury Cheesecake Egg. This puppy is a Cadbury Easter Egg, with Honeycomb Malteser Cheesecake stuffed inside, loaded up with a Kinder Bunny, various Creme Eggs, Chocolate Flake Soil with Housemade Salted Caramel Sauce. Drooling yet? You really should be!
So now you know what epic Easter treats you need to try on the Sunshine Coast over the Easter long weekend, what about what's open? We've got you covered here with our list of What's Open On The Sunshine Coast This Easter. Or maybe you're wondering what's on this Easter, you better check out things to do this Easter long weekend on the Sunshine Coast.
Image credit: Kenilworth Bakery, Wild Child Cakes and Decisions.
SaveSave