Living on the Sunshine Coast basically means we're spoilt for choice when it comes to natural wonders… it's the choosing part that's the tough bit.
So we've done the narrowing down for you. Here are nine amazing spots that will take your breath away, stop you in your tracks, sweep you off your feet, leave you awestruck, gob smacked and all kinds of other fabulous clichés.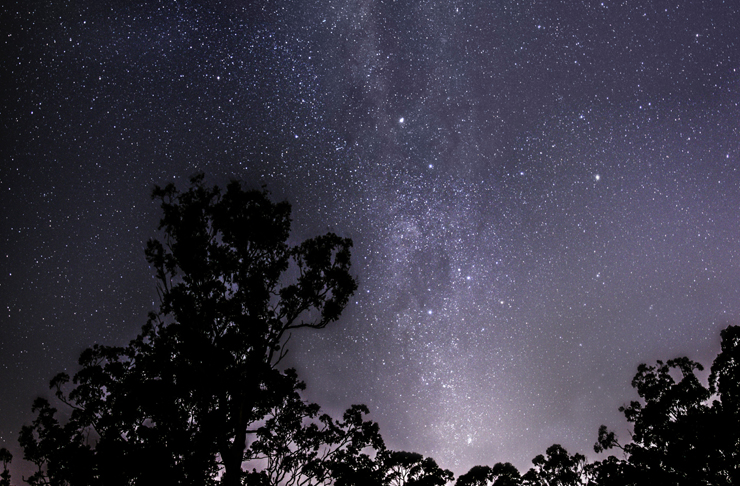 Full Moon Rise On The Grassy Knoll
On the next full moon head to the Coolum Boardwalk and around halfway between the surf club and Point Perry a set of stairs will lead you off the path and onto a sweet little grassy knoll. Take a picnic blanket and a bottle of wine and enjoy yourself some fine full moon gazing with absolutely nothing (no fences, no obstructions) between you, the rocky cliff edge and that big rising luna.
Hell's Gates
So everyone who's anyone knows that a trek to Hell's Gates is one of the best things to do in Noosa. This is some of the best coastal viewing around, so if you haven't done it recently, do up your laces and get there. And if you're feeling super adventurous, start at Sunshine Beach, detour past the caves and then along the shores of Alexandria Bay.
Star Gazing From Mount Tinbeerwah
Navigating a mountain at night can be risky business, however Mount Tinbeerwah is fairly easy as far as mountain hikes go. You'll need a torch to get to the top, but once you're there switch it off and simply look up. Mind-blowing, breathtaking, and possibly one of the best things to do on the Sunshine Coast. Especially if you're on the hunt for romantic date ideas.
Serenity Falls
Buderim's best but not-so-well-kept secret swimming spot has got to be Serenity Falls. Explore Buderim Forest Park—make sure you wear swimmers under that active wear—and finish off with a dip in the rock pool.
Sunset At Noosa River
Sometimes photos make things look better than they actually are. When it comes to sunset over the Noosa River along Gympie Terrace, we're yet to find a photo that does it justice. Get yourself there, you'll see what we mean. Oh and don't forget there's plenty of free barbecues along the waterfront, so pack the snags. Or if you want to up the anti, jump on M.V. Catalina or make a beeline to the Sunset Bar at Noosa Boathouse.
Mount Ngungun
Sunrise, sunset, midday… No matter what time of day it is from the top of Mount Ngungun in The Glass House Mountain National Park, it's spectacular. Don't believe us? Stalk #ngungun on Instagram and see for yourself.
Third Bay
Definitely a lesser known spot, Third Bay at Coolum Beach is rarely ventured to. The thing is, those who do go there, do so with pride. Like, so much pride that they may tend to forget their clothes. But if you can deal with a handful of naked humans, this spot is magical. We recommend starting at First Bay, meandering over the rocks to Second Bay, and then eventually to Third Bay. The 15-minute walk takes you around rock pools galore and all kinds of oceany goodness.
Sunrise At Basically Any Beach
In case you haven't noticed, we have an abundance of east-facing beaches, which means we get front row seats to one of nature's 5-star shows every single day—the sun rise. All you have to do is set your alarm super early, head to a beach of your choice, and let nature do the rest.
Blackall Range Tourist Drive
Want a boatload of breathtaking spots in one day? Jump in the car, take to the Blackall Range Tourist drive and prepare to be wowed over and over and over again. Left the packed lunch at home? Never fear, we know where to find the best eats in the Sunshine Coast Hinterland.
Image credit: Amy Higg for Urban List