Cancel ALL your plans for this winter, my friends, because the granddaddy of all cheesy events is touching down on the Sunshine Coast this month.
Now, as confirmed fromagephiles (is that a word? It is now), we all know that adding cheese to any dish makes it immeasurably better. So what happens when your entire meal is ALL about the ooey gooey cheese? And not just any cheese - Australia's most awarded cheese - Heidi Raclette - melted to a toasty, golden ooze, under a custom-designed Raclette grill, imported from Switzerland. Well… you get Periwinkle's all-you-can-eat Raclette night, that what. (We're screaming on the inside too peeps!!!)
Periwinkle, in the square at Peregian Beach, is our go-to for all things French. There's nothing more Continental than sipping a glass of Pinot Gris in the afternoon sun, nibbling on a platter of charcuterie, and watching the world go by. So when we heard that chef and owner, Frank Boulay was missing the one of his favourite dishes from his home country, and was planning on recreating it here on the Sunshine Coast, our eyes - and our tastebuds - lit up.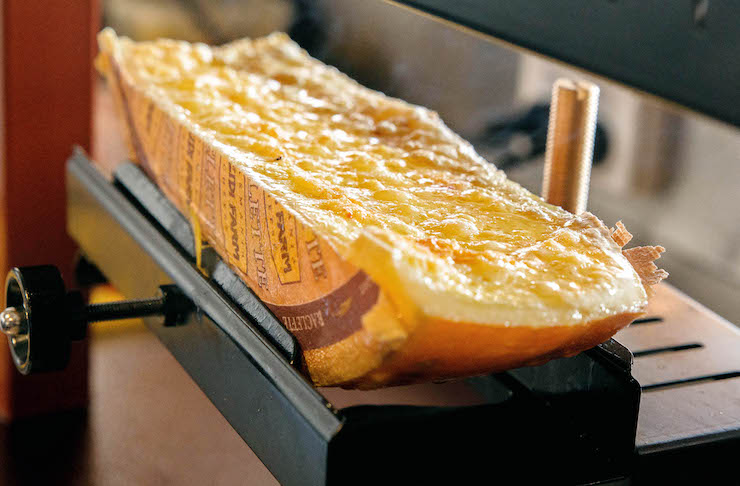 Raclette is about shared, communal dining, it's about tradition (Raclette pre-dates fondue by centuries) but more than anything, it's about the CHEESE, baby. The imported Raclette grill holds half a wheel of cheese, and the red hot grill is suspended over the top, melting the smooth, stretchy cheese. So far, so fondue, right? But instead of dipping bread into the bubbly, melted cheese, this food of the gods is then poured on to a plate of steamed kipfler potatoes and homemade bread, and served with a charcuterie plate of prosciutto, salami, cornichons and salad. We promise we won't tell your PT!
Try one of Periwinkle's amazing wines by the glass to pair with your dinner - the Mosel Riesling is our fave partner for the nuttiness of the Heidi Raclette. Raclette is a classic dish from the Alps, and is super-popular in the ski resorts of France and Switzerland. So as the Queensland nights start to cool down, channel your inner ski bunny and sign up for the ultimate cheese plate. Don't even try to argue with us!
Periwinkle will be holding Raclette nights once a month over winter, kicking off on Thursday 26 April. Bookings are essential, and dates for the rest of winter will be announced soon. Keep your ear to the ground on Periwinkle's Facebook page here.
THE DETAILS
What: Raclette Night At Periwinkle Restaurant
Where: Shop 2, 216 David Low Way, Peregian Beach
When: Thursday 26 April
Love cheese don't you? We've rounded up The Best Halloumi Dishes On The Sunshine Coast here. Feeling a bit over-stuffed now? Not a worry, we've rounded up The Most Incredible Day Hikes On & Around The Sunshine Coast for you to try.
Image credit: Andrew Wilson at Melt and Nancy Hanna for The Urban List