What if there was somewhere new you could go in Maroochydore, for a quiet Friday afternoon drink or a sayonara-Sunday cruise-fest?
A bar that didn't drip with booze and party vibes, and instead leant more towards chilled-out moods and summery cocktails. Where a DJ pumps out easy-listening tunes that belong beside the meaning of "background music" in the dictionary—subtle, yet there, if you know what I mean.
A place where the food menu is as much a star as the music, drinks, and fit-out.
We'll stop with the mysterious intro now, and we're done with the what-ifs, because a place like this really does exist! It's time to say a big, fat hola to Maroochydore's newest bar, La Canteena.
This Mexican-influenced haven is tucked away on Ocean Street, but can be spotted from afar with its super cool and super giant, black cast-iron gate.
As soon as you see it, your internal GPS will start taking you in La Canteena's direction. It's kind of a given.
Beyond the gate, an alley way decked out with picnic-style benches sit on one side and a wall full of murals on the other (hats off to Miss Frida Kahlo for make a stunning appearance).
Follow the yellow brick road to the end and this young bro of Old Sol, opens up into the ultimate summer courtyard flanked with couches, drums-cum-bar tables and palette seating. Drinks are ordered at a timber hut, and food, well that gets its own special place, served out of a separate canteen-style hole in the wall.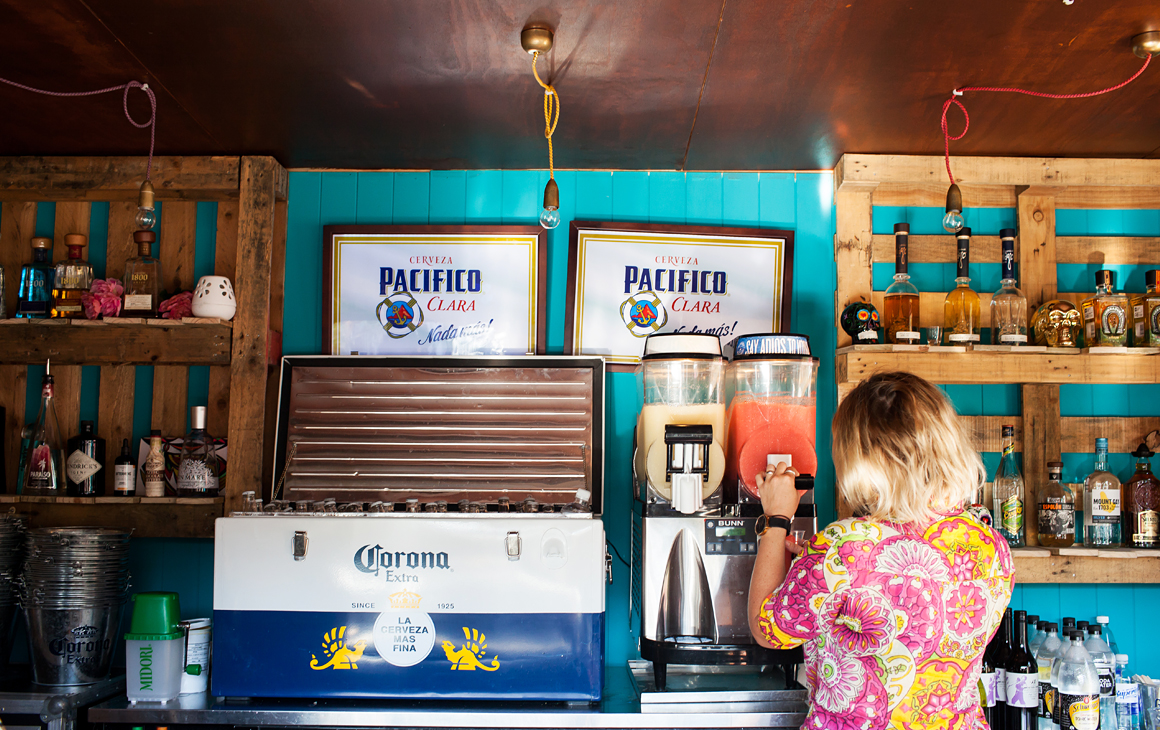 Because we'd never write about something without trying first, we double park with a strawberry and pear frozen margarita and a pineapple and mint margarita (because two margaritas are always better than one). Talk about hitting the refresh button in a big way!
But the drinks aren't the only ones whacking the raves out of this courtyard and onto the streets of the Coast. There's the food too!
We're going to walk you through it, but not without the all-important side note, that everything (and I mean, everything) on the menu is made in-house. Now, that's outta the way, the menu is split three in three—street eats, tacos, and share pizzas.
It could be cocktail list we've been getting cosy with, where margaritas are the drink of choice followed by jugs of Sangria, but we get the feeling these guys are champions of Mexican cuisine. And we aren't wrong!
Munching on pan-fried Okra (our first of many encounters with this insanely delicious food, no doubt), Tacos De Carnita—two handmade soft tacos stuffed with juicy pulled pork, fresh cilantro, lime, mint and a mango salsa that'll have even the mango-haters licking their lips—and El Diablo Wings where spiciness is mellowed by a ranch dipping sauce, it's a pretty safe call to say these guys have nailed the art of Mexican nosh.
If your ultimate weekend arvo is made of a drink that turns into a jug that turns into a foodie feast with your buddies, then La Canteena's going to be your new go-to address for the summer. Keep in mind that these guys are only open in the afternoons till about 10pm on Fridays, Saturdays and Sundays!
Where: 19 Ocean Street, Maroochydore
Image Credit: Claire Plush