I'm a serial fidgeter. I fidget. A lot. Especially when I'm forced to relax.
It's almost as if my fidgeting goes into overdrive, and I have to let it all out, before I can reach a state of lull, if I even make it there at all. Some call it weird, the smarter ones call it charming.
Because of my impressive fidgeting skills, I find it difficult to wind down. Yoga, meditation, massage, sleep… doable, but not without creating some kind of to-do list in my head at the same time about all the other things I need to get done/could be doing. On the upside, multi-tasking is my bitch—give me a laptop and I'll be typing away, sipping on coffee, and scrolling Instagram with my elbow (while still typing, of course).
Anyhoo, if it's not clear enough—which I highly doubt, unless you've just worn your glasses while opening the oven and are reading this with fogged up lenses (oh the drama!)—I'm just a girl. A girl who struggles with anti-switching off syndrome. It's a real-deal thing, and I've got it.
So, when I heard the word "floating" being thrown about by those in-the-know health warriors, and found out that I could experience this new-to-me relaxation experience on the Sunshine Coast, I was intrigued. What is it? What does it do? Who's it for? Will I be able to pull it off?
Pioneered here on the Sunshine Coast by a Maroochydore relaxation hub, I booked in for my first float at The Float Space.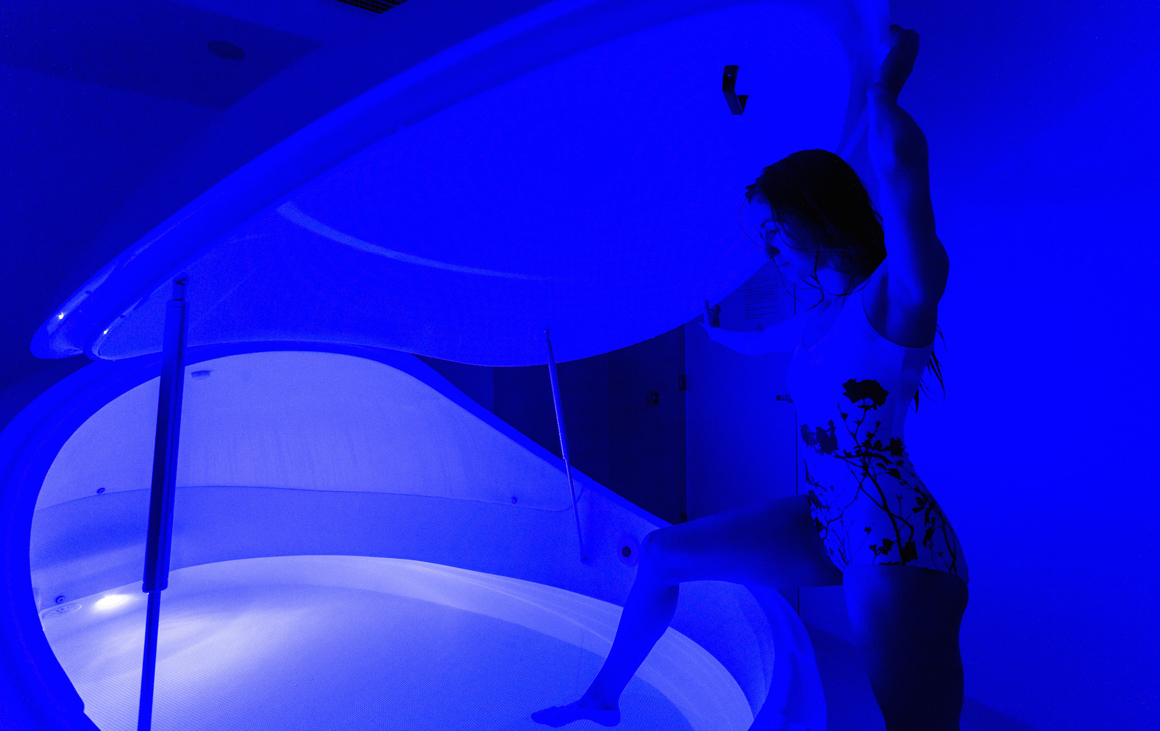 I read a lot about floating in the lead-up to my experience, asked those who'd completed a float what it was like, and asked friends if they'd heard of it—the common answer to which was a resounding "what the heck is floating?"
Well that, my friends, is a great question. Contrary to what some might think, floatation therapy is not a new thing. Sure, we're a little slow hearing about it here on the Coast, but that's just one of the things we find endearing about our little neck of the woods. Or the land down under altogether.
Developed in the 1950s by a neuroscientist, floating was originally revered by psychologists for its ability to implement a kind of sensory deprivation that gave the mind and body the chance to solely focus on healing itself. Pretty amazing, no?
Fast-forward to today, Sunshine Coast couple by way of Germany and Brazil, Janina and Felipe, brought their shared love of floating to our sandy shores about a year ago, and have since gained quite the following.
Turns out that beyond those looking to tune out for an hour, it's also being recommend by health professionals to help with issues such as chronic pain, insomnia, depression, and anxiety to name a few. Basically, its power knows no bounds.
I turn up to The Float Space early morning, having not consumed any caffeine or food, as recommended. If you're flitting about from an espresso or digesting that smoky bacon and cheese omelette, how are you supposed to relax?
After sitting down and watching a short film about the dos (do relax, do shower before and after) and don'ts (don't fidget, don't worry you're not going to drown—it's impossible, don't pee in the pod—alright, I may have added that one in), I feel like I'm ready to take the plunge—literally and figuratively. There's no turning back now, folks.
Imagine a gigantic spa bath that kinda looks like an egg, and you've got yourself a float tank.
The Float Space is decked out with three floating suites, each containing their own pod and private shower. Opposite to what I'd envisioned, the float tanks are super spacious. Imagine a gigantic spa bath that kinda looks like an egg, and you've got yourself a float tank. I'm quick to learn that The Float Space's pods are way larger than other floating facilities around Australia—goooo Sunshine Coast!
After stripping down to my birthday suit, having a shower to wash away any natural oils and hair products, and then popping in the earplugs provided, I step into the pod. Filled to a height of 25cm, the water is packed with 500kg (yep, FIVE HUNDRED!) of Epsom salt. As soon as my feet hit the bottom, I feel them lifting out from under me and floating to the surface. The buoyancy is insane, and I can understand when they say it's denser than the Dead Sea… not that I've ever been there.
My float, along with everybody else's, begins with about 10 minutes of lullaby-like integrated audio, signifying that this is relaxation time, yo. Playing alongside the music, is a light show that sees the pod lit up by an endless scroll of vibrant chakra colours—my first introduction to light therapy.
Just like it drifted in, the music and lights fade out and I'm left surrounded by silence, darkness, and a whole lotta water. Heated to skin temperature, once I've stopped fidgeting and bobbing, and have gotten myself into a comfy position that sees my arms floating above my head, I can no longer feel the water. It's as if I'm lying on a bed, fully supported—that's how weightless I feel.
The state-of-the-art pod design means you can either close the lid completely or leave it slightly open, if you need fresh air. But with a handle on the inside for opening the lid at any time, you're always in control if you have a change of heart, slash an "I need to get out of here" moment. And, if you still need a nightlight, there's also the option to leave on an iridescent blue underwater light during your float, just by pressing a button inside the pod.
I normally hate confined spaces, but because I've been led slowly into the darkness with light therapy, music, and stillness, any freak-outs subside before they hit. Which makes it way less awkward than it could have been.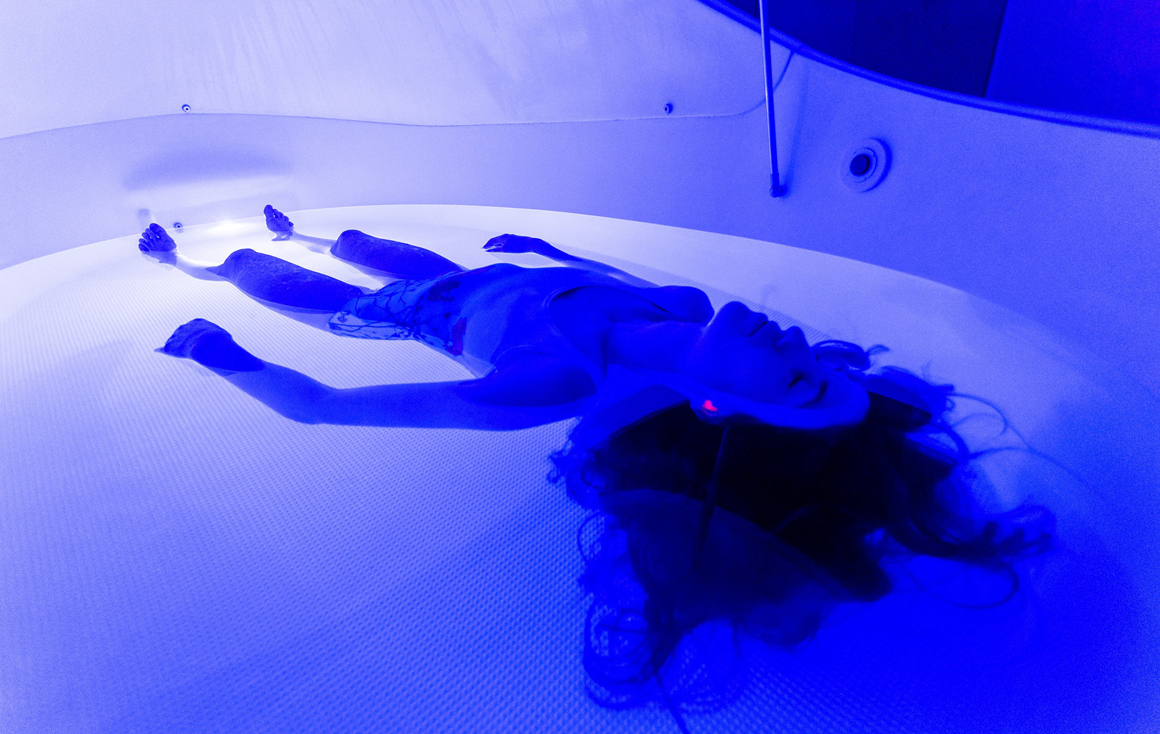 I take a while to relax and struggle to stop the thought-vomit that constantly overflows from my brain. Lists, multiple lists, and more lists. "Oh shit, I forgot to call so-and-so back." "Bugger, I missed rubbish day again, didn't I?" "Why aren't you relaxing, Claire? You should be relaxing now… C'mon, reeeelaxxxx…", then nothing. Yep, NOTHING.
No thoughts, I think. And I don't fidget. Wait, I don't actually know that, but I have no memory of a period of time that I'm in the pod. I remember being there and then elsewhere, before coming back to the reality that I'm stuck inside an egg. For how long I was in this trance-like in-between state, I have no idea. But I'm giving myself one mighty pat on the back for getting there.
The float lasts about an hour, and as it did at the start, soft music signals the end of the float is near. To be honest, I don't feel that different when the music ends, and it's not until I shower, dress, use The Float Space's stunning "get-ready" station (complete with blow-dryers, moisturisers, and makeup, that I realise I am so bloody AWAKE (!). And I haven't had coffee for at least 12 hours—which is a looooong time, guys.
"They" say that one-hour of float therapy is the equivalent of 4-8 hours of deep sleep, and this is one time "they" were right. I literally feel like I'm on the caffeine high of the year—minus the jitters and speed-talking. I feel intensely awake, clear-headed, and relaxed in my body, almost as if some merman has come along and massaged out any tightness I may have had while I was mid-trance in the pod. Plus, the world looked so freakin' bright. Are trees always so lusciously green?
My skin, too, feels very different. Mid float session I could feel a slight tightness and almost stinging sensation on the skin that had broken through the surface of the water. I thought for sure it was drying me the hell out. Turns out, post-shower, my skin is so incredibly smooth it's like I've been exfoliated to the max, when actually it's a result of the magnesium I absorbed through my skin during the float. Well, there you go!
The energy hit lasts for at least the next 24 hours, and if I feel this good on the outside, I reckon how the magic floatation therapy worked on the inside, must be all kinds of impressive.
Addicted to the buzz I felt afterwards and determined to reach that deep-relaxation state for longer, I've promised myself that this float will not be my last. And with surprisingly affordable deals, like the intro special which includes three one-hour floats, valid over two months for $150, or The Float Club Membership where $59 per month will give you a one-hour float per month (they roll over if not used), there's really no excuse not to.
Where: 6/12 Norval Court, Maroochydore
Contact: 07 5352 3803
Image Credit: Urban Float