Welcome to Threads. Four outfits and one ultimate source of city style.
Put it on the company card. Too much is never enough. Think nothing. Feel everything. Pleasure is good. Fantasy is truth.
This is the world of Client Liaison, the sensational Aussie pop duo whose ethos is centred on a mashup of 80s Australiana, a vision of our corporate cultural past paid for with Diner's Club cards, vintage suits embroidered with cockatoos and a whole lot of damn fun music.
Dreamt up by vocalist Monte Morgan and keyboardist and producer Harvey Miller—Client Liaison is a lifestyle, it's a Hotel Stay, Survival In The City in an Off White Limousine, Diplomatic Immunity in one hell of a Wild Life. And last year, Client Liaison launched Client Liaison Deluxe Line (CLDL). A fully-fledged fashion collection of 80s-style jumpers, suits, swimmers, sunglasses, bags, bucket hats, jumpsuits, denim, scrunchies and sandals.
Much more than band merch, CLDL taps into the insatiable creative force of Morgan and Miller, as well as the storied archive of their onstage wardrobe. Fresh from a summer packed with gigs, we paid a visit to Client Liaison HQ in Melbourne ahead of the Virgin Australia Melbourne Fashion Festival. We took a deep dive into their stacked wardrobe, and got the scoop on what the guys will be sending down the runway next week.
What's the story of Client Liaison? How did you guys end up here?
HARVEY MILLER: We met at school and we started making music when we finished. Laptop computers had started to become powerful enough to sustain music production, so we had our laptops and we were all hanging out together. Monte and I were part of the same clique, with shared interests. Pretty sure that's how most bands start. Fond memories!
Client Liaison is such a creative force. What inspires you?
MONTE MORGAN: There are so many constant sources of inspiration. We collect images of all kinds. Harvey has a huge coffee table book collection of interior design. It also can be more emotional or about feeling—I've been getting into bones lately, like adding fake bones to outfits, for a sort of rugged masculine slash feminine vibe. [Inspiriation] can be anything—referencing films we saw as kids, or architecture, even a lunch we had.
HM: So many things become inspiration. I'm really into concrete composites, so nowadays whenever I'm walking around town I look at driveways and pathways, a Greek-style driveway or a government building from the 50s, the 80s, or the 90s—they're all different and varied. And you get so many textures.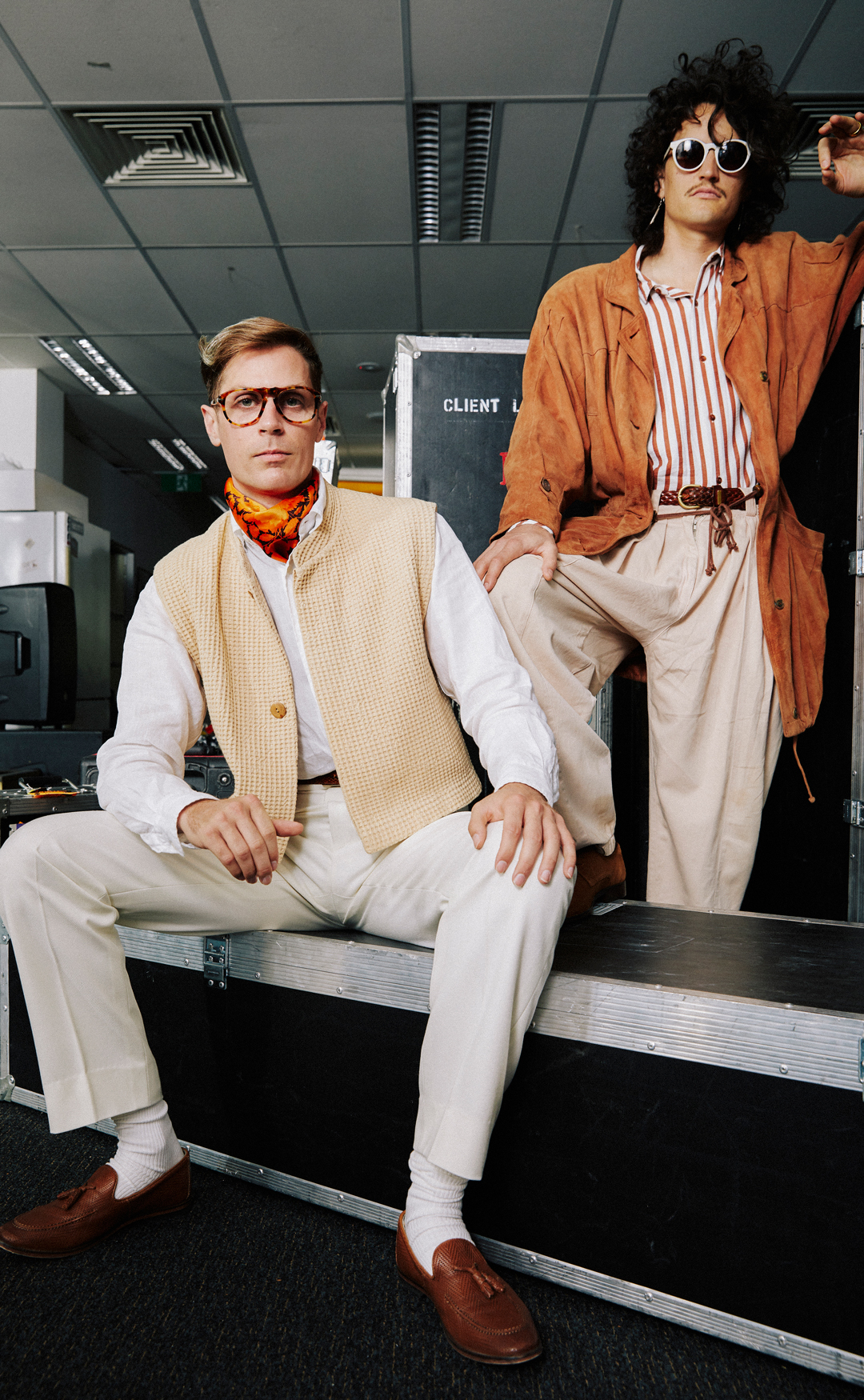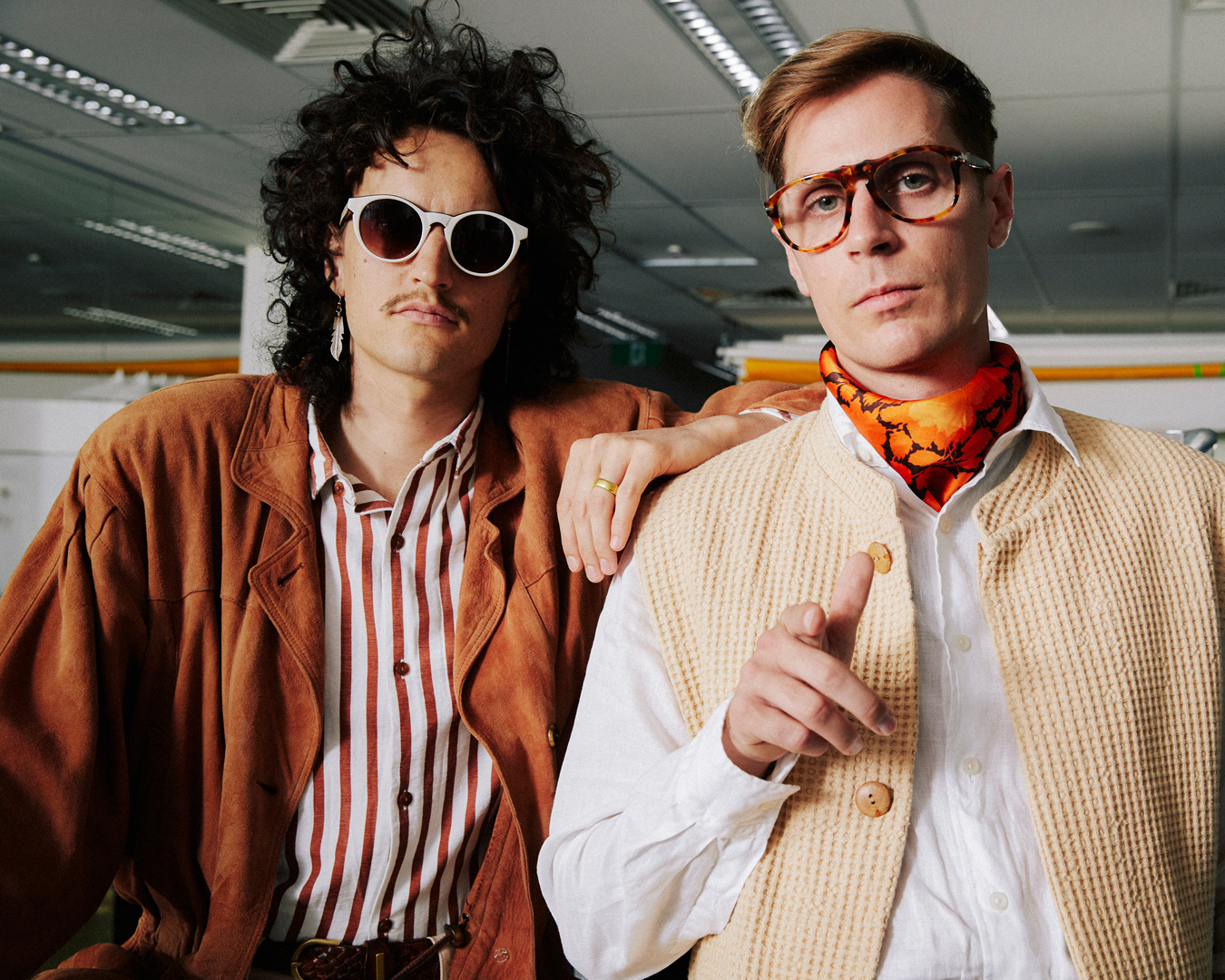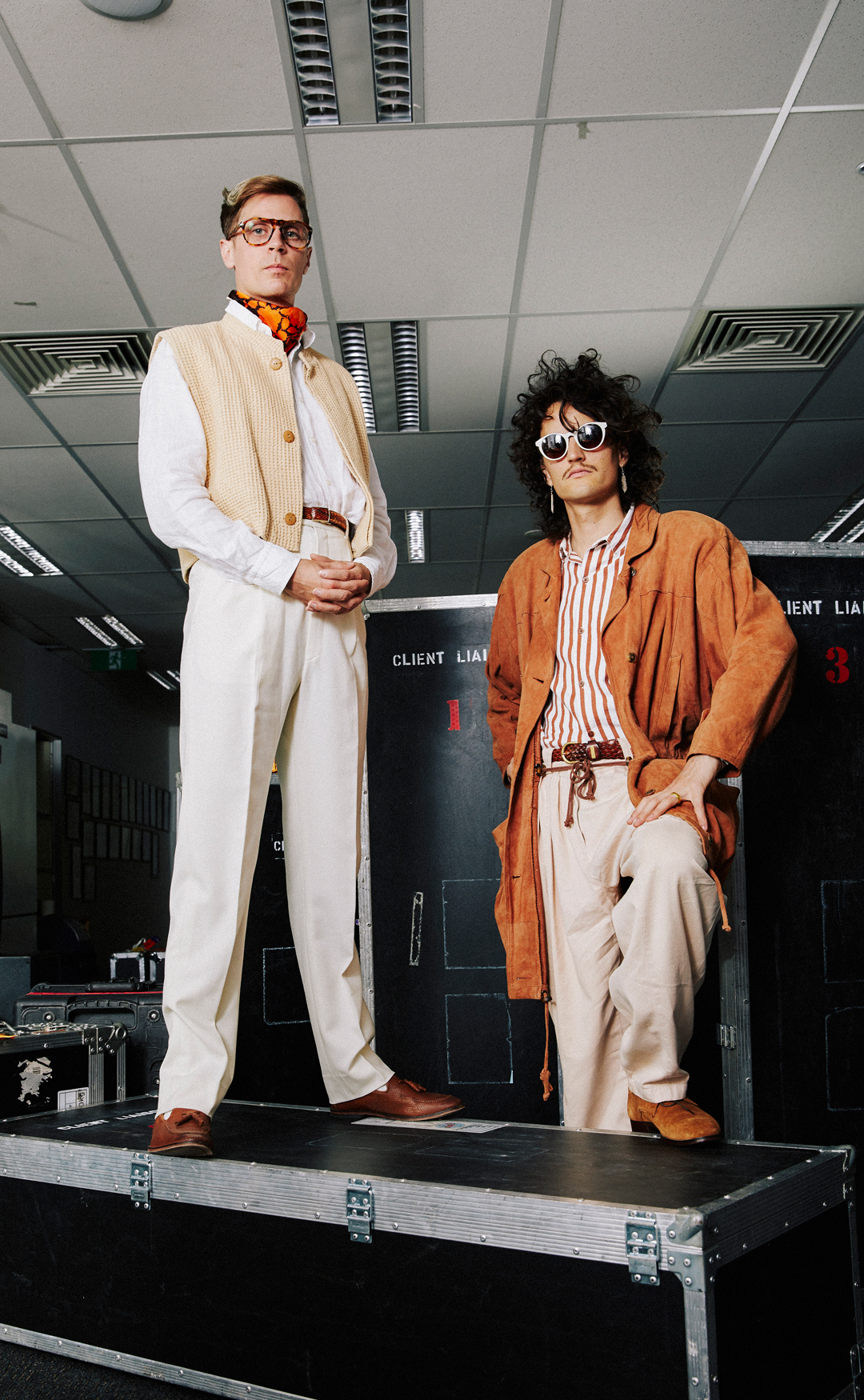 Miller wears vintage clothing and jewellery pieces sourced locally and overseas as part of their Client Liaison archive wardrobe. Morgan wears eyewear CLDL x Pared Eyewear and CLDL shirt, other items from his personal wardrobe.
Your style and your wardrobe is such a huge part of the Client Liaison universe. Did you always want to start a fashion line?
MM: We've been making our own clothes for years. When I was travelling in Asia, I would visit tailors and get lots of suits made and then we started performing in Asia and getting outfits made for the band, and so it felt like a natural progression—there was so much interest in our merchandise, so we thought let's elevate our merch and do a proper line with everything designed from the ground up.
We have a huge wardrobe of our own—which is where we are right now—and we've been collecting clothes and making clothes forever, so we only needed to pick out some of our favourite items as a starting point and we were on the way.
Do you have a favourite thing you've worn on stage over the years?
HM: We did some outfits in Bali, that had embroidered Australian iconography on them. That, coupled with another outfit we did that was a collab with P Johnson Tailors. That was quite an experience working with a tailor of that level. We've been working with tailors all across the world, and when you go to a high-end tailor, maybe one of the best in Australia, you can really tell the difference.
MM: The name of the embroidered suits Harvey was referencing, we call them the "Rhinestone Australiana Suits". They all had iconography on them that represented something about us. Harvey's brother Geordie had the number one Tram South Melbourne beach, Tom Tilley had the Opera House, I had a cockatoo, and Harvey had a frill neck lizard. "ATO" was another symbol we had on there.
HM: We also had the Melbourne Spire, an often overlooked building here in Melbourne.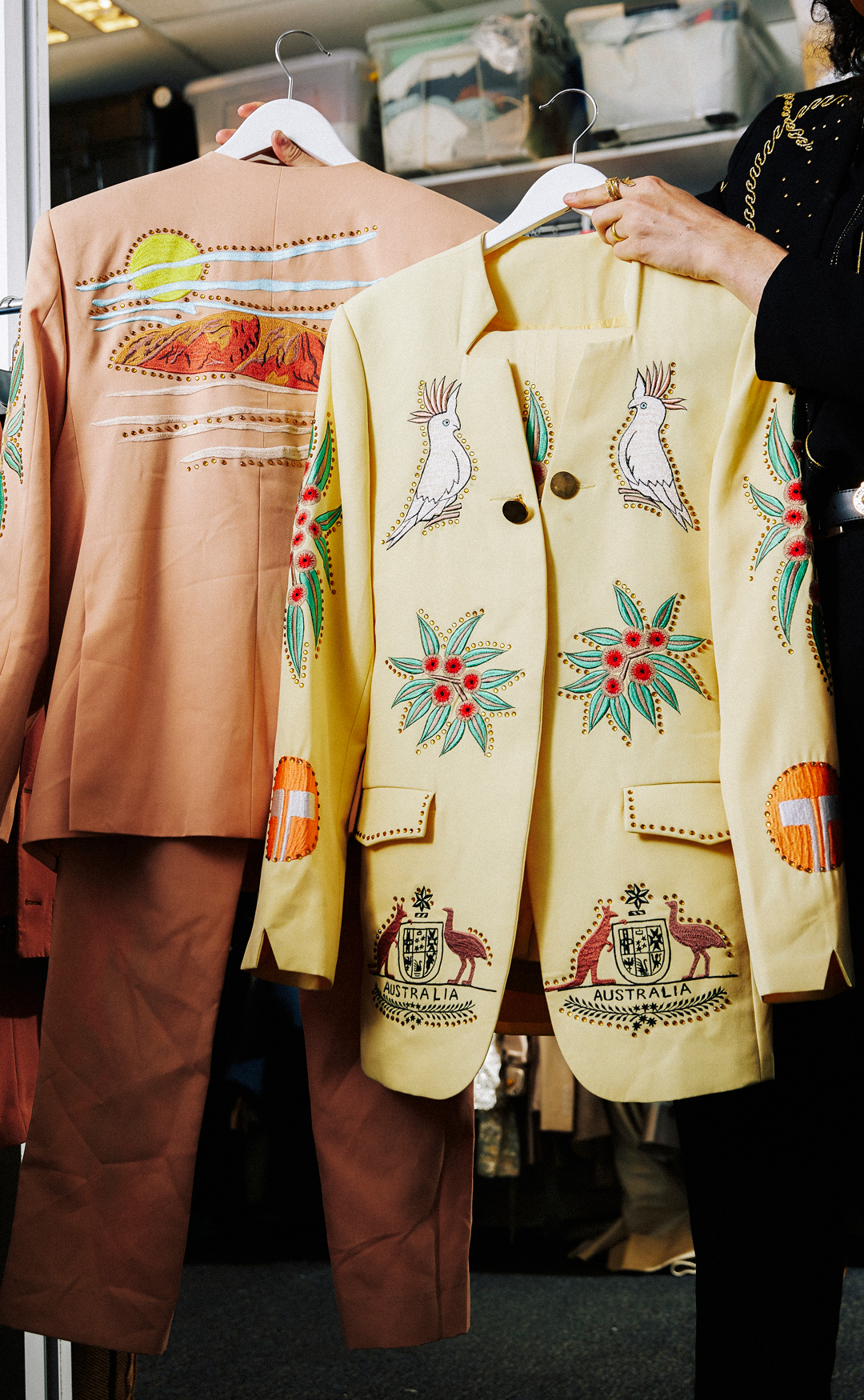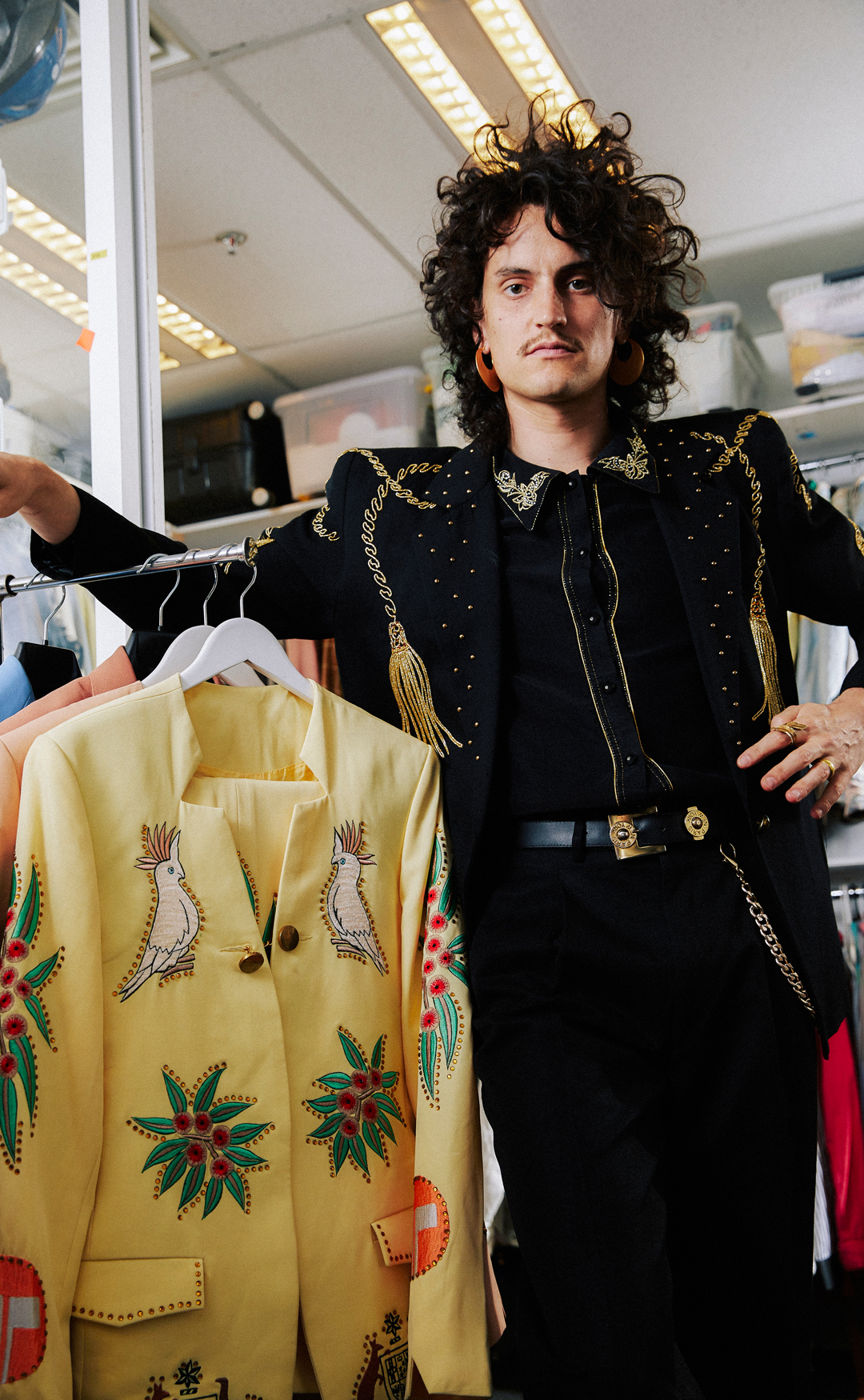 Morgan with the "Rhinestone Australiana Suits".
Where do you love to shop in Melbourne?
MM: Vintage Garage is incredible for anything vintage, and also I love Arnsdorf. They're women's clothes, but they're incredible cuts and fabrics and we've been adding that to our wardrobe.
The Client Liaison aesthetic is 80s-inspired, but pretty eclectic. How do you guys like to put an outfit together?
MM: We're always collecting vintage clothes, getting things made. It's a mix. I have fun shopping in H&M, I'll find something anywhere. The fat lady section in the vintage store is often a good source of inspiration.
HM: When there's a sale on at Uniqlo or H&M it's pretty awesome. You can get all these basics that you can then do amazing things with the feature pieces we have back here in our wardrobe. The wardrobe we have here is quite top-heavy, so once you go buy some weird coloured pants you can really unlock things that you didn't see.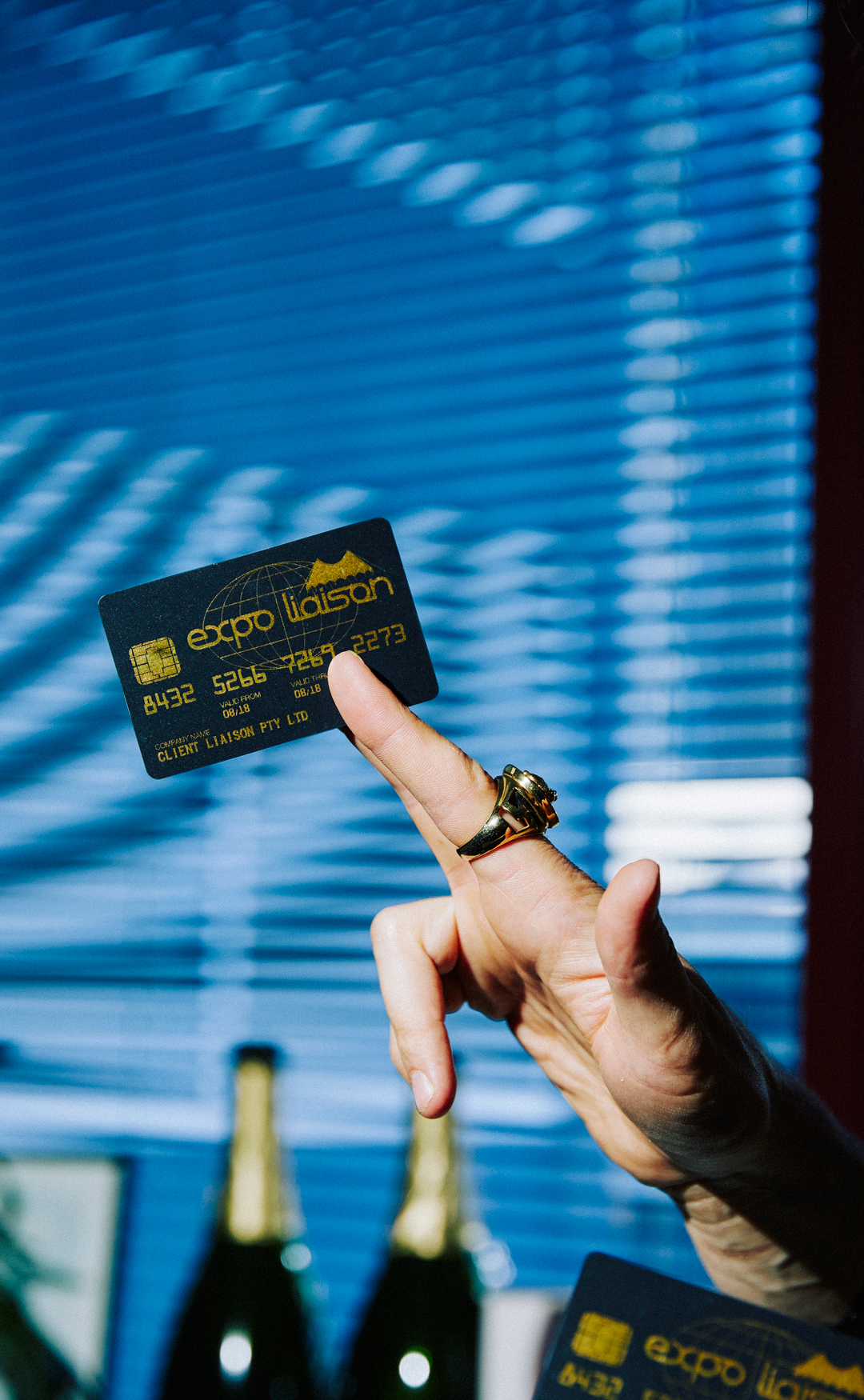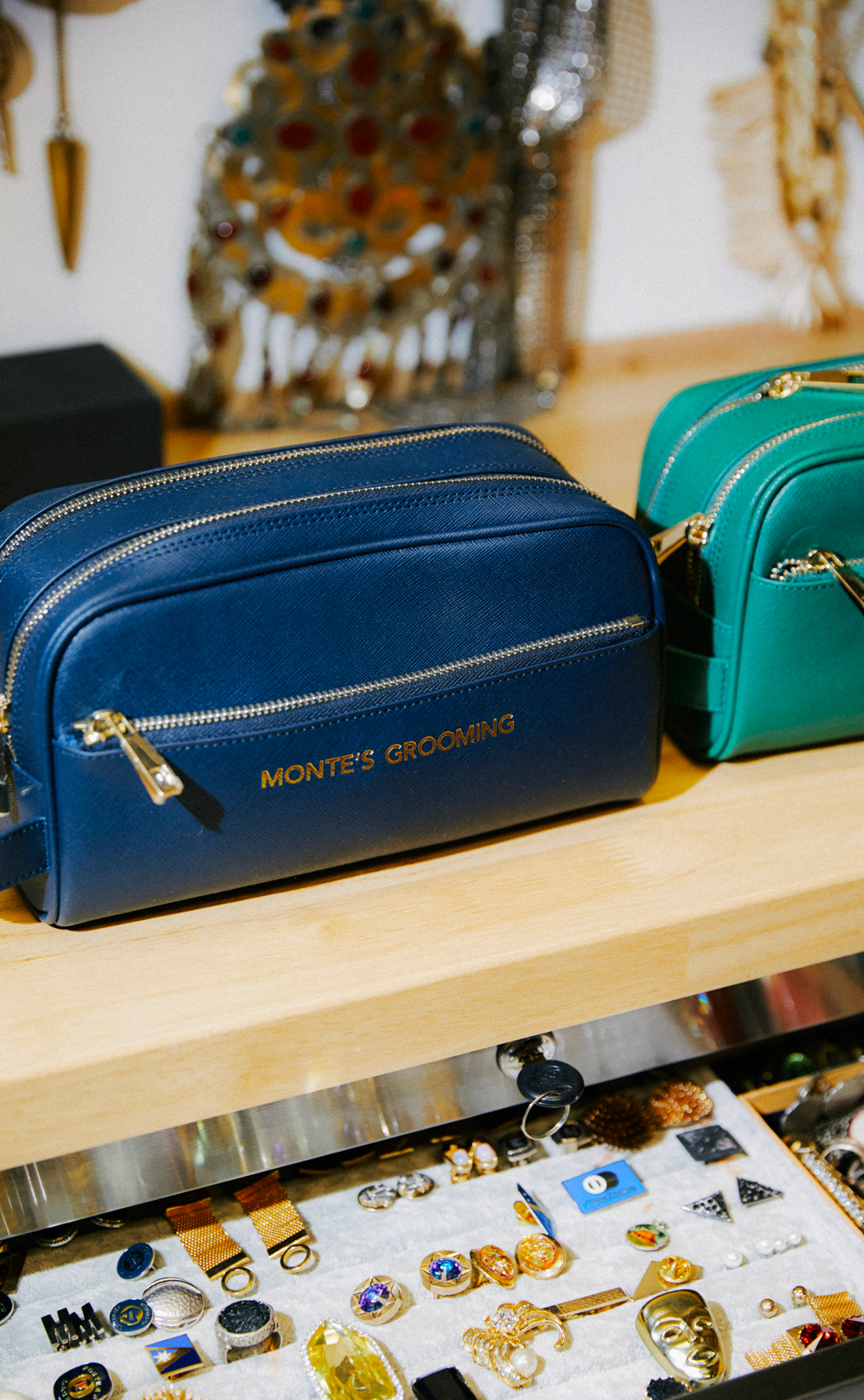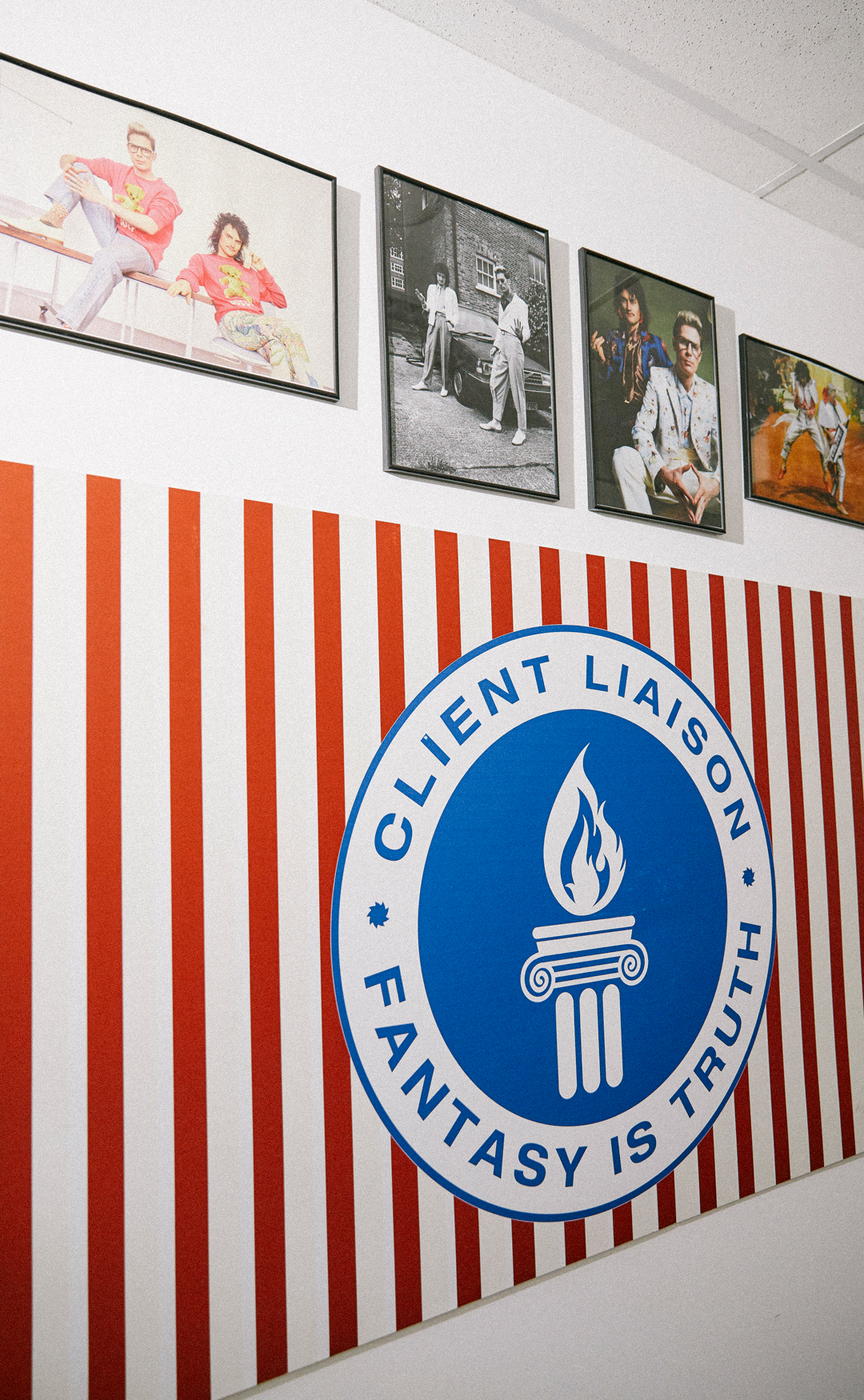 Inside the Client Liaison onstage archive wardrobe.
Describe the CLDL style in three words?
MM: Retroactive corporate Australiana.
Can we get the scoop on the next season of CLDL? What will you be sending down the runway at Melbourne Fashion Festival?
MM: We've got new colourways of some of our trademark designs. Our trademark jumper or feature piece sold out, so we're doing some new colours in that.
HM: The newer stuff ties in with the older stuff. So there's a bit of a nautical theme, more colour blocking. It's like a development on the first collection.
MM: We're also looking into a flag style print, with some Client Liaison style flags.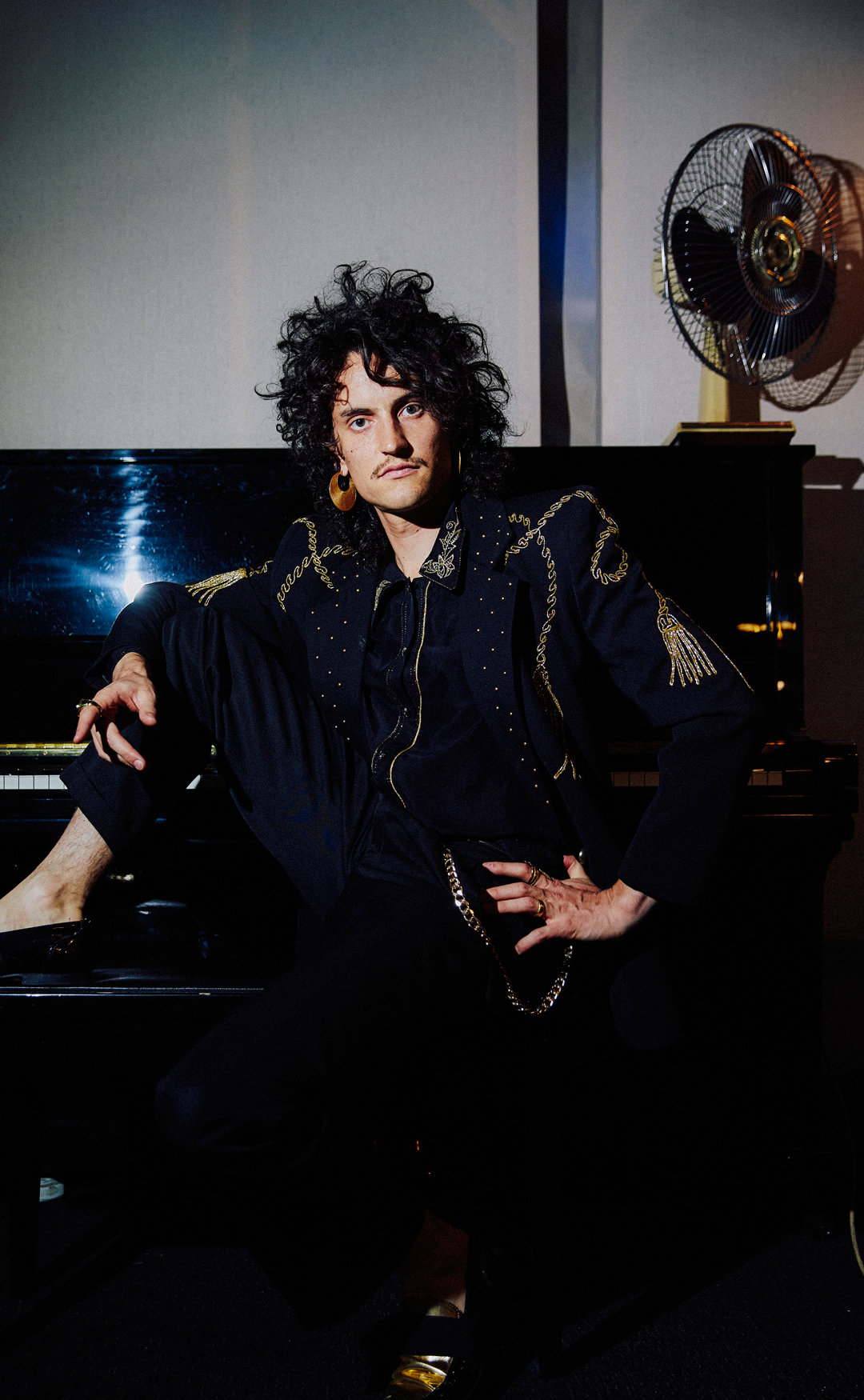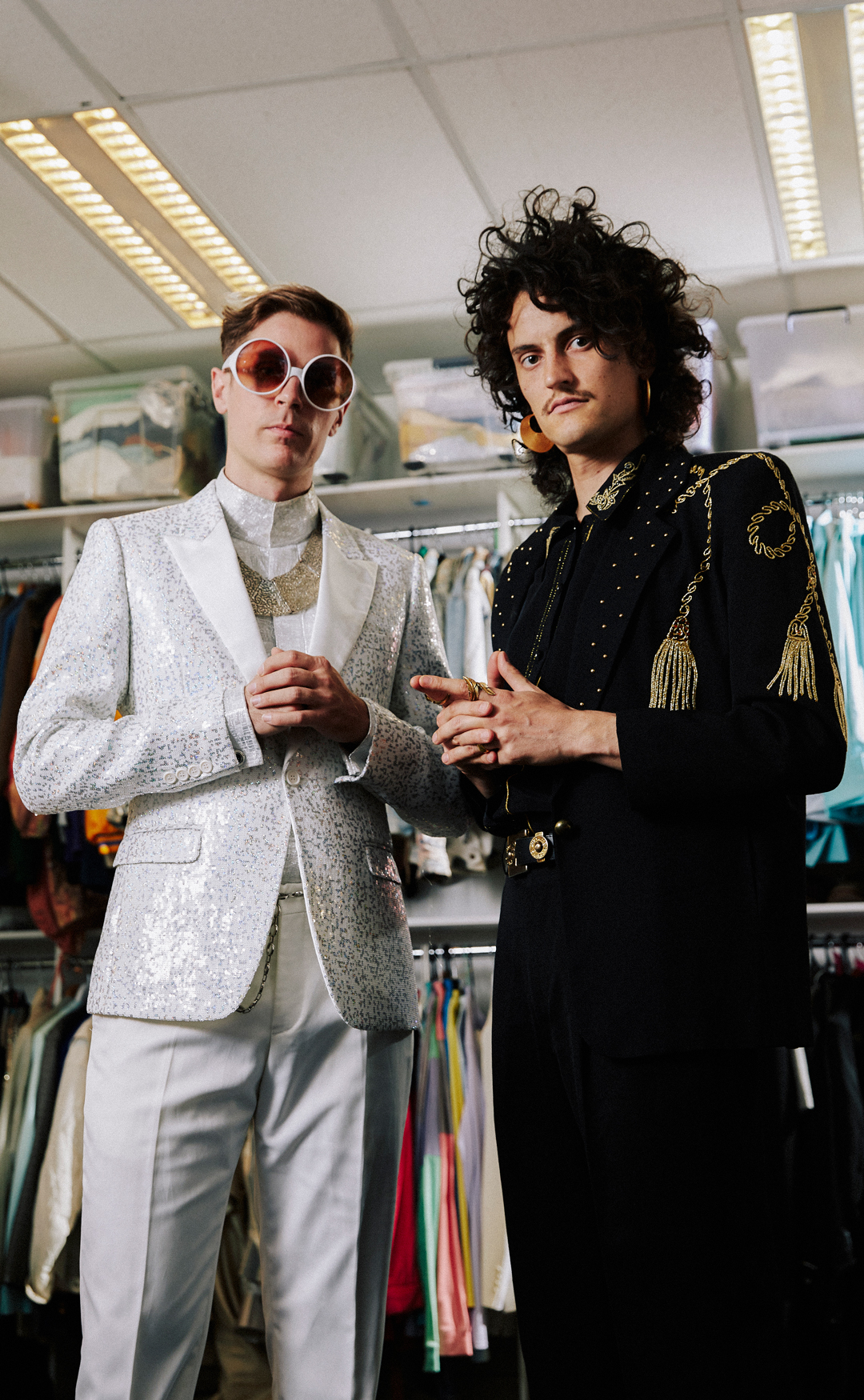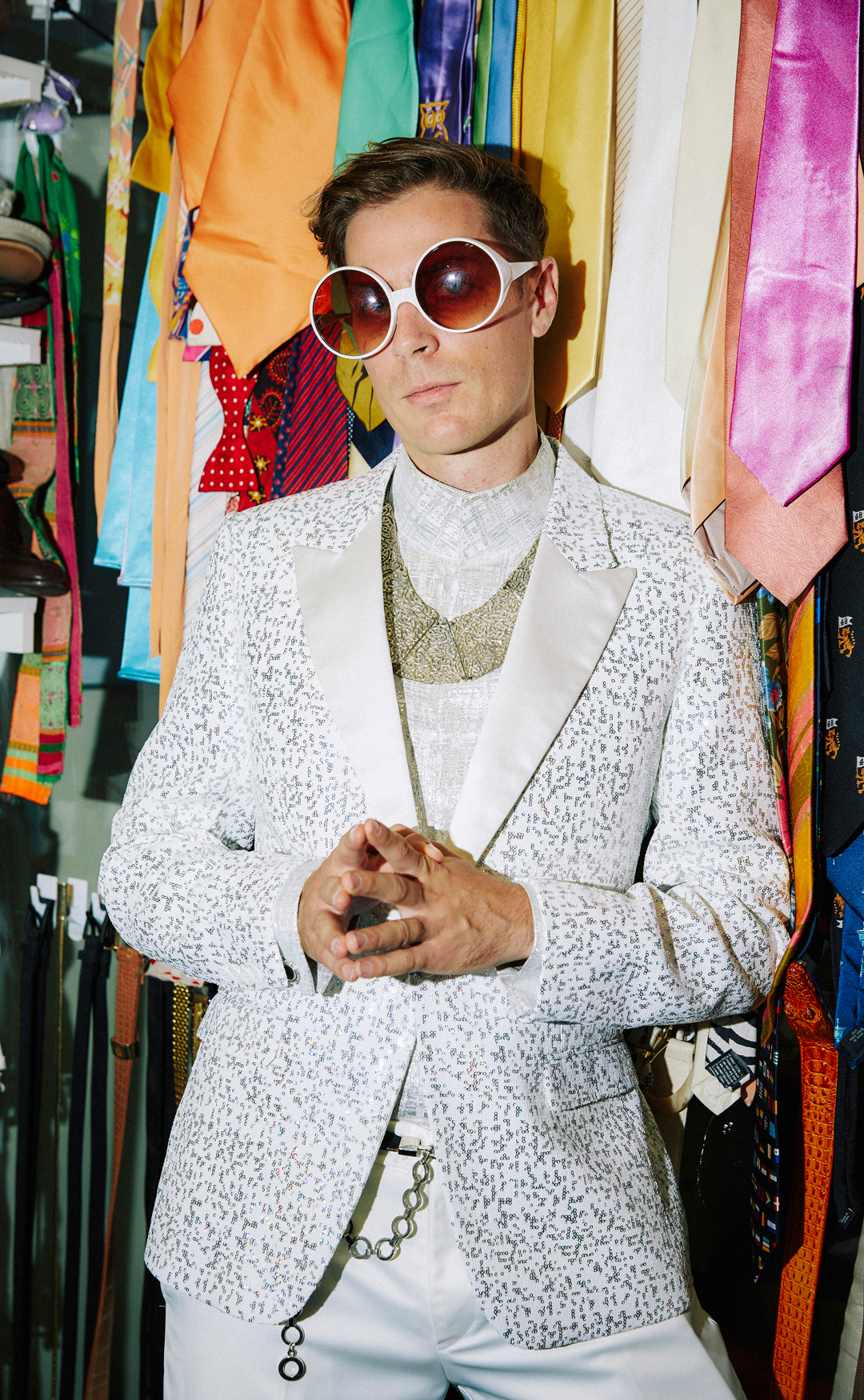 Morgan and Miller both wear vintage clothing and jewellery pieces sourced locally and overseas as part of their Client Liaison archive wardrobe.
So what's next for Client Liaison?
MM: A second album would be good! So we'll do that. Also music videos, we're going to be putting a bit more effort and time into those as well. We've got so much new music to release, and I'm sure we'll find some fun new ways to get it out there.
Shop CLDL here, and head over here to grab a ticket to their fashion show at VAMFF in Melbourne on Friday 8 March.
Step into the wardrobes and worlds of sneaker influencers, artists and creatives, right here.
Image credit: Sam Wong.