Remember when we told you there was a new cooking school coming to town?
And that it wasn't just any cooking school—it was a cooking school brought to you in a purpose-built space by one of the best restaurants in Noosa, Wasabi?
Oh, you do remember? Great! Well, we decided it was high time we check it out and put one of their highly-anticipated cooking classes to the test. Spoiler alert: it passed!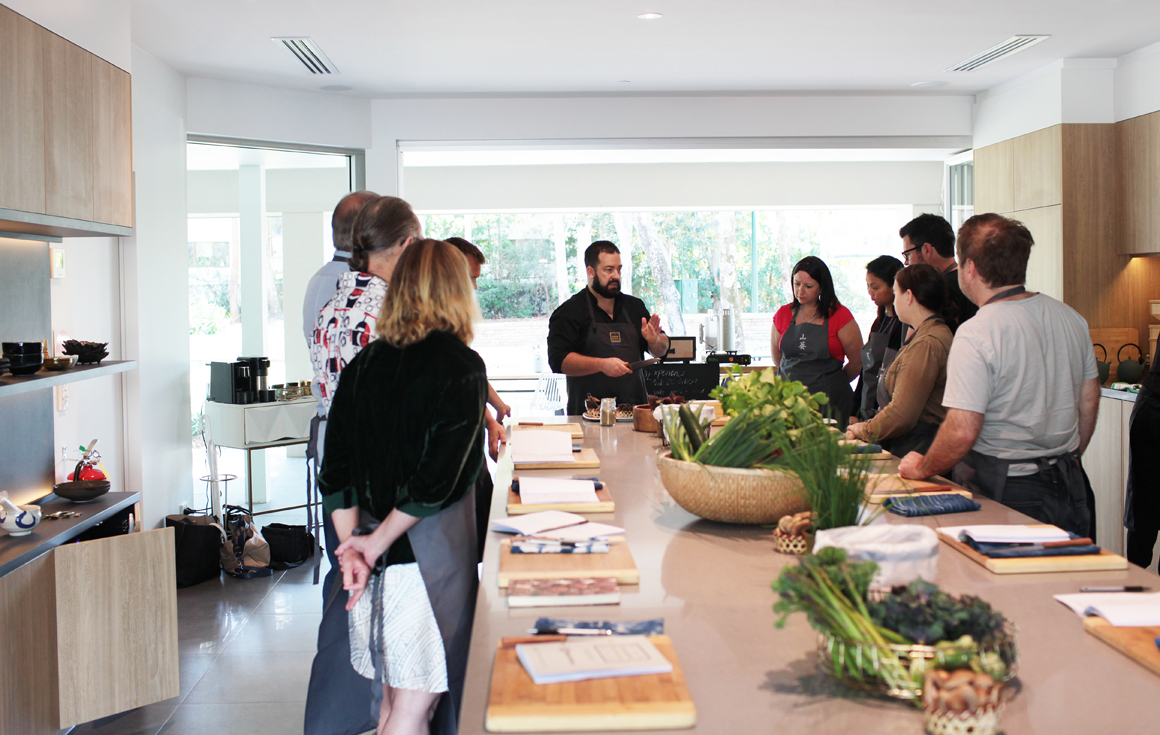 As novice home cooks and having signed up to a Japanese Spring Experience class led by Wasabi co-owner and executive chef, Zeb Gilbert, we kind of had sweaty palms once we realised we were about to spend a full day in the kitchen whipping up not-so-ordinary Asian cuisine with one of the best chefs on the Coast. No pressure.
But, honestly, we had little to worry about. We turn up to The Cooking School Noosa for the 9am kick off, and join our other cooking comrades who are sitting around a large table overlooking the Noosa Sound Park (the cooking school is a few doors down from Wasabi's waterfront location).
Everybody introduces themselves, the chit-chat takes off, and after sipping on freshly-made coffee or a steaming pot of tea, we're divided into small groups and make our way inside to the stunning space, kitted out with appliances that would be found in a domestic setting rather commercial. We're told one of the main reasons for this is to make it more approachable for non-professional cooks because after all, what's the point of learning to cook in a commercial kitchen, if you don't have access to the fancy gadgets at home.
We gather around a massive island bench in the middle of the open space, where each student has their own area complete with a cooking school apron (ours to keep!), a recipe booklet which we'll be cooking from and taking home, a chopping board and a hand-crafted Japanese knife. Zeb and cooking school assistant Julia, run us through what we'll be cooking (and eventually eating), how it'll all work, and where everything can be found—from herbs to pots and pans.
Basically, today will see the class working in groups to create a range of multi-faceted Japanese dishes using fresh produce and meat from both Wasabi's own farm, Honeysuckle Hill, and the local farmers' market. We'll then get to enjoy the dishes as they're completed—entrees, main, dessert—with matching beverages. Sounds like our kind of cooking class!
The Metropolist team is in charge of dessert, which FYI, ain't a pudding or a cake. From scratch, we'll make vanilla bean ice-cream, yuzu curd, sake-marinated strawberries, mandarin meringues, and sake jelly. Basically, it's like a five-course dessert on one plate. Yeeeahh, we're sort of frightened.
Between the other students, there's a dashi (Japanese), beef tataki salad, binchotan vegetables, Japanese pickles, and yosenabe (seafood hotpot) with handmade buckwheat noodles, all on the go. When a group requires a skill they don't yet have, Zeb calls the class together to demonstrate.
From hand-making buckwheat noodles, to cleaning and rolling eye fillet, we watch on making mental notes before heading back to check on our dessert. With five elements making up the dish, it's the ice-cream that takes the longest to come together.
As each course is finished, we take a break at a fully-set table to devour the end result. Sipping on perfectly-paired wine, we pass 'round words of praise like it ain't no thang, seriously stunned at what everyone's been able to create.
Before we know it, it's dessert time. Our meringues have turned out perfectly, albeit are all different sizes, the yuzu curd has thickened to juuuust right, and the sake jelly has set. We're ready to present!
Guided by Zeb, we work on the presentation of the dishes, spooning all components onto the plates before, at last, adding the oh-so-incredible vanilla ice-cream. (Hey, we spent ages making it, we get to say that it's good, okay.)
Each plate finds its way in front of our cooking school friends, and in that moment we can only imagine what it'd be like to compete on My Kitchen Rules: not fun. But alas, we dig in too, and the flavour of everything combined is divine! With the kind comments making their way around the table, we're feeling pretty chuffed with ourselves.
Packing the apron in our bags, along with the recipe book, if we still needed proof of how awesome the class was, it came the very next day when we hit up the shops for fresh ingredients, tied two stainless steel strainers together to create a charcoal grilling basket, and cooked up the binchotan vegetables over the barbecue. Seems we've pretty much got this Japanese cooking thing dialled. Well one dish, anyway.
Interested in taking one of The Cooking School Noosa's classes? From the spring Japanese experience and modern South East Asian, to French classics and a patisserie class, you can find out more info over on their website. Cheap? No. But it's totally worth the dosh!
Image Credit: Claire Plush