Guys, this is huge! Your Mates Brewing Co., one of our fave local craft beer crews, have opened a seriously awesome beer cave in Nambour.
Introducing The Basement. We all already love Your Mates Brewing Co. and now you get to give them a whole lotta love in their new digs, while sipping on their sessionable beer and shooting the breeze.
And seriously—the new bar? Epic. Aptly named The Basement, it was once just that. A hotel storage basement held together by panelling and walls that hadn't been touched in about 50 years. But like everything these guys do, it's had heart and soul poured into it (along with a whole lot of blood, sweat, and tears) and been transformed into a moody, industrial space which will inspire you to meet up with mates, sit back, and appreciate the goodness of craft beer and all it stands for.
Matt Hepburn and Christian McGarry are the creators of Your Mates and the pioneers of this underground London-esque space. Their bromance began a mere three years ago when they became housemates; at a time when they were both working their way out of their previous careers as a project manager and teacher. What started as a pipe-dream convo one night over (someone else's) beer, has organically grown into their reality today: A place where they get to serve their own lovingly-brewed beer, out of their own taps, while sharing their love, knowledge, and passion of what good beer really is.
It hasn't been an easy journey for these guys. With no prior experience in brewing, Matt and Christian rode the wave of "Why not? If they can do it—why can't we?" They began by brewing out of a shed (lovingly known as their Scrapyard Bar) and roped their mates in with the promise of free beer, while they went about perfecting a brew that they and everyone else would love.
The Basement was born with similar sentiment—driven by a desire to have all their beers showcased in their own space—instead of just one tap in someone else's joint. With their own hands, they knocked down walls, sprayed concrete, built tables, and painted walls into all hours to create the finished space. With moody hanging lights made from empty growler bottles, an LP player singing out Bob Dylan, and some comfy tan leather couches to sink into—these guys may well have outdone themselves.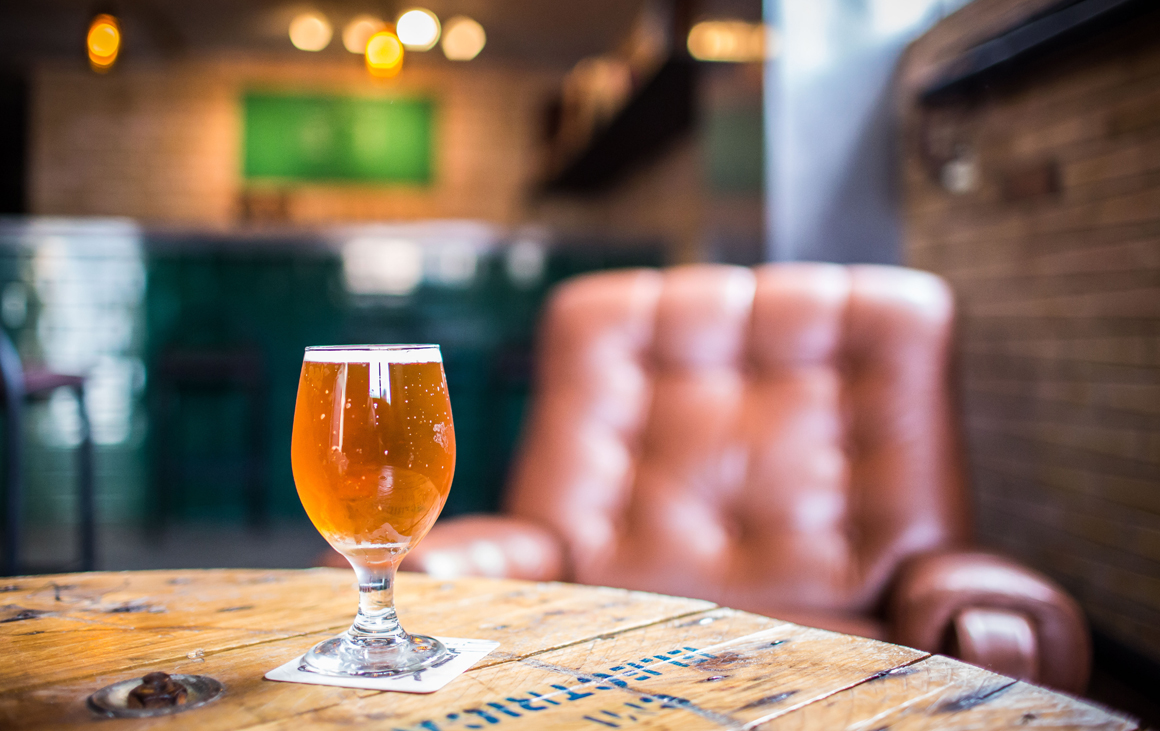 The green-tiled bar perfectly showcases their beer menu and taps; which include their most popular and easy drinking Your Mates Pale Ale, Dark 5%, IPA 6.5% and their Amber 3.5% (perfect for the light-weight and designated driver). If you're only in the mood for one—they also offer 2L growlers to take home with you. They also plan on extending the beer menu with a few more unique, stronger varieties—so keep your eyes open for what's in store. And don't expect to find any other type of liquor there… this is strictly a beer cave. (But honestly, you wouldn't want to be drinking anything other than their perfected brew anyway.)
Don't expect to find any other type of liquor there… this is strictly a beer cave.
In a week or so, they'll be introducing their bar-snack menu; which will be purely finger-food (no space for knives and forks when we have a beer in our hand); and they're also gonna be rocking some live music as soon as the pesky noise licence is taken care of (there is possible speak of a piano!).
All this awesomeness aside, if you need any other reason to go hang out in this much-needed Nambour space, do it just to go chill with Matt and Christian. A couple of the nicest blokes around, they're great for a chat and have so much passion for what they do. Their knowledge of the craft beer industry is fascinating—as is their story of how they got to The Basement—and you'll also get a glimpse of what world-dominating plans they have for the future.
The boys are officially opening throwing open the doors to The Basement today (Friday) from 11am, but if you can't get there, don't freak out because they'll be open all weekend-long. Once this weekend is done and dusted, doors will be open every Wednesday and Thursday from 3pm, and Friday to Sunday from 11am.
We'll see you there! Shotgun the double seater couch.
Where: Downstairs at 35 Currie Street, Nambour (entrance off Short Street—mad secret back alley stuff).
Image Credits: Chevaune Hindley