Autumn in Melbourne may be pretty, but travel just three hours out of town and it's mind-blowingly, jaw-droppingly, eye-wateringly perfect. Yup, North East Victoria's stunning High Country puts on QUITE the show as the leaves turn and temperatures drop. From Wangaratta to Milawa, Beechworth to Bright, not only is the High Country super accessible to Melbourne, it's beautiful (did you get that?), home to some of Victoria's best wine regions and most abundant valleys, and the locals sure know how to party.
Returning for 10 jam-packed days throughout May, High Country Harvest is a festival of 40 exceptional culinary events, celebrating the finest of wine, heartiest of feasts, and most colourful of seasons, with ample opportunities to indulge, unwind, and get amongst the untouched Alpine scenery.
From 13-22 May, the High Country will once again come alive, offering guests the chance to taste the region, cycle its celebrated rail trails, try their hands at a cooking class, or gather under open skies at one of five village bonfires.
Whether your tastes run more to adventure or the leisurely pursuits, we've cherry picked the best events to warm your bellies and tickle your tastebuds. Ready, set, book.
Need To Knead? Bake Like A Boss
Doughn't you just LOVE bread? Eric Bittner, unicyclist extraordinaire and chef-owner of Wangaratta's Cafe Derailleur sure does, and he's sharing his expert sourdough-making skills at this super tasty, hands-on masterclass. For the third year running, Eric's inviting fellow bread-heads into his kitchen (well, technically the local Tafe kitchen) to learn the art of making sourdough, imparting handy tips on everything from keeping your starter alive to working dough like a pro. Guests will roll up their sleeves and prove their baking prowess (#sorrynotsorry), before breaking bread over a delicious brunch in the cute and quirky corner cafe. Quit loafing about; these two sessions will sell out fast!
Book your Bake Like A Boss class here.
For The Bike Brigade: Whistlestop High Tea
North East Victoria is as beloved for its scenic cycling opportunities as its food and wine trails, and the crisp air and kaleidoscopic colours truly make autumn the pick of seasons for two-wheeled exploring. On May 18th, a sizeable contingent of cycling (and eating) enthusiasts will take to their treadlies for a progressive high tea adventure, otherwise known as the Whistlestop High Tea. Join your lycra-clad, kindred spirits in a picturesque, 24km cycling tour along the well-trodden High Country Rail Trail from Huon Reserve on Lake Hume over the Sandy Creek Bridge into Tallangatta, stuffing your face with homemade cake and other high tea treats at designated stops along the way.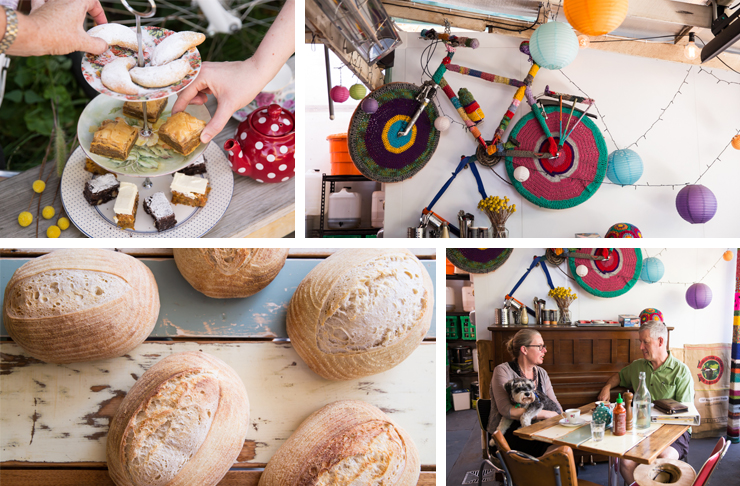 If Cheese Is Your Favourite Food Group: Champion The Cheese
If your answer to most questions is "Cheese, please", we've found the ultimate High Country Harvest event to tempt your tastebuds. For almost 30 years, the family-run Milawa Cheese Factory has been churning out award-winning, handmade cow and goat milk cheeses, and their Champion the Cheese dinner will showcase the crème de la crème. Guests will enjoy three decadent courses featuring – you guessed it – Milawa Cheese, alongside freshly baked bread and a bounty of top-notch local produce. An udderly delicious, candlelit dinner for cheese fiends, accompanied by dancing tunes from Maurice Milani to shimmy away those calories.
If You Really, Really Heart Horses: To Lunch On Horseback
For more nature than you can poke a stick at and a generous side serving of adventure, visit Bogong Horseback Adventures this High Country Harvest. The charismatic Baird family has been breeding horses and running scenic mountain rides from their Spring Spur property in Tawonga for three decades, so you'll be in the safest of hands for To Lunch on Horseback, no matter your riding level. Over three delicious hours, let your eyes drink in the autumnal wonder of the Alpine National Park as you ride through forests, gullies and rivers, before returning to the toasty Riders Lounge for a shared feast of campfire-inspired seasonal dishes, like cinnamon-roasted butternut, slow-cooked pickled pork on sourdough, and Yackandanda green beans with pistachio, with ingredients grown on site or sourced locally.

For The Sweet Tooth: Honey I'm Home – Crumpet Making Class
This cooking class at Beechworth Honey Discovery really should come with a warning, so we'll go ahead and give you one: you'll never eat store-bought crumpets again. Over two, hands-on hours, the Hive Kitchen will be abuzz with activity, as worker bees (sorry, guests) make crumpets from scratch under the watchful eye of Chef Darryl. Catering to even the most bumbling of home cooks, Honey I'm Home is quite possibly the sweetest way to spend an autumn day in beautiful, historic Beechworth. The icing on the crumpet? Guests will sample their wares, smothered *cough, 'drizzled'* with that glorious Beechworth Honey.
If Antipasto's Your Go-To Dish: Pick, Pickle, Wine & Dine
Join Elisa and Colin Bertuch (and possibly their adorable Jack Russells, Lucy and Erick), for Pick, Pickle, Wine & Dine, a jam-packed day of olive picking and pickling, followed by a decadent three-course, wine-paired lunch on the stupidly picturesque, open-air terrace at nearby Feathertop Wines. Equipped with gloves and ginormous buckets, guests will take to the working grove at the award-winning Mt Buffalo Olives in Porepunkah, harvesting their hearts out, before learning how to process the raw fruit into tasty table olives. After feasting upon the Mt Buffalo views and stellar seasonal produce at Feathertop (who are also hosting the awesomely named Autumnal Abundance Long Lunch), they'll be sent on their merry, wine-fuelled way with a bucketful of fruit to practice their newfound pickling skills at home. Delish!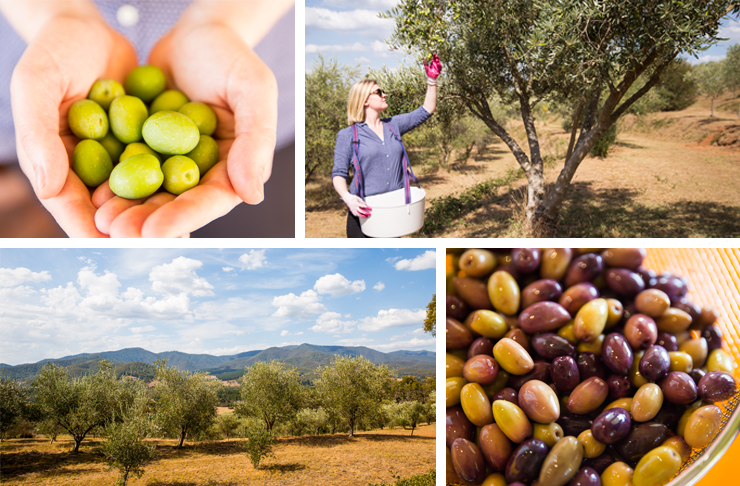 For Views For Days (And Even Better Food And Wine): Brodo, Beast & Barbera
They say you eat with your eyes first, and guests are definitely in for a feast with the majestic views of the King Valley and Black Ranges on offer at Chrismont's shiny new restaurant and cellar door in Cheshunt. The good times will keep on rolling as up to 100 guests join Arnie and Jo Pizzini (yep, that Pizzini family) by the striking granite fireplace for an epic, long-table lunch to mark the winery's 36th year. With Chrismont's focus on Italian varietals (Arnie planted Australia's first commercial Barbera vineyard) and Sicilian-meets-Tuscan cuisine, the Brodo, Beast & Barbera lunch will match past and present vintages of Barbera wines to five courses of brodo and 'beast' (including local game), teamed with exceptional autumnal produce from the surrounding forests, rivers and fields. Buon Appetito, Listers.
If You Miss Your Grandma: Cannoli Making With Nonna
Like all good Italian grandmothers, Nonna Josie is a feeder. Drop into her kitchen at boutique, King Valley winery Politini and she'll likely crack open a Tupperware container filled with enough crostoli to feed an army of Melbourne foodies. If, however, you fancy the idea of mastering the cannoli-making craft yourself, book a spot in one of her four intimate cooking classes, STAT. In Cannoli Making with Nonna, 10 fledgling pastry chefs will learn how to make, then cook, the perfect golden pastry shell from scratch, as well as her mouth-watering fillings of candied ricotta, and Muscat-spiked vanilla bean and chocolate custards. The traditional, family recipes come from Sicily and you can taste the love in every mouthful.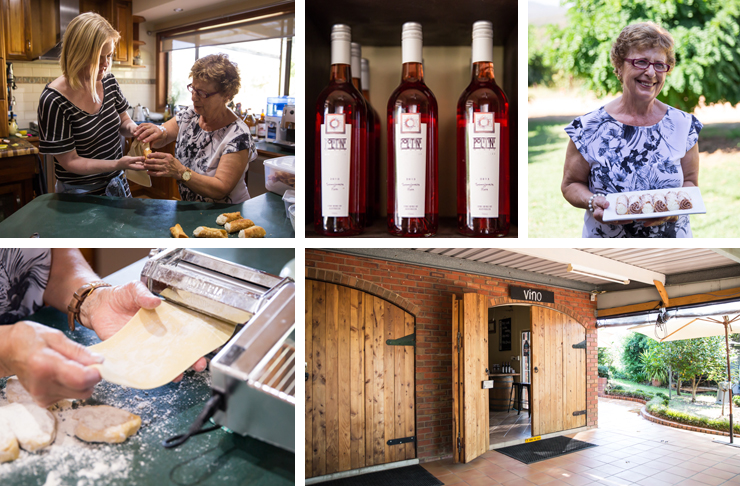 So You Think You Can Wine? Hands On Harvest Lunch
Milawa wine making behemoth Brown Brothers is not only kicking off the High Country Harvest Festival, er, festivities, with a candlelit Grand Opening Dinner in the stunningly restored, historic Barn, they're running a unique, hands-on harvest lunch where wannabe wine makers can get their hands dirty. Expect a fun, interactive day out, where you'll prune the vines, tour the winery and taste the goods straight from the barrel, before blending your own wines, ready for judging. Whether your wine knowledge is flimsy or full-bodied, you'll leave with a newfound appreciation for the team behind your favourite drop, and a rosy glow and happy belly following a delicious three-course, wine-matched lunch from Patricia's Table.
Warm The Cockles: Autumn Warmers
Get into the harvest spirit, literally, with the dreamy Autumn Warmers on offer at many of the High Country's cellar doors, pubs, wine bars and cafes during the festival. Think decadent, fragrant delights like Hot Buttered Pumpkin Rum at Beechworth's Ox & Hound, Spicy Mulled Beechworth Honey Mead, Bright Chocolate's Salted Caramel Single Origin Hot Chocolate, and the Honeybird Espresso Martini at Myrtleford's Cafe Fez.
Taste The Region: Harvest Menus
In addition to the 40 bespoke events, special Harvest Menus will run at venues throughout the festival, giving talented High Country chefs the chance to sharpen their knives and show off the region's bountiful harvest. Expect warming, soul-soothing dishes to beat the chill and tantalise the tastebuds, featuring the best of the region, like Warby free-range pork, Milawa chook and Black Angus beef. Seafood lover? Might we suggest the Murray cod fillet with Jerusalem artichokes, pickled pine mushrooms and confit chestnuts at Feathertop. Or perhaps you'd like to head to our friends at Chrismont to dine on dressed black olives with house-made salami, focaccia and cheese, followed by fresh pappardelle and ox tail ragu, served with a glass of 2014 La Zona Barbera, and topped off with tea or coffee and chocolate biscotti (stop it!). With the festival running over 10 days and with venues running unique menus throughout, why opt for only one?
Melbourne's an incredible city, but sometimes we all need to get out of town for a weekend. The Urban List has partnered with Visit Victoria to bring you our Get Out Of Town! series – the ultimate guide to Victoria's rural gems. For more ideas about where to wander in the High Country, click here.
Image credit: Jenna Fahey-White for The Urban List