Sometimes people and jobs just work, and the result is a well-oiled machine. In the case of The Botanical and its head bartender Sam, that machine is a stunning, cocktail producing machine… just the kind we like. So we had a chat to Sam about what makes this brilliant bartender from the bush tick—and also to get some epic cocktail tips from him.
Sam's now been mixing next-level drinks at The Botanical for three years, and he tells us that (unsurprisingly) vodka, lime and sodas and espresso martinis are the two most popular orders, much to his despair. (I remain quiet on this one, as I'm a serial offender for these two orders... frequently!) The rest of The Botanical's cocktail orders are spread across their house cocktail list, which is excellent, varied and ever changing.
Sam whipped up two of The Botanical's house cocktails for us and was kind enough to share the recipes so that you can play along at home and make them yourself—or, in the case of an epic failure, you could just head to The Botanical...
Pear Sour
The first cocktail Sam whipped up was a Pear Sour. It was a silky smooth blend of pear cider, vanilla, lemon and egg whites—just the right combo of sweet and sour flavours and textures.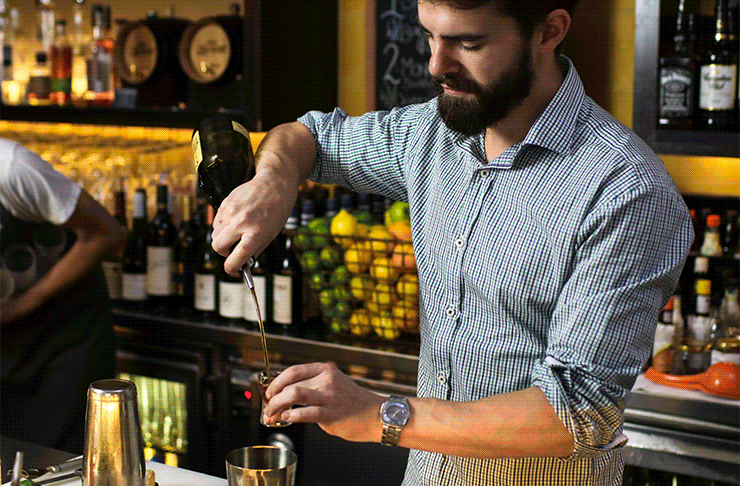 Ingredients:
30ml le Pere Jules
15ml Tuaca
15ml Vanilla Gomme
30ml lemon juice
15ml egg white
Flamed orange zest
Method:
Mix all ingredients except the orange zest, shake.
Add ice and shake
Fine strain into a chilled coupe glass.
Garnish with the flamed orange zest
Voila!
Wildberry Fizz
Next up, Sam treated us to a wonderous concoction of berries, vodka and chambord. It was delicious! And pretty! And so instagrammable...
Ingredients:
25ml Ketel One vodka
25ml Chambord
25ml lemon juice
10ml Gomme
4 mint leaves
3 berries (raspberry and blackberries)
10mls egg white
Method:
Mix all ingredients except the dry ginger ale, shake.
Add ice and shake
Fine strain into a sling glass.
Top up with dry ginger ale
Garnish with a mint sprig through a raspberry
Like a said, you can make these cocktails at home—but honestly? I'd leave it to the professionals. Head to the bar at The Botancial (it's out the back) and you'll find a ton of seating at the bar, at a table, outside or by the fire in winter. Winning!
The service is next level friendly, and there's just generally a fantastic vibe. See you there?
Craving a cocktail classic? Here's how to make the ultimate espresso martini at home.
Image credit: Gareth Sobey for The Urban List
Editors note: This article is sponsored by The Botanical and proudly endorsed by The Urban List. Thank you for supporting the sponsors who make The Urban List possible. Click here for more information on our editorial policy.
Want more of the best of Melbourne?
Sign up below to have the best delivered to your inbox each Thursday