Queensland has some of Australia's most iconic beaches yet that's no reason to forget the equally impressive rainforests also calling the sunshine state their home.
Often overshadowed by their sandy, saltwater neighbours, it's within these rainforests where you'll find refreshingly awesome waterfalls.
Perfect for a quick dip or mind reset, when you're planning your next Queensland getaway, consider hunting down these eight beautiful Queensland waterfalls.
Josephine Falls
Wooroonooran National Park
Experience the power of nature with a scenic hike through Wooroonooran National Park where rains of Queensland's highest peak, Mount Bartle Frere, flow 7.5km into Josephine Falls. It's a 1.2km return trip to the top where Mother Nature rewards your adrenaline with an epic granite boulder waterslide. We're not going to lie; cheap thrills don't come much better than Josephine Falls.
Purling Brook Falls
Springbrook National Park
With its maze of trails, lookouts and scenic views, Springbrook National Park is an absolute mecca for nature lovers. Wander your way through 500 metres of Queensland rainforest and you'll reach the lookout of Purling Brook Falls with its dramatic 109-metre horsetail drop. Take a moment to admire its magnificence or snap a selfie, but the show doesn't end there. Continue your venture towards the forest floor and you'll be granted access to a naturally formed rockpool to lap up before the long drive home.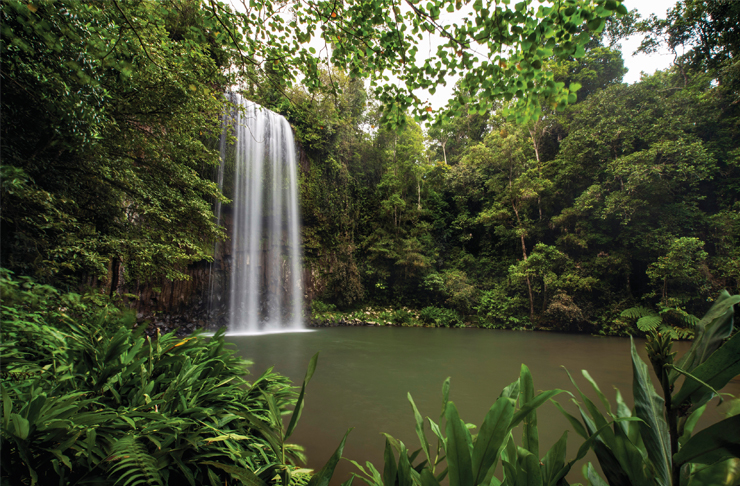 Millaa Millaa Falls
Atherton Tablelands
A word of warning; when visiting Millaa Millaa Falls of Atherton Tablelands, one may experience a slight tingling of the spine. Don't be alarmed, it's an ordinary symptom when faced with plunging 18-metre showers surrounded by some of the lushest tropical rainforests this side of the equator. Every shade of green has shown up to the Millaa Millaa Falls party; the only one missing is you. Isn't it time you ditched your rainforest envy and scheduled a Far North Queensland getaway? We think so.
Queen Mary Falls
Main Range National Park
Have you ever wondered where day spas source inspo for their clinic playlists? Pack your picnic basket and hit the south-west stunner of a drive through Boonah to Queen Mary Falls and you'll have the answer. The medium-grade trail through Gondwana Rainforest busts out a playlist of local birdlife, setting the mood as you embrace the breathtaking 40-metre Spring Creek plunge. Okay, here's the part where you collect your jaw from the ground and take a dip.
Kondalilla Falls
Blackall Range
Kondalilla Falls provides the perfect wake-up call to your senses through its eucalypt forestry within the Sunshine Coast Hinterland. If you have half a day up your sleeve, plan your itinerary around the 4.7km return hike, keeping a keen eye on the abundant bird, reptile and frog residents of Blackall Range. As well as being wildlife central, the trek to Kondalilla Falls is loaded with rock pools and scenic views aplenty, so remember your swimmers and a camera.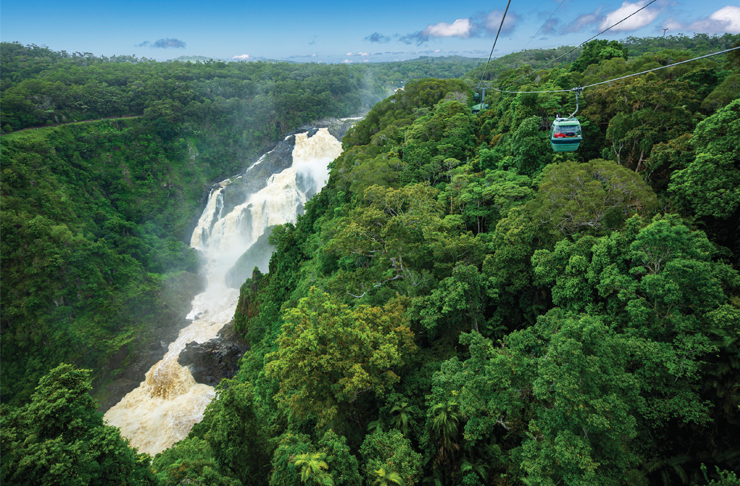 Barron Falls
Atherton Tablelands
If you consider yourself a waterfall aficionado, you'll know of Barron Falls, but if you're a newbie on the scene take a tip from us and familiarise yourself with this star of the natural world before your next Far North Queensland holiday. Travelling north of Cairns, discover the magnificence of Barron Gorge in all its multi-tiered glory as water flows from the Atherton Tablelands through to the coastal lowlands. Adventurers on foot are rewarded with easy-access trails, or for a journey with a difference try the Skyrail Rainforest Cableway or Kuranda Scenic Railway; impressive modes of transport in their own right.
Larapinta Falls
Lamington National Park
One for the thrill-seekers out there, Larapinta Falls are a hidden gem within Lamington National Park accessible via a challenging off-track trail with a rock-hop to put your hiking skills to the test. Check the weather conditions in advance and prepare for an early start when you set out to conquer the 6-hour round-trek of Larapinta, stopping for a rockpool swim that confirms the physical effort is 100-percent worth the sweat.
Wallaman Falls
Girringun National Park
Known as Australia's highest single-drop waterfall, Wallaman Falls plummets 268 metres into a 20-metre deep plunge pool, creating an ideal spot to spend a hot Summer's day. Located within the world heritage-listed Wet Tropics region 50km from Ingham, the falls welcome over 100,000 visitors each year and we won't blame you for being one of them.
Don't want to venture far? Check out the best waterfalls on the Sunshine Coast.
Image credits: Brad Newton and Tourism & Events Queensland