Controversial opinion alert. We're just going to throw something out there: Sunday is actually the best day of the week. We know, that accolade traditionally belongs to Sunday's shiny sibling, Saturday—but we'd argue that humble ol' Sunday's got just as much going for it. It's still the weekend, after all…
Obviously, our friends at iconic Valley bar Woolly Mammoth agree, because they've helped us put together a very compelling case. Allow us to open your mind to the fact that Sundays truly are the crowning glory of the whole entire week.
1. Sleep in guilt free, for as long as you like (especially if you had a big one the night before). It's the day of rest, right?
2. You probably have a day off work—and if you don't, you get paid more for working. How good?!
3. Every Sunday this spring, Woolly Mammoth has live music downstairs in the Alehouse from 3pm-6pm. We're talking chilled but upbeat tunes, not aggressive Saturday night bangers you can't remember…
4. Elasticated waistbands, couch naps and daytime Netflix are all totally acceptable, nay, encouraged on a Sunday.
5. If you don't go out for brunch, do you even Sunday? When your biggest dilemma is sweet or savoury, life is pretty good. Also, on Sundays, it's perfectly acceptable to add booze to breakfast. Bring on the mimosas and bloody Marys.
6. Two words: Sunday sessions. Whoever thought of making Sundays the day for a boozy knees-up clearly wasn't thinking long-term (let's be real, hungover Mondays are not anyone's idea of a good time) but props to them for not writing Sundays off to boring things like meal prep and housework. Woolly Mammoth's $5 craft beers in the Craft Bar all day sounds like a much more fun option to us!
7. Is it the first or the last day of the week? No one can agree. Whether that's a good or a bad thing, no other day is so, er, versatile. Pick whichever works for you.
8. Crowds that party on a Sunday night are just a bad-ass mix of people: hospo types, liberated folk who've thrown their Monday responsibilities to the wind. Woolly Mammoth's new spring/summer parties in the Garden Bar (think Pimms on tap!) start from 3pm Fridays through Sundays, but we're putting our money on Sundays being the dark horse for the most wild (pre-drinks before Fluffy, anyone?)
9. Apparently, Sunday is the best day to get a good rate on a hotel room, start and end eBay auctions, fill up your gas tank, and book a flight. We know we encouraged you to chill on a Sunday, but if you can manage to get your ass into gear, it's actually worth it.
10. It's just the perfect time to hang out with friends or the fam. Even better, round up a group of 10 or more of them for lunch or dinner at Woolly Mammoth and get $100 bar tab for the table. If that's not a great day, what is?
11. Diet starts Sunday—said no one ever. We don't know if it's been scientifically proven that Monday is the best day to start a health kick, but it definitely feels like it. You know what that means on a Sunday, don't you…? See point 12.
12. Sunday is the day of the week that's all about the food: from Sunday brunch, to Sunday lunch, to Sunday roast. And what takes a Sunday dinner from good to great? When you don't have to cook it yourself. You could sheepishly head home for your mum's roast, or why not pay her back for all those years of cooking and take her to Woolly Mammoth for a hearty Sunday meal from their new Mammoth Meat Co menu and a glass of red.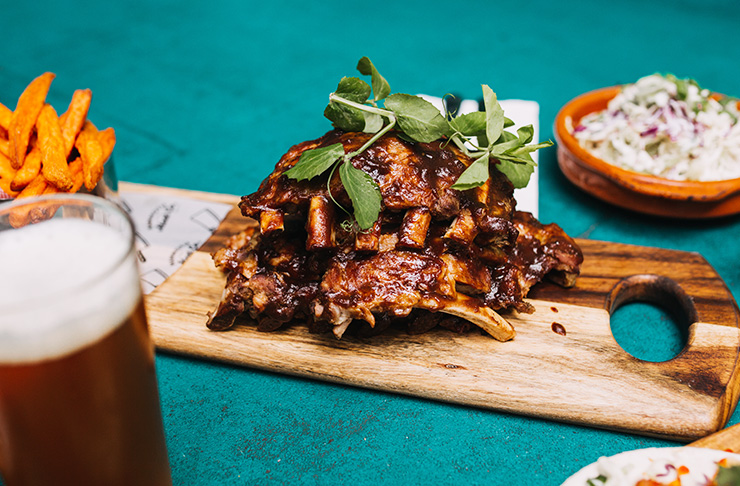 13. All the juicy TV comes back on Sunday nights after, let's face it, a pretty dire Friday and Saturday offering. Nothing makes you feel less cool than watching Better Homes & Gardens when everyone else is out partying.
14. Sunday rhymes with funday. It's also named after the sun. Cute!
15. Weekends work out so much better if you get all the life admin, shopping, and chores out of the way on Saturday so it's not hanging over you, and then you can take Sunday to truly, genuinely relax. Ahhh.
16. Those unmistakeable Sunday vibes. Wherever you are, the crowd is so much more chilled than the ones that were out the night before. Laid-back, happy and cruisy feels are the order of the day.
17. Less people in the gym, if that's your thing. Go out on a Friday so you're fresh as a daisy for Sunday, then go to the gloriously empty gym (they'll all be back the next day in droves). Then if you're anything like us, you can head off and comfortably undo all your hard work with burgers and beers. You've got the rest of the day to eat, drink and be merry—guilt free.
Now, we just need to think of some reasons why Mondays are great. We'll get back to you…
Editor's note: this article is sponsored by Woolly Mammoth Ale House. Thank you for supporting the sponsors who make The Urban List possible. For more information on our editorial policy, please click here.
Image credit: Hayley Williamson