Melbourne is all about infinite possibilities, even when it comes to your sneakers. And who can we thank for that? BespokeIND, the team of skilled super humans making it possible to turn your custom sneaker fantasies into reality—if you've got the imagination (and the coin to match).
Technically they're a bespoke and conceptual footwear atelier (with a focus solely on sneakers). They might be creating modern shoes, but the ethos behind the business is focussed on the old school—to bring back the craft of artisan shoemaking, one pair of Nike Air Jordan 1s at a time.
So how did BespokeIND founder and shoemaker, Damian Sim, go about his business of sneaker transformations? Having been born and raised in Melbourne, the home of Sneaker Freaker, Damian actively analysed how the industry and culture of sneaker collecting has transformed from when he first became a sneakerhead, pre-internet era. "Now sneakers are extremely accessible, almost everyone is a sneakerhead. For humans, sneakers are all about up-stepping, so we're trying to fill that void (by providing an alternative) so that people don't have to one-up each other by constantly buying—a Travis Scott item, for example."
Damian moved around different industries, working in property and digital currency before combining his passion for sweet kicks, attention to detail and expert intel of the sneaker industry. "Throughout my whole life, I've always been creating things, breaking things and putting them back together. I had the opportunity to say hang on, 20 years later I'm still living and breathing sneakers, why don't I try my hand at stitching sneakers?"
In 2015, BespokeIND was officially launched as a small start-up, and today Damian's West Melbourne-based workshop has steadily grown to resemble a team reminiscent of Marvel's Avengers. "A lot of talent has come through our doors, we only personally hire and contract superstars. Because of the price point we charge, you can't just be some Youtuber starting out and cookie cutting sneakers. There's a lot of smoke and mirrors online these days."
So, you're interested in customising a sneaker, how does it work? Whether you want to customise some of the panels of a basic factory sneaker, build something completely from scratch using fabric from your favourite jacket or sweater, or anything in between—BespokeIND will help you reimagine and transform your beloved kicks into the one-of-a-kind sneaker you've seen in your dreams.
As it stands, shoemaking, especially of the artisan variety isn't as common a skill to practice, as it once was. There's a tonne of teamwork, precision and patience involved in both creating the perfect shoe and in the time it takes to do so. From the date of an order, the finished product could take anywhere between 2-3 months to complete. That's roughly 45-100 hours.
To get an idea of what's possible, check out their online store or Instagram, but make sure your imagination doesn't stop there. "We've got a client who wants a customised sneaker made using his The North Face puffer jacket sneaker." And according to Damian it especially takes a lot to make a shoe out of fabrics that aren't really meant to be footwear. "That's something very challenging but we're down for something like that. We always make sure we do tests to ensure that our customers aren't just getting a 'mantlepiece sneaker'. You don't want to have to prance around and wrap them in plastic bags. That's the difference with BespokeIND."
On-hand they've got an extensive archive of lush fabrics for you to choose from, where you can play with different colours and textures. And if you're nervous about having your favourite sneaker, jeans or jacket go under the knife, you can rest assured that they're being left in very, very capable hands—they're working on Beyonce and Jay-Z's Jordan 3s, after all. "Beyonce's shoe will have a combination of textures including shimmer, lingerie, diamonds and python. Jay-Z's is a bit more stripped back." After the duo's sneakers are completed, they'll be joining a customer list which includes the likes of Drake, French Montana and most recently, Chris Brown.
Among the many highs and lows that naturally attach themselves to a small business start-up, having a sold-out online inventory isn't so bad, and being approached by Nike to be an official vendor isn't either. "During the early stages of the start-up, I always worried that I'd get sued by Nike, but they actually embraced us." And it's no surprise, seeing as in the past their customs have been mistaken for official sneakers. "We created these custom Carhartts right before Carhartt's collab with Nike dropped, and they loved it."
Peering into the future, Damian's got his sights sets on creating outside the (sneaker) box, with plans to open up his own conceptual store and to introduce BespokeIND's very own line of sneakers. For now—watch this space. And definitely check out their Insta while you're at it.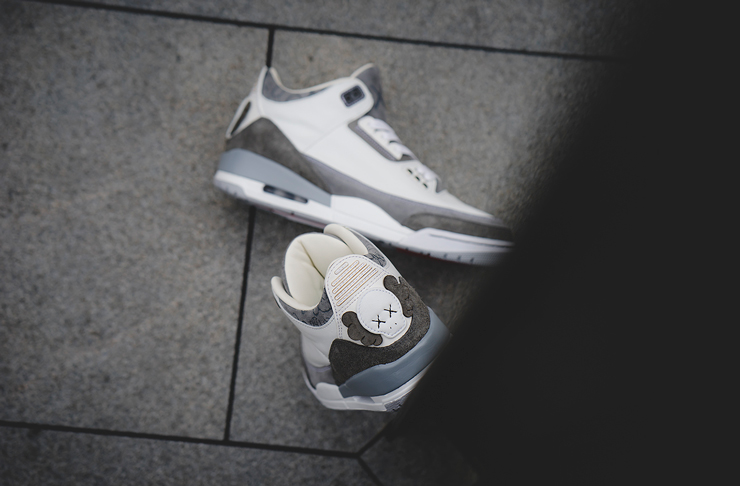 Adidas Originals has just teamed up with Ji Won Choi, read all about the range here.
Image credit: supplied