So it's Grilled Cheese Day on Thursday (what—like it wasn't in your diaries?) and The Merrywell and Maker & Monger are joining forces for something kind of special.
Basically, they've created the ultimate 'Super Cheese Sandwich', forged in the fires of Mt Doom. One sandwich to rule them all.
Four cheeses will be given to the race of men, who above all else, desire dairy (and power). We're talking Giorgio Cravero Reggiano crusted sourdough, custard made from Cabot Clothbound Cheddar from Vermont, Swiss Gruyere (with a dry-aged chorizo béchamel mac n' cheese patty), PLUS scarmoza from That's Amore. Oh, and they look like this: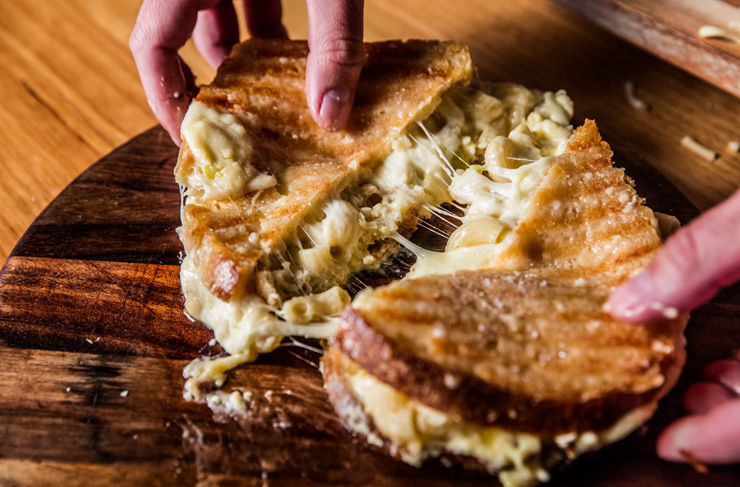 Better yet, you can get these things for FREE.
Yep, The Merrywell and Maker & Monger are each giving out 100 FREE Super Cheese Sandwiches on Thursday. That's 200 sangas in total. The mayhem will begin at midday Thursday and run as long as the cheese holds out. If you miss out on a freebie, you can still purchase the Super Cheese Sandwich from either venue.
"This grilled cheese sandwich appeals to all your senses through the visual of the oozing interior, the aroma of the Reggiano crust and the textural combination of the crisp sourdough and molten cheeses and then to top it all off, the Stilton dipping sauce to take the cheese factor to the next level," Maker & Monger's Anthony Femia.
Do we even need to say this? Get down to Crown or Prahran Market ASAP. There's cheese at stake.
The Details
Where: The Merrywell (Crown) and Maker & Monger (Prahran Market)
When: From 12pm, Thursday 12 April
For more info, click here.
Partial to the odd sandwich? You need to check out Big Dog's Deli.
Image credit: Maker & Monger