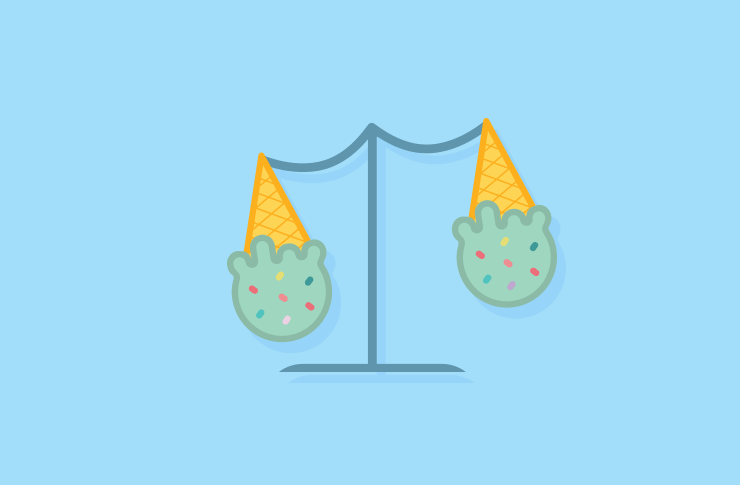 Over here at The Urban List, we want our readers to know what's in store for them for the week ahead. So we're bringing you horoscopes for real people - who want their cosmic predictions with a side of honesty. Here are your horror-scopes, including suggestions for where to drown those mystical sorrows when you find out what you're *really* in for this week.
PISCES
Alright, congrats Pisces. The worst is over! Spring is around the corner and the warm weather is bringing with it better energy for you. And good vibes mean it's time to spoil yourself. Maybe buy one of those extravagant fascinators for spring racing season? They're the height of über coolness in Melbourne.
Where you need to go this week: You might be able to find a vintage one at these places.
ARIES
You're at the height of your intellectual peak, so it's time to challenge yourself and take on something new. Pick up that nonfiction novel you've been longing to read but feared you couldn't finish. Perseverance is the only way you'll push through. And that goes for all aspects of your life, not just books.
Where you need to go this week: Let these reads inspire you!
TAURUS
Things are still looking good for you Taurus (but don't count your blessings just yet). While the stars seem to be doing all the hard work for you, that doesn't mean you can just slack off. No more sitting on the couch watching The Bachy, you need to put yourself out there and find your own Tinderella. And you never know where they might be.
Where you need to go this week: You'll find some inspiration for where to do your lurking here.
LEO
You've been feeling a little antisocial lately. And while we'd usually say snap out of it, we understand that sometimes you just need a bit out downtime. Grab yourself a take away Messina tub, settle in with your Netflix, and sit this one out for a little while. Mooch it out and you'll be back to your old self by next week.
Where you need to go this week: Grab yourself one of these bad boys take away.
GEMINI
Your career house is heating up, Gemini! Put your best foot forward and focus your time on your job for a little while. We know you love your morning snooze but after all, it wouldn't kill you to arrive on time once in a while. As the stars align big things are coming your way with your finances. Maybe splash on a Pablo jumper from Yeezy? If you can get your hands on one that is.
Where you need to go this week: Use that extra dosh and treat your old man this Father's Day.
CANCER
You've been distancing yourself from those close to you. It's time to stop putting up those walls and let your hair down. There's no point possessing such a bubbly and vivacious personality if you don't do anything with it. Grab your mates, down some bevvies, and splurge some cash on a delicious feed. You deserve it.
Where you need to go this week: Spend your money on an epic meal here.
Virgo
Virgo, there's big, big things coming your way! Get ready for some hefty changes, you've got to snap out of that monotony. And by giving you a heads up, we're warning you to embrace the change instead of running for it. Remember – change is good. Preach that mantra and you'll be on your way in no time. If that doesn't help ease the nerves, it's nothing a little (or a lot) or vino won't fix.
Where you need to go this week: This place has a cool 400 wines to help calm your jitters.
LIBRA
How's that love department doing? Mm, that's what we thought. Instead of getting sore thumbs from over-swiping those dating apps, why don't you venture out into the real world and y'know…mingle?! Your fear of confrontation and aversion to lurve needs to be overcome, it's time to meet that perfect stranger.
Where you need to go this week: Surely one of these bars will help you find your other half, even if it just to scab some drinks.
SCORPIO
Mercury is going into retrograde, Scorpio. So you need to tread carefully. Be a bit more frugal with your spending in case some unexpected expenditure pops up over the next few days. Any upcoming birthdays you've forgotten about? Bills? Yeah, that's what we thought. Don't worry though, by next week your savings should be back up and running.
Where you need to go this week: These dishes are the perfect way to save your cash.
SAGITTARIUS
You're a force to be reckoned with this week! It seems your sass has the ability to intimidate a fair few, but don't let that deter you. It's your witty nature and cracking jokes that make you the life of the party. After all, you're harmless. Unless of course people feel like messing with you…then that sass might not be so nice after all. Down that espresso martini and let them know who's boss.
Where you need to go this week: Here's a list of the best espresso martinis you can get.
CAPRICORN
Oh our dear Capricorn, it seems those stars just aren't aligning for you this week. This cruel twist of fate has left you feeling a little down in the dumps lately – but we're here to tell you things will definitely get better. We suggest buying a bottle of sparkling along with some pastries to help you have a bit of a pick-me-up. It's been a tough few days. And if anyone judges you when you're sipping on mimosas at work, just tell 'em to hush up. You've earned this.
Where you need to go this week: Check out this precinct for a happiness boost and to keep busy.
AQUARIUS
You've been feeling a *little* suspicious lately, and you're keen to do some snooping. Aquarius, abort mission. We repeat. Abort. Mission. Nothing, and we mean NOTHING good can come from sticking your nose in places it does not belong. We also suggest unwinding with Survivor AU and your favourite meal, that paranoia doesn't look pretty on you.
Where you need to go this week: Focus your attention on this place instead!
Need more suggestions to deal with your week ahead? Search our Directory for the best of Melbourne.
Image Credit: Gabrielle Stjernqvist