Melbourne is absolutely no doubt the culinary capital of Australia, if not the southern hemisphere. And when conversation inevitably moves to which is the best restaurant in Melbourne, for many years there's one name that has been first to roll off the tongue—Vue de monde.
Situated on level 55 of the Rialto Tower, Vue de monde was opened by Shannon Bennett when he was just 24 in the year 2000 in a terrace in Carlton.
In 2005 the restaurant was moved to Normanby Chambers on Little Collins Street before moving to its current location earlier this decade.
There's a lot of pressure on your when you're leading the kitchen at Vue de monde, and that pressure now falls to newly appointed Executive Chef Hugh Allen.
Vue de monde is familiar to Allen, he's worked here before. But for the past three years he's called two-Michelin-star restaurant Noma in Copenhagen home.
Hugh takes the Executive Chef mantle from Justin James who stays within the group, but is now focussing on restaurants throughout the Vue Group in his continued role as Group Executive Chef. Venues such as seafood restaurant Ike-Jime, Jardin Tan, Piggery Café, Benny Burger, and more in the pipeline.
We caught up with Hugh to find out his plans for Vue de monde.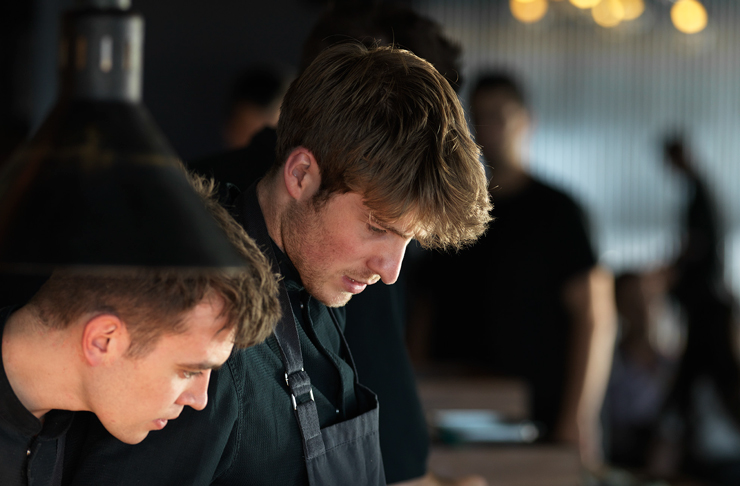 What's the most exciting part about returning to Vue de Monde after being away for three years?
After coming back from overseas late last year, I was excited to return to Vue de monde after it played such a key role in my training.
What's most exciting about returning to this iconic restaurant is the team…I'm working alongside such talented people in their fields, whether it be in local produce, premium wine or managing the whole restaurant experience.
I'm looking forward to drawing inspiration from my recent travels and pushing the boundaries when it comes to evolving the menu and overall Vue de monde offering.
What learnings will you bring across from Noma?
One of the biggest learnings I've taken from Noma is to look at ingredients in a whole new way.
We were often experimenting with ingredients that you've never ever heard of before, let alone seen or tasted! So, I'm keen to draw from this experience to always deliver dishes that are fresh and interesting at Vue de Monde.
With Head Chef, Chris Marshall, Restaurant Manager, Christoph Schrottenbaum, and Master Sommelier, Dorian Guillon, we've already started changing up the menu with the introduction of rare Indigenous ingredients like Bunya Bunya, Magpie Goose and sea urchin.
We're also exploring new ways we can start producing and using more fermentation in our cooking which played a major role at Noma.
What's something that would attract a first-timer to Vue de monde?
At Vue de monde, we're all about providing quality, innovation and local, seasonal produce. We're adding new dishes to the menu every 2 to 3 weeks to make sure we're constantly surprising our patrons and providing the ultimate guest experience, whether you're a first-timer or one of our regulars.
The team has been recently inspired by old Australian traditions and one example is our spin on the ultimate symbol of bush life, Billy Tea. What we've done is mix eucalyptus, Geraldton wax, gulbarn, Black tea and Tasmanian mountain pepper to make the perfect bush brew. Highly recommend first-timers to check it out.
I'd also recommend checking out our delicious Sea Parsley sorbet which comes with real flowers that have been handpicked from our gardens at Burnham Beeches.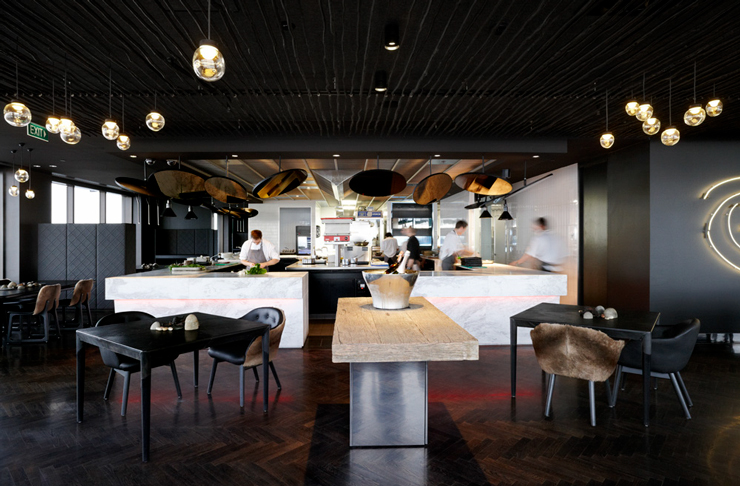 Vue de monde is open for dinner every day from 6pm, and is open for lunch Thursday to Sunday. You can book a table here.
To keep on top of everything happening in the Melbourne restaurant scene, check out our Food & Drink section.
Image credit: supplied