There must be something in the water. We've been traipsing around Albury, Wodonga and Corowa to find the best places to sleep, eat, drink and explore, and have found, quite frankly, a shedload of surprising hot-spots around the Murray River. Make a run for the border with our guide to the best, unexpected finds in the region.
#1. The Dining's So Good, You Would Say 'Wow' Except Your Mouth Is Full
So many restaurants in waterfront locations rely too heavily on the views. Not so at the River Deck. Situated in Albury's riverside parkland, the food at this place is a cut above everyday cafe expectations through breakfast, lunch, and tea. Chef Ludo dishes up everything from goat's curd pannacotta to duck leg spring rolls to escargot in spot-on fashion. Definitely score a table out on the signature deck if you can (just remember to rug up first).
Over on the southern side of the river you'll also find very good things at Wodonga's cavernous Goods Shed. The beer cafe was once a historic railway shed, but is now home to crispy polenta chips, meltingly tender ribs and seriously tasty pizza (go for the so-darn-good prawn and spritz on heaps of lemon!). Take note of the cheeky signs for the gents' and ladies' rooms here too.
If you're feeling fancy, it's well worth venturing back over the river and down A.M.P. Lane to find Boom Boom. Once you've found the light projection, you've found this wine bar worthy of any big city. The menu is mostly classic Italian and French, lovingly done, with the odd spicy Asian interloper to mix things up. Changing art on the walls gives you something to admire over the first of many glasses of wine (gin and whisky get a decent look in here too). Worth a late night drop-by just for the oh-so-pretty desserts.
#2. Go If You Like Your Whisky With A Chocolate Chaser (Which You Should)
There's whisky here. And chocolate. We bet you're pretty much sold already but we're happy to sweeten the deal. Firstly, at Corowa Whisky and Chocolate you get to make your own giant freckles! Then once you're done throwing back the chilli hot chocolates, gnarled rocky road, and chocolate "pizzas" you can adjourn to their huge whisky hall. The on-site distillery is still a few years away from releasing their own whisky as crafted by Beau "the dreaded distiller" (the nickname comes from his be-dreadlocked 'do rather than any nefarious personality traits...we think). But in the meantime they've got 120 or so other tipples for you to try.
#3. MAMA Knows (Art) Best
It's not to be confused with the more famous MoMA or Mona, yet MAMA (a.k.a. Murray Art Museum Albury) gives those behemoth art galleries a run for their money, albeit on a smaller scale. We can't go past a gallery that doesn't mind a tiny hit of disco via signature LED lighting. Check the space out for contemporary art such as light installations, sculptural "skins" wrapping the gallery exterior and the impressive and diverse National Photography Art Prize. MAMA even has a gift shop you shockingly won't want to rush through (why, yes, we do need a new fruit bowl in the shape of a macadamia nut).
As a tasty bonus, MAMA's next-door neighbour, Canvas is a light, bright all-day eatery with its own artistic eye. Sip Bloody Marys or scoff a duck version of Eggs Benedict while surrounded by lush Loose Leaf greenery. Or order a simple bowl of Coco Pops if #artlyf is starting to feel a little bit too grown up.
For more brain-food on the Victorian side of the river, do wander into the blink-and-you'll-miss-it Art Space Wodonga on the corner of Hovell and Lawrence Streets. This one room gallery housed next to Wodonga Library hosts some surprising exhibitions. It's a mixed bag here—tiny wax sculptures and pastel-hued photography one day, nostalgic illustrations the next—so check in first to see what might take your fancy.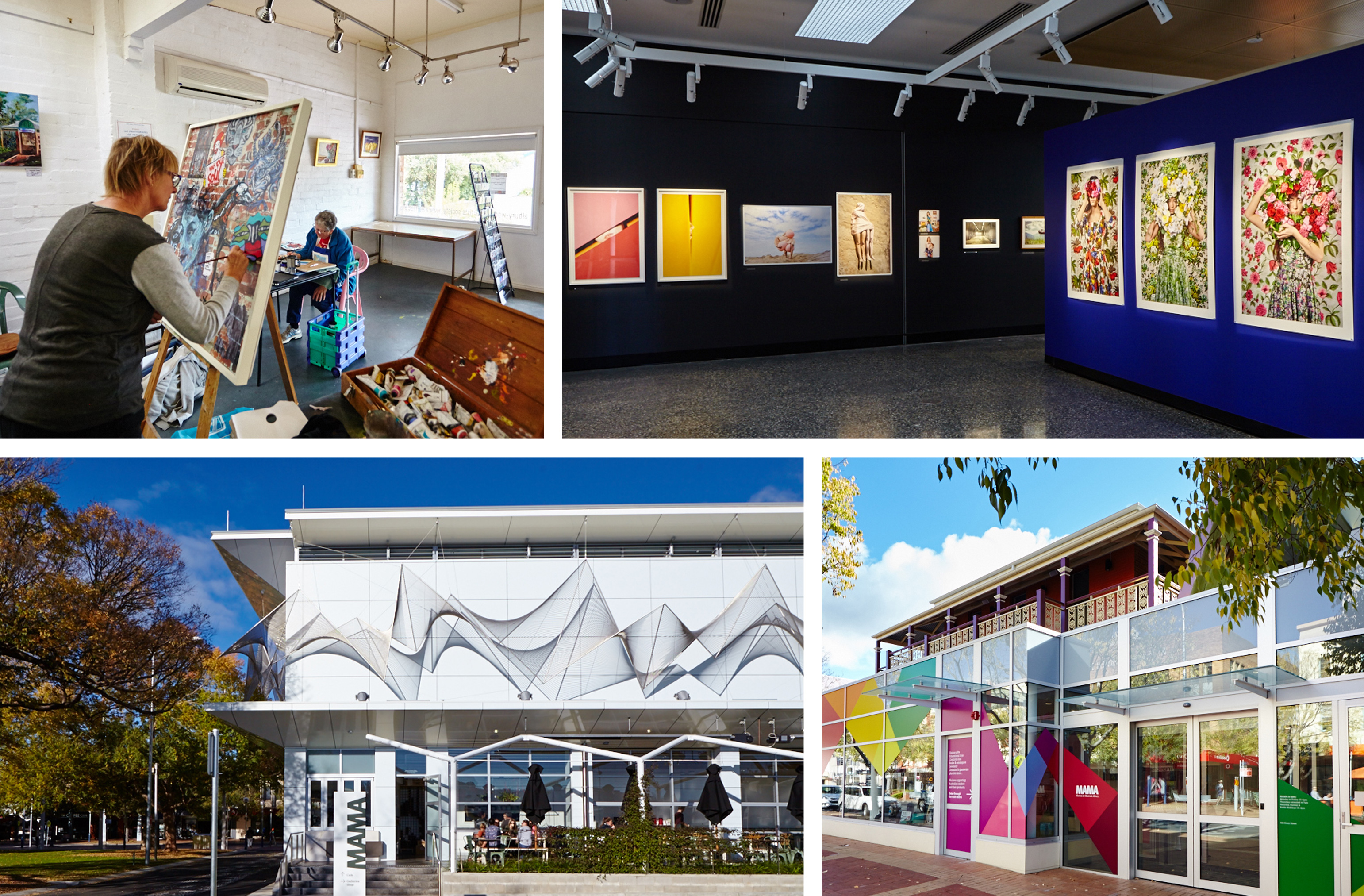 #4. Your Workout Comes With Waterfront Views
Be a rebel and cycle the Yindyamara Sculpture Walk. You can even have bikes delivered to the beginning of your ride at the Kremur Street Boat Ramp (Cycle Station will help you out). It's a cruisey 10 kilometre round trip dotted with sculptures by local Indigenous artists. The journey takes you alongside the mirror-like Murray River wetlands, which are creepily beautiful with skeletal, bare trees emerging from the water and plenty of birdlife to hang out with.
#5. The Hotel Game Is On Point
Standing outside Atura Albury, you might be wondering about what kind of dodgy, 70s situation you've accidentally booked yourself into. But it's what's inside that counts! From the moment you step into the lobby with its bunny statues, pop colour furnishings and 'gram-friendly styling and you're in for a refreshing surprise. The youthful interiors continue into the unexpectedly spacious hotel rooms. Beige must be banned at Atura. We certainly appreciate the free wi-fi, free coffee pod machine, and later-than-standard checkout for all.
Also unexpected, but in a vastly different way, is Circa 1936. What is such a unique, boutique hotel doing in the country town of Corowa? In what was once a heritage bank, disparate art deco, Indonesian, money-inspired and Euro design elements somehow manage to exist in a state of harmonious luxury. The suites are celeb-worthy with huge marble-clad bathrooms hidden behind secret doors, fancy stained glass windows and pristine white furniture. Even the shower curtains are glam.
If you don't have the cash to splash to actually slumber here, Circa 1936 has some other treats in store. A coffee and Himalayan sea salt scrub in the Spa followed by a chocolate body wrap is pretty much mandatory. If being covered in edibles isn't your thing, rolling up to one of the stunning petrified wood tables in the Lounge for wine and canapés should do the trick. Otherwise, sipping Manhattan cocktails in Circa's gorgeous little bar should transport you immediately back to the flapper-era.
Melbourne's an incredible city, but sometimes we all need to get out of town for a weekend. The Urban List has partnered with Visit Victoria to bring you our Get Out Of Town! series — the ultimate guide to Victoria's regional gems. For more ideas about where to wander in the Murray Region, click here.
Thank you for supporting the sponsors who make The Urban List possible. Click here for more information on our editorial policy.
Image credit: Michelle Jarni for The Urban List, except Atura