Let's put a trigger warning on this one: don't attempt Séance if you're scared of things like ghosts, the dark, ghosts that murder you in the dark, or anything big and hairy with teeth.
We're talking about a white 40-foot shipping container that's set up inside Queen Vic Market. Inside there are two rows of old cinema seats facing one another. The lights get dimmer and dimmer...and then go out. A voice tells you to put your hands on the table.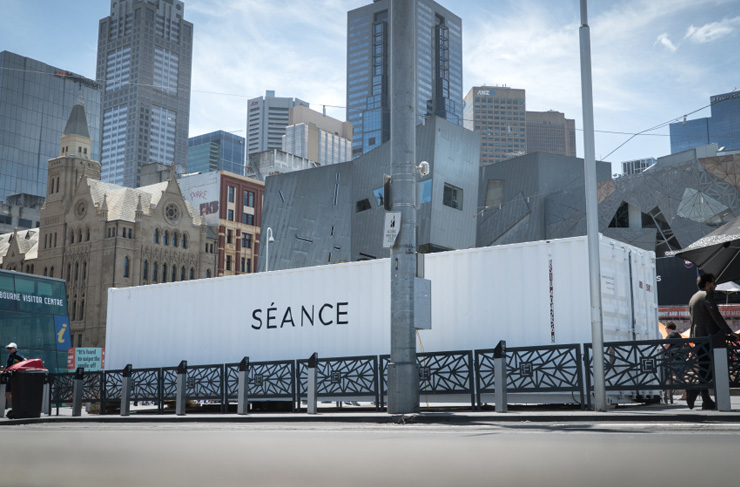 Séance at Fed Square in 2017. Photography: Supplied
For the next twenty minutes, you're bombarded with a terrifying (and kind of intrusive) sensory experience, built around cutting-edge 3D audio. Feels like your brain is trapped in a David Lynch movie.
"We've had many different responses to Séance. Some people find the darkness soothing, whilst
for others, it is terrifying. Some people have even tried to escape," says creator Glen Neath, of UK-based Darkfield.
People have tried to escape!? What the f*ck does that even mean!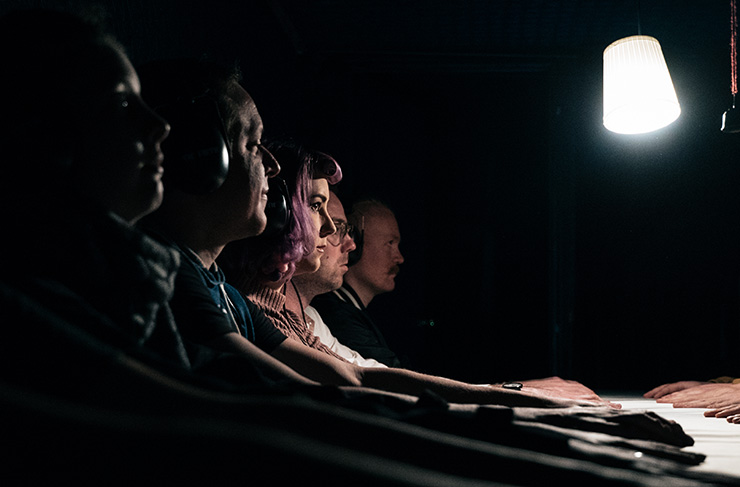 Séance has enjoyed sell-out performances at Edinburgh, Adelaide and Perth Fringe festivals, not to mention popping up for a very spooky run at Fed Square in October 2017. You'll definitely have to book for this one.
The night is dark and full of terrors, guys. And these ones will set you back $21.75pp. Get booking.
The Details
What: Spooky shipping container art thing
Where: Queen Victoria Market
When: Wednesday, Friday & Saturday until February 6
For more info, click here.
Want the rundown of the best exhibitions to see in 2019? Check out Art Beat here.
Image credit: Seance