In late October 2018, Chef Ryan Pham opened up Sen Storm Noodle Bar & Grill, an authentic Vietnamese bistro located in Fitzroy. Hailing from Hanoi, Chef Pham wanted to reintroduce authenticity in the local Vietnamese food scene—and we're here to confirm that he's definitely succeeded.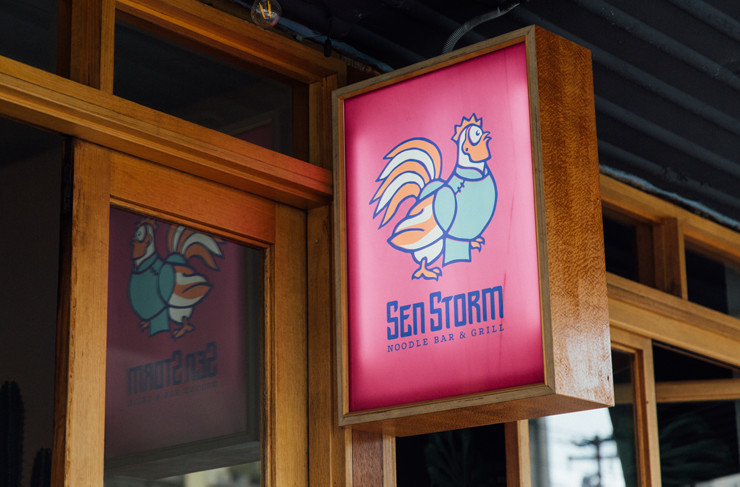 Sen Storm doesn't look or feel like your typical Southeastern Asian restaurant—it has more of a bistro vibe. Open and airy and with plenty of aesthetically pleasing greenery, Sen Storm feels young, fresh, and vibrant. From the playful Bia Hoi backlit poster to the fresh take on a traditional mural, you'll feel relaxed, casual, and ready for some quality grub. So let's move on to the menu.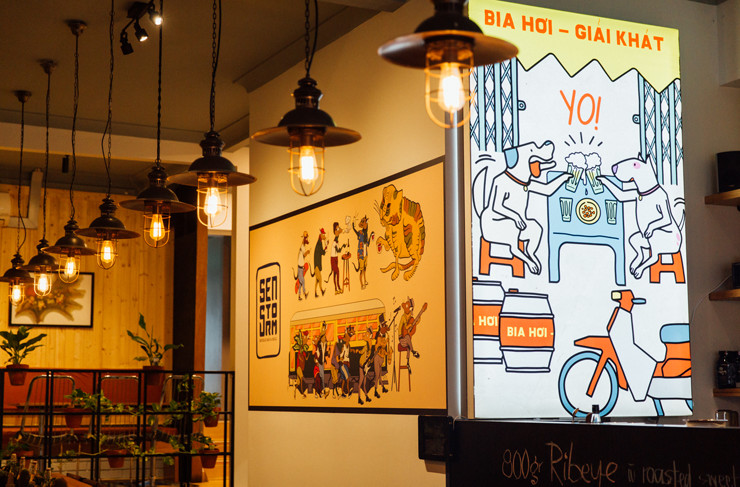 The Sen Storm menu is divided into three parts: tapas, noodles, and grill. "In the tapas part of the menu, you can definitely see a bit of French and Spanish influence," Chef Pham says. "But it still has that authentic Vietnamese flavour."
The taro and mushroom bombas, for instance, are everything you could want in a Spanish croquette: crunchy on the outside, incredibly light and fluffy on the inside. Same with the beef carpaccio, which is a special dish Chef Pham created in Hanoi over 10 years ago—the pho spices really elevate the carpaccio to another level.
The noodle part of the Sen Storm menu is where things start to get real authentic. "My pho is truly Hanoi Pho," Chef Pham says. "So there's no sugar in it, which is the most important thing. And the stock is quite clear instead of cloudy."
Chef Pham's Pho beef is also quite different to the usual beef you'd find in a more southern-style Pho. Instead of using cheaper cuts of meat that tend to lose their flavour once cooked, Chef Pham uses an entire flank to preserve the flavour of the meat. In short: it's freaking delicious.
And if all that deliciousness wasn't enough, get ready for the grill part of the menu. Chef Pham cooks up all sorts of game with a French twist. For instance, the mountain pepper-flavoured Yarra Valley venison is cooked in a French style and served on a creamy parsnip puree that'll absolutely melt in your mouth. Or the juicy, grilled marinated spring chicken served with black pressed rice.
And although he cooks a mean steak, Chef Pham has peppered the menu with plenty of vegetarian and vegan options (we wholeheartedly recommend the vegan Pho).
And for those of us who often have to choose between good brew and authentic Vietnamese food, it's great news to know that you can now do both. Sen Storm has an impressive drinks menu—from a wide selection of local beers and an extensive wine list to some very interesting cocktails, you won't go thirsty or hungry.
Sen Storm is open Monday through Saturday, from 11 am until 10 pm. So next time you're in Fitzroy looking for some authentic Vietnamese food with a twist, make sure you drop by.
Looking for some new places to try? Here are the best restaurants to try next time you're in Fitzroy.
Image credit: Annika Kafcaloudis